Discussion Leaders
Sixth College Discussion Leaders
Kendall Higgins

My name is Kendall I am a fourth year Human Biology student and third year Residential Assistant at Sixth College. I enjoy surfing, playing guitar, skating, and exploring the wilderness. I think this course presents an excellent opportunity for students to educate themselves on all the resources and inner workings of the University. By learning this material early students will be poised to maximize their time here at school and develop the tools it takes to make an impact in their field upon graduation.

Peter Kim

Hey there fellow Sixth-ers! My name is Peter Kim and I am currently a 4th year as a pre-med Human Biology major! With my love of traveling and my passion for medicine, I have experience in clinics, whether it be shadowing surgeons or helping an orphanage, in South Korea, Mexico, Nicaragua and India. I am also currently in an Immunology lab at the Stein Clinical Research Center at the Medical School. I hope to enhance your college experience by sharing some of the knowledge I wish I had as a first year! 

Jazzalyn Livingston

Hello, my name is Jazzalyn or you can just call me Jazzy:) I am a third year Muir College student double majoring in Public Health/Psychology and minoring in African American Studies. I'm a Sixth RA and I LOVE it! I also love listening to music, reading, dancing, or spending time with my friends and family. I am committed to educating and inspiring students from various communities to pursue their dreams and to never allow adversity to stand in the way of their success.

Ngoc-Mai Phan

Greetings new Sixers! My name is Ngoc-Mai Phan. I am a bonafide proud 4th year Sixth college student with a major in History and minor in Ethnics Studies! I'm active in student organizations such as Sixth College Commuters In Action and UCSD History Honors Society!

I believe that the First Year Experience class is highly beneficial to incoming students because it will provide tips, tricks, and lessons every UCSD students need to know to fully enjoy and optimize their college experience. The students will be able to interact with experienced upperclassmen and faculty, ask questions, and be revealed to the various resources available to them. The discussion leaders will work with the students to develop their communication, stress management, organization, and critical thinking skills. Ultimately, my goal as a discussion leader is to make the new students confident, comfortable, safe, and successful in their years at UCSD!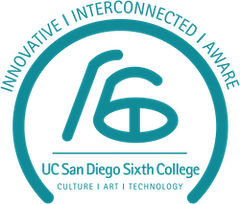 First Year Experience & Transfer Year Experience