Current Residents
Current Residents

Gawain Barnickle

Gawain Barnickle is a Sixth College undergraduate from San Diego. He's a Cognitive Science major with a specialization in Design & Interaction, and he loves to create intricate artwork that invites the viewer to examine and engage. He works primarily with paper and digital media and is currently exploring the possibilities of 3D printing to expand the size and scope of his artwork.

Niel Bezrookove

Niel Bezrookove is twenty-five and has been involved in musical performance art with ensembles such as Casi Casi, Bill's Accountant, L3D, and La Montagne, which pushed the boundaries between artist and audience and the limitations of traditional "rock" instrumentation; damage to equipment and bodies were a part of the performance. Currently Niel is collaborating with Tomo Takino, an artificial intelligence programmed and activated in Death Valley, CA. Their latest work, "Absolutely Free," was a post-exotic oratorio that examines the relationship between technological advancement and slavery which employed the use of Western orchestral instruments alongside Chinese instruments within modern musical forms.

Caroline Collins

Caroline Collins (Embodied Storytelling Collective) is a fourth-year Communication doctoral candidate at UC San Diego. She earned her BA in American Literature from UC Los Angeles and an MFA in Creative Writing from UC Riverside. Caroline's research interrogates the intersectionality of cultural memory, identity, and mediated activity. She recently completed a collaborative student film made with Native American youth, and is currently working on several educational media activism projects and a research-based documentary. Caroline's dissertation project studies representations of the nineteenth-century American west within popular culture, analyzing media, reenactments, and edutourism sites to chart the production of particular understandings of "Americanness" and the political stakes that this understanding entails.


John Dombroski

John Dombroski (www.johndombroski.net) works with site-specific sound, performance, and installation focused on site-as-context, human relation to physical spaces, interpersonal communication, intimacy, and listening. He currently works and lives in San Diego, California.

 

Dorothy Howard

Dorothy R. Howard (Yakima, WA 1991) is a writer and current PhD student in Communication at UC San Diego, where they are part of the Feminist Labor Lab. Dorothy holds a BA in History from Reed College. Today, Dorothy's intellectual labor is tangled up in research on ways in which material and cognitive labor is produced and consumed in various modes of interaction within digital economies, and by whom? These considerations include the social formations workers leverage to collectivize, provide mutual aid, and subvert the techno-capitalist ideologies they are embedded and implicated in. Such interests form a life trajectory which includes free-libre/FOSS software studies, HCI, syndicalism, archives, and DIY publishing. Dorothy is the founding editor of the Arachne webzine (www.arachne.cc), a hand-coded collaboration with designer André Fincato. Dorothy has taken part in talks and panels at Rutgers University, Columbia University, UCLA School of Design Media Arts, BAM Fisher, Piet Zwart Institute, Wikimania London, Wikimania Mexico, Theorizing the Web, and the Northwest Film Forum.

Francesca Moore

Francesca Moore is a Californian visual artist creating in a range of different digital mediums and integrating concepts of observed behavior, connection, and identity into animation and video. She studied Design and Cinema/Digital Media at the UC Davis for her first two years of undergraduate education and is currently pursuing a Bachelor of Arts in the Visual Arts (Media) program at the UC San Diego. Her interest is to create work that sparks social awareness and the desire to critically observe our society and the individual's participation within it.

Alanna Reyes

Alanna Reyes (Embodied Storytelling Collective) is a second-year PhD student in Communication and Science Studies at UC San Diego. She earned her BS in Science, Technology, and Society from Stanford University. Her research interests include disability studies, pop culture, and the political economy of video games. Before coming to UCSD, she worked at the Stanford Center for Ethics in Society. She currently serves as the Operations Lead on the Alumni Leadership board for the Level Playing Field Institute. When she's not working with ESC, she likes to make pixel art and bake things (but not at the same time).

Amira Silver-Swartz

As a member of Carol Padden's sign language linguistics lab, Amira Silver-Swartz (Embodied Storytelling Collective) is currently working on a comparative analysis of American Sign Language and New Zealand Sign Language, focusing on patterns in iconic signs for tools. She is also exploring the role of cultural and experiential influence on spontaneous gesture within communication games like charades. Game-like tasks, in which participants use unfamiliar modalities, are a common part of gesture studies and language evolution experiments. They also have a long tradition as parlor games, TV show competitions, and other forms of casual entertainment. For Amira, the Office—Spaced project is a place to produce a new, interdisciplinary, creative space for games to be played and the interpersonal dynamics of communication to be examined.

Jonathan Walton

Jonathan Walton (Embodied Storytelling Collective) is a Katzin Scholar and PhD student in Communication at UC San Diego, an experienced analyst of modern China, and an award-winning game designer and facilitator. He previously worked for seven years in the policy world, most recently as a Project Manager and Next Generation of Leadership in Asian Affairs Fellow at the National Bureau of Asian Research. He has been involved in the independent game design community since 2002, releasing such games as Geiger Counter (2008) and Restless (a 2015 IndieCade selection). From 2009 to 2012, he was the lead organizer of Game Chef, the long-running annual game design competition. He has an MA in Communication from UC San Diego, an MA in China Studies from the University of Washington's Jackson School of International Studies, and a BA in East Asian Studies from Oberlin College. Mr. Walton was a 2004-2005 Fulbright Fellow at Nanjing University and also studied in Beijing at the Associated Colleges in China program (2001-2002) and at School Year Abroad: China (1998-1999).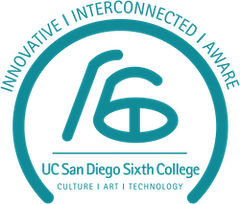 Art + Technology