Teaching Assistants
Teaching Assistants

Agard, Katherine

Katherine Agard is a writer from Trinidad and Tobago currently based in California. She performs her relationship to color - material, socio-cultural, spiritual - and the language which allows us to perceive it through writing, painting and sometimes performance.  Her writing has been supported by fellowships from the Lambda Literary Foundation, Kimbilio, Callaloo and VONA/Voices. She is currently an MFA candidate in Literature at UCSD, and has a BA in Visual and Environmental Studies with Social Anthropology from Harvard University.

Ano, Michael

Email: mano@ucsd.edu

Michael Ano is an artist, curator, and educator. Contemplating the transmission of ideas and its correlative relationship to systems of power- Ano makes alternative platforms for information distribution, to explore how ideas and people connect to ask whether pedagogical methods can more fully democratize the diffusion of learning, and to conduct critical thought experiments in deconstructing how resources associated with social stratification are codified.

Arani, Alexia

Email: aarani@ucsd.edu

Alexia is a third year PhD student in Sociocultural Anthropology at the University of California, San Diego.  Her doctoral research examines affect, emotion, queer activism, and the politics of self-care in the contemporary United States.

Aushana, Christina

Email: caushana@ucsd.edu

Christina Aushana is a Ph.D. student in the Department of Communication at UCSD. Prior to joining the Ph.D. program, she received a bachelor's degree in Communication and Visual Arts from UCSD (2010) and worked as an art editor. Her research examines police training facilities and patrol work as sites of performative practices.

Benzinger, Kyle

Email: kbenzing@ucsd.edu

I am pursuing am Master's degree in International Affairs at School of Global Policy and Strategy here at UCSD. I focus on internal economics and health policy.

Bushnell, Zachary

Email: zbushnel@ucsd.edu

Calvache, Tania Valentina

Email: tcalvach@ucsd.edu

Bilingual writer. Currently doing the MFA in Writing at UCSD. Loves fashion, translation, internet architecture, and eye-rolling.

Carpano, Davide

Email: dcarpano@ucsd.edu

Davide is a Ph.D. student in Sociology and Science Studies at UCSD. His work explores the ways in which social and political ideologies impact technological development, with a particular interest in the social and political implications of Free and Open Source Software projects. He received his B.A. from UCSD in Sociology. Besides research and reading, Davide also enjoys hiking, bike touring, and exploring San Diego with his dog.



Chan, Sum Ming Samuel

Email: smc042@ucsd.edu

Crowder, Catherine

Email: ccrowder@ucsd.edu

Cat Crowder is a PhD Candidate in Sociology and Science Studies. Her research focuses on gender and authority in the sociology of knowledge, gender, and religion. 

Czacki, Catherine

Email: cczacki@ucsd.edu

Catherine Czacki is a PhD candidate in the Art History, Theory and Criticism program ¬(Concentration Art Practice). She writes about material culture and art––with an emphasis on artistic use of available or found materials and the influences of historical antecedents (acknowledged and subsumed) that haunt contemporary sculptural production.

Daigle, Haley

Email: hdaigle@ucsd.edu

Haley Daigle is a Masters' student in the Latin American Studies program.  She is researching the effects of the presence of amnesty programs, such as DACA, on the future aspirations of transnational youth who attend school in the San Diego/Tijuana border region.

 

Driscoll Salemi, Shelby

Email: sldrisco@ucsd.edu

Shelby Driscoll Salemi is from Tucson, AZ. She is pursuing her MFA in Writing and practices capoeira.

Dunlap, Corey

Email: cpdunlap@ucsd.edu

Corey Dunlop Hailing from Alabama, I received my BFA from Tufts University in 2013 and I am currently a MFA candidate in the Visual Arts department at the University of California, San Diego. My work explores the agency of the body, the aestheticization of technology, and human perception. I collect rocks, garden, and I have a fat calico cat named Athena. 

Edwards, Robert

Email: rsedward@ucsd.edu

Bobby Edwards is a PhD student studying the intellectual history of anthropology and Native American history. He grew up in Sacramento, CA, and does performance art as a hobby.  
 

Fatima, Emal

Email: efatima@ucsd.edu

Emal Fatima is pursuing her Master of Science degree in Electrical and Computer Engineering at Jacobs School of Engineering, UCSD. While working on technical documentation her zeal for writing and reading autobiographies, reference work, historical fiction kicked in. For her capstone, she aims to explore whether her Narnia Chronicles for Tech-English exist!

 

Guzzo, Mateus

Email: mguzzo@ucsd.edu

Mat works with moving images, software, strategy and social agency in order to design collaborative alternative platforms of imagination, culture and public policy. He's a collaborating researcher at the Laboratory of Cinematic Arts (LABCINE) at Mackenzie University in São Paulo and a member of the Latin American Network of Surveillance, Technology and Society Studies (LAVITS). He's enrolled at the Master of Fine Arts program in UC San Diego and holds a bachelor in Media Studies by State University of Campinas (UNICAMP) in Brazil. 

Halabi, Ashley

Email: ahalabi@ucsd.edu

My name is Ashley Halabi. I was born and raised in Lebanon and I am now completing a master's degree in International Affairs at the School of Global Policy and Strategy at UCSD. I have always been interested in raising awareness about human rights violations in war-torn countries which I consider my main hobby. My other hobbies include sketching and writing.

Hale, Katie

Email: kfhale@ucsd.edu

I'm a sociologist of science, technology, and society. My research deals with the influence of biomedical understandings of sex, gender, and sexuality on LGBTQ activism.

Hicks, Rachel

Email: rdhicks@ucsd.edu

Rachel Hicks is a PhD student in Linguistic Anthropology with academic interests related to education, language endangerment, culture change, and the Pacific Islands. She received her B.A. in Anthropology and Intercultural Studies with a minor in Applied Linguistics from Biola University in 2007 followed by an MA in Anthropology from California State University, Long Beach in 2009

Hill, Zachary

Email: wzhill@ucsd.edu

Originally from Atlanta, Zach is pursuing a degree in Cultural Studies through the Literature Department. When he has free time, he likes to spend it either reading, watching tv/movies, or hiking.



Hope, Audrey

Email: amhope@ucsd.edu

Audrey Hope is an MFA student in Visual Arts at the University of California, San Diego. She received her BFA in 2008 from the School of the Museum of Fine Arts, Boston in association with Tufts University, and was awarded a 2014 Traveling Fellowship by the School. She attended the Skowhegan School of Painting and Sculpture in 2014.

Howard, Corey

Email: c4howard@ucsd.edu

My name is Corey Howard from Orange County, California .
I'm a sociocultural anthropology student interested in the Korean Peninsula .
My hobby is cycling and bikepacking!

Hunter, Kayla

Email: k4hunter@ucsd.edu

Kayla Hunter grew up in northeastern Ohio and received her BA from the University of Pittsburgh. She's now studying a master's in international management at UCSD's School of Global Policy and Strategy, with a focus on data analytics. Before coming to San Diego, she worked at an education startup in Bogotá, Colombia, where she lived for almost four years. In her free time, she enjoys hiking, cooking, and seeing live music.

Hyland, Tina

Email: thyland@ucsd.edu

Tina Hyland is pursuing her MFA in Writing. Her cross-genre work work has appeared or is upcoming in Best American Experimental Writing 2015, BESTIARY: the best of the inaugural demi-decade of A Cappella Zoo, theNewerYork, and other print and online journals.

Johnson, Lea

Email: lmj002@ucsd.edu

Lea Johnson is a Ph.D. candidate in the Department of Ethnic Studies.  She received a BA in Comparative Literature with an emphasis on Spanish Literature and LGBT Studies from UCLA in 2011.  Johnson's research examines the intersection of race, art, and politics in the U.S. South through a black feminist lens.

Kurian, Amrita

Email: akurian@ucsd.edu

I am a post-field research scholar in the Department of Anthropology. My research, based in India, is a multi-sited study of the cultivation and marketing practices of tobacco produced in India. I look at how technological interventions based on global market demands affect the production of "quality "tobacco, used to manufacture cigarettes, and the communities historically set up to produce tobacco.

Makarov, Yaroslav

Email: ymakarov@ucsd.edu

Yaroslav is a native of Moscow, Russia currently studying for his master's degree at the School of Global Policy and Strategy. Previously, he worked in news journalism and interned with the United Nations. In his free time, Yaroslav enjoys reading through his wife's manuscripts and exploring San Diego with his son.

Martinez, Bianca

Email: bnm005@ucsd.edu

I am currently a Latin American Studies MA student focusing on the region of the Caribbean. Topics I am looking at include Afro-Latino culture, women and reproductive justice in Puerto Rico with a focus on female sterilization.

Matsuno, Michael

Email: mmatsuno@ucsd.edu

I am a flutist, and DMA candidate in contemporary music at UCSD. As a soloist and chamber musician, I play classical repertoire and music of the last century. I earned an MA in performance from UCSD, and a BM in performance from the USC Thornton School of Music.

Nguyen, Ly

Email: t0nguyen@ucsd.edu

Ly Thúy Nguyen is an almost college drop out from Vietnam. Barely got out of the University of Social Sciences and Humanity in Vietnam, she somehow ended up getting an MA in Sociology at San Diego State University. Currently a PhD Candidate in Ethnic Studiesher research focuses on the interconnection between nation-state(s), global power, and education system(s).

Prokhorova, Ekaterina

Email: eprokhor@ucsd.edu

Hometown: Dubna (Moscow area, Russia)
Department: GPS School
Area of study: International management (within Master of international affairs)
Hobby: Latin dances, popular physiology, fashion, bycicle, art of communication



Reid, Amy

Email: acreid@ucsd.edu

Amy is a filmmaker and artist who questions representations of labor, time, and identity through experimentations in film, video, and media installations. She received her BFA from The Cooper Union and is currently a Master in Fine Arts candidate at the University of California, San Diego. Currently, Amy is working on a feature-length documentary about the lives of female long haul truck drivers.

Rubio Moreno, Gabriela

Email: gprubio@ucsd.edu

Gabriela is a graduate student at the School of Global Policy and Strategy studying for her Masters in Public Policy, her career track is Energy and Environment. She is passionate about the environment and sustainable approaches to mitigate the impacts of climate change.    
Gabriela enjoys outdoors, reading and travelling.



Ruiz, Johnathan

Email: jjr026@ucsd.edu

I am a third year PhD student in Sociology and Science Studies. My research looks at the intersection of psychiatry, biomedicine, and society.

Sanchez, Fernando

Fernando Sanchez is a Ph.D. Candidate in the Department of Literature. His research interests are Latin American cinema and U.S.-Mexico border studies

Email: fasanche@ucsd.edu

Srmabekian, Gina

Email: gsrmabek@ucsd.edu

Gina Alexandra Srmabekian is a MFA candidate in writing and received her MA in English from CSUN. Her focus is in transgenarational trauma, gender, and narratological studies.

Sussman, Jasper

Email: dsussman@ucsd.edu

Jasper is a composer, performer, improviser, and scholar pursuing a Ph.D. in Music; Integrative Studies and a D.M.A. in Contemporary Voice Performance at the UCSD. Her current work involves discovering, archiving, mastering and composing for the myriads of expressive capabilities that the human voice possesses, and understanding these sounds musically, culturally, and anatomically.





Tampraparni, Surya

Email: stamrapa@ucsd.edu

Grad Student in CSE, focusing on AI
likes technology, partying, cultural exchange, meditation and helping people around.
From India; tutored during undergrad and taught physics to high school students.
When not working, I write, play badminton or hike.

Thresher, Ann

Email: athreshe@ucsd.edu

I am a PhD student in the philosophy department at UCSD. Having completed undergraduate degrees in philosophy and physics at the University of Sydney, I now work on space-time, with particular focus on the theoretical physics behind retro-causal systems (the fancy name for time-travel), and temporal dimensionality.

Valasek, Chad

Email: cvalasek@ucsd.edu

I am a Ph.D. student in Sociology and Science Studies. I received my B.A. in Psychology & Social Behavior at the University of California, Irvine. While I was an undergraduate, I assisted in conducting numerous psychological experiments on morals, politics, financial decision making, and memory.

Valdes Gonzales, Manuel

Email: mavaldes@ucsd.edu

Hometown: Havana, Cuba
Department/area of study: School of Global Policy and Strategy (GPS), Master in International Affairs
Hobby: Films, sports and meeting interesting people.

Walker, Evelyn

Email: ecwalker@ucsd.edu

Evelyn received a BFA in sculpture from Indiana University in Bloomington, IN, and is a 3rd year studio practice MFA candidate in the Visual Arts Program at the UCSD. Her cross-disciplinary art practice aims inquiry at material agency, meaning-making, rhetoric, obsession, possession, and the fall-out of each.

Webb, Jeanine

Email: j3webb@ucsd.edu

Jeanine Onori Webb is a poet-scholar, collective organizer and a PhD Candidate in Literature. She writes about ancient epic, counterepic, labor, poetics, pop culture, social movements, materialist feminism and race and gender in horror and sci-fi. She likes both cats and dogs, and enjoys travel, funk, astronomy, snorkeling and tacos.

Yacovelle, Jess

Email: jyacovel@ucsd.edu

Jess Yacovelle earned her BA in English and Creative Writing at The George Washington University. For the past two years, Yacovelle has worked as a journalist and magazine editor; currently, she is earning her master's in Education at UCSD.

 

Zhang, Kevin

Email: kkz002@ucsd.edu

I am a composer and 5th-year PhD candidate in the Department of Music. I write concert music and make sound installations for/with instruments, voices, computers, objects, and combinations thereof. Broadly, my research interests fall into and around the peripheries of music's relationships to language and to cognition. Prior to coming to UCSD, I attended UC Irvine's Claire Trevor School of the Arts, where I received my MFA in Integrated Composition, Improvisation, and Technology in 2012.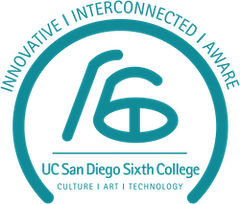 People