2014 Winners
2014 Winners
Crystal Agoncillo '14

CAT 124: Think Global, Act Local: Refugee Resettlement in San Diego

"The knowledge I attained in refugee resettlement has helped to affirm my aspirations of pursuing the interdisciplinary fields of social work and public health, and has given me a deeper understanding of the profession and rigorous challenges that await."

Keili Fernando '15

TDDR 191: Major Project in Stage Management

"This Practicum helped me narrow down my professional goals because I am interested in a profession as a stage manager. I was able to have a leadership role and work in a creative environment. I was also able to have a better understanding of what it takes to be in a production at a professional venue, the La Jolla Playhouse."

Raewadee Kumnertsena '14

CAT 124: Comicraft

"I bought the idea that the labels I or other people choose carry limits of mutual exclusivity. And yet, I left  CAT 124: Comicraft as an artist, a writer, an academic, and, ultimately, a producer of original content. I can hone an artistic style, write underrepresented and meaningful stories, and think critically about what I and others have made; there is no special clause that demands I only pick one role. While making comics seems a fairly humble activity, doing so helped me work through issues of self-identification that have plagued me for years."

Lilianna Rumberger '15

CAT 124: Coaching the Craft of Writing

"My work in this area during the last twelve months has confirmed my need to continue writing, but more importantly has galvanized my desire to help others write. I was able to gain new insight into these areas by working directly with the writers. But it also gave me insight into the common difficulties that many writers face. Helping people accurately communicate their intended meaning is rewarding and challenging work that facilitates my zeal for being a lifelong learner."

Anusith Sounnadath '17

CAT 198: Ethnicity, Education, and Empowerment

"I am very lucky to be a part of Sixth College, and to have been able to be a part of an experience that no other college can provide. I would never have imagined to be standing where I am now, teaching kids and doing exactly what I want to do for the rest of my life, and the honest truth is that it would not have been a reality without the Practicum."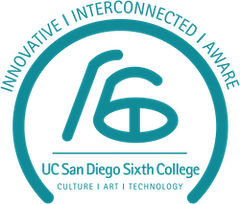 Practicum Excellence Award