Practicum

CAT 124: Ethnography and Informal Science Learning

UCDC Program

CAT 124: Comicraft
About the Practicum
The Sixth College Practicum is an upper-division, 4-unit general education requirement that embodies the College's commitment to active, hands-on learning. Students enroll in courses that have an experiential, service-learning, or community-based component to the curriculum. 
Find out more about which courses you can use to fulfill the Practicum!
Are you looking to fulfill your Practicum requirement? Want to take an awesome, interesting CAT class over the summer? Look no further and take CAT 124: Curating Film with Pacific Arts Movement in Summer Session I! If you're interested in film, music, or art, take advantage of this incredible opportunity to help organize and operate an international film festival held in Balboa Park this summer for the park's centennial! This is a once-in-a-lifetime chance to not only be a part of this extraordinary event, but to help run it from behind the scenes--and to meet local filmmakers, learn about filmmaking, and get academic credit too!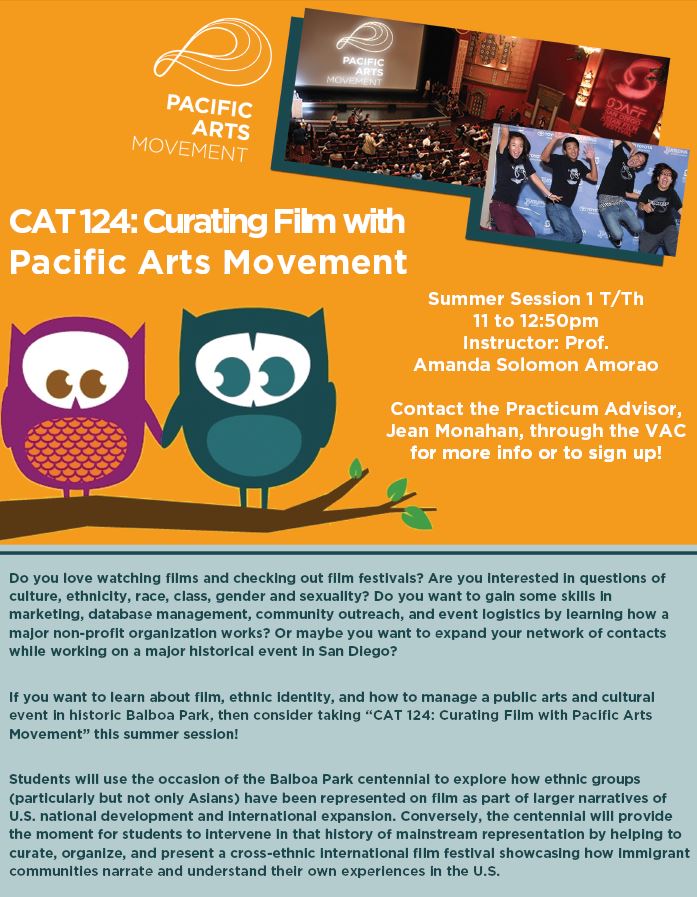 If you're interested in taking this class for your Practicum, submit a proposal for CAT 124: Curating Film with Pacific Arts Movement online at http://sixth.ucsd.edu/practicum/proposal/index.html. Contact the Practicum Advisor Jeanne Monahan through the Virtual Advising Center at vac.ucsd.edu or Professor Amanda Solomon Amorao at alsolomon@ucsd.edu with any questions!
Learn more about Practicum criteria and unique project opportunities at information sessions held in Pepper Canyon Hall (map).
---
This Week In Practicum
Can't make it to an info session?  Come to Practicum walk-in advising hours or contact us at vac.ucsd.edu!
Practicum
Walk-in Hours
Monday/Wednesday
9:30-11:30 a.m.
1:30-3:30 p.m.


Thursday/Friday
1:30-3:30 p.m.
Or by have your questions answered
Academic Programs
Pepper Canyon Hall
Room 257
(858) 822-2275
sixthcoreta2@ucsd.edu
sixth.ucsd.edu/practicum
---
Practicum Spotlight
Great options for your Practicum!