Transfer Admit Day 2013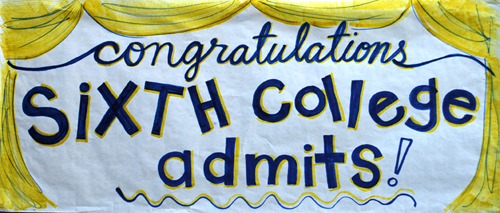 Congratulations on being admitted to Sixth College! Please join us on Saturday, May 11, 2013 to learn more about Sixth College life.
If you're an admitted transfer student, you'll want to find out about life at UC San Diego.  Experience the campus with a  day of full programs introducing you to your college, academic departments, student organizations, and support services. For you and your family:
Meet and greet Sixth College students, staff members and faculty
Learn more about the Sixth College Core Curriculum and Practicum Projects
Hope to see you there!
Check out Sixth College alum Patrick Trinh below, a trailblazing Triton, who will be performing on Transfer Admit Day!
Contact Us
Office Hours
Monday-Friday
8:00AM-12:00PM
1:00PM-4:30PM
Pepper Canyon Hall (map),
2nd Floor
Phone: (858) 534-9001
Fax: (858) 822-5999

Mailing address:
Sixth College
UC San Diego
9500 Gilman Drive
Mail Code 0054
La Jolla, CA 92093-0054
Email: sifront@ucsd.edu