Sixth College Transfer Orientation
Welcome to Sixth College! We are so pleased that you have decided to join the Sixth College community at the University of California, San Diego. The faculty, students and staff are proud to welcome you as a member of the youngest and most innovative College at UC San Diego. 
Sixth College welcomes our transfer students as they enter a new and exciting portion of their college career! Our half-day Transfer Orientation is designed to give you critical information about getting connected to Sixth and being successful here and at UC San Diego. 
This year's program will be held on Monday, September 25, 2017.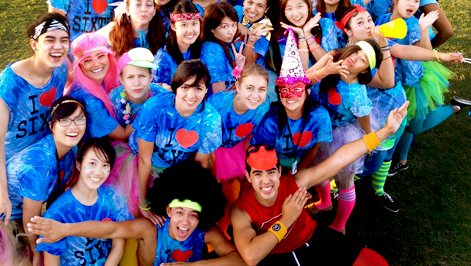 ---
It is critical that you adhere to the timeline below in order to ensure a smooth transition to UC San Diego. This timeline provides information regarding registering for the Sixth College on-campus orientation, and a detailed list of steps you will need to follow to receive academic advising and to successfully enroll in courses for the fall quarter. 
Students will register via NewStudent.ucsd.edu by the August 1st deadline. The Orientation fees wil be charged to your student account and should appear sometime during September or October. 
Transfer Student Orientation will be held on Monday, September 25, 2017.
Schedule and Content
Transfer Student Orientation usually begins around 7:15 am, and the formal program concludes just after lunch. There are often optional components that run until about 3:00 pm that transfer students have found to be beneficial. You also have the option of taking care of campus business (Registrar, Campus ID Office, Cashier's Office, etc.) after lunch.  
Transfer Student Orientation is designed to provide you with critical information about getting connected to Sixth and being successful here at UC San Diego. Sessions cover various topics, including Academic Advising, diversity at Sixth, expectations for student conduct and academic integrity, the transfer student experience (panel), and opportunities for student involvement and leadership. 
Meals
Transfer Student Orientation attendees will receive breakfast and lunch during their orientation.
We do our best to accommodate most common diets and food allergies by providing poultry, vegetarian, vegan, and gluten-free options. Additionally, we have done our best to eliminate all nuts from the meals. Unfortunately, we cannot guarantee that meals will be completely free of allergens as they are prepared in facilities that may contain allergens.
When you register for orientation, please be sure to complete the requested information about your dietary restrictions (not preferences).
Guests
Transfer Student Orientation is for transfer students newly enrolled in Sixth College for the upcoming fall quarter. Guests cannot be accommodated for any part of the orientation program, including meals. 
Smoking
Please be advised that as of September 1, 2013 UC San Diego is a smoke-free campus. Visit http://smokefree.ucsd.edu/ for more information.
For registered attendees:
Final arrival information, including parking and check in, will be emailed out to all confirmed registrants. 
Please check your UCSD email frequently for information as your Orientation Session date approaches.
The Orientation Program consists of two required components:
The web-based enrollment process and the mandatory on-campus program.
Newly admitted students must review the New Student Site and talk with their major departments when new student enrollment begins.
See the timline below for other important dates and deadlines.
2017 Transfer Student Timeline
From June through September, you will receive emails with important information and approaching deadlines. Be sure to check your UC San Diego email account regularly. Follow the timeline below for important dates and deadlines.
When
What
Do it NOW

Activate your UCSD email account by visiting http://acms.ucsd.edu/. All official University correspondence is sent to this account and it is the primary method for delivering information including critical enrollment and orientation information during the coming months.
Review your Student Health Insurance Plan (SHIP) and the SHIP waiver, if necessary.
For those students interested in on-campus housing, please review The Village at Torrey Pines' website for additional information.

June 1 

Submit your Statement of Intent to Register (SIR) to the UC San Diego Admissions Office.
Submit your application for on-campus housing.
Go to the Campus Card Office website for information on how to submit your ID card photo online.

June 12

Register for the Mandatory New Transfer Student Orientation Program before August 1 deadline

Review how to contact your major department using the "Graduation and Academic Information" tab in the New Student Site.

If your major department did not post instructions in the "Graduation and Academic Information" tab on this website, or you have not been contacted by your major department, please go to the department's Undergraduate Advisors List for information on how to contact their office in order to plan your schedule.

After working with your major advisor to establish your fall schedule, Sixth College academic advisors and major department advisors will be available to answer your questions through Online Advising in the New Student Site.

Early July

Request your official high school transcript, college transcripts, and any AP/IB scores are sent to the UC San Diego Admissions office. 
Have any IGETC or UC Reciprocity letters sent.

July 1

Deadline to submit final documents to the UCSD Admissions Office.

July 31

Deadline to complete the online We Are Tritons program. Failure to do so will result in a hold being placed on your student account that will prevent you from enrolling in classes.
View your assigned enrollment appointment time on TritonLink.

August 1

Deadline to register for the

 Mandatory Net Transfer Student Orientation Program.

Take the e-CHUG assessment. 

August 21

Online enrollment period begins.

September 25

Mandatory On-campus Sixth College New Transfer Student Orientation Program.

September 23 - 27

Welcome Week.

September 28

Classes begin.
Lodging
Because of the timing of our Orientation, we are not able to offer housing accommodations to students who are not contracted to live on campus during the academic year.
Students holding contracts with Housing Dining and Hospitality to live on campus for the academic year should refer to information sent to their UCSD email account from The Village Residence Life office regarding details about the move-in process.