SNYCU #6

Kuncocshun Festival 2016


FREE food. FREE live music. FREE games. FREEbies all over the place. 

Date: Friday, May 6th
Time: 5-9PM
Location: Warren Field 

13th Annual Chocolate Festival 

DID YOU SAY CHOCOLATE?
Since 2004, Sixth College has faithfully satisfied the chocolate cravings of UCSD students during its annual Chocolate Festival. Join us on Friday, May 6th from 12PM-4PM at The DoggHouse Quad! We will have:
*CHOCOLATE FOUNTAINS *LOTS OF FREE CHOCOLATE *GAMES *RAFFLES *PHOTO BOOTH
*HUMAN HUNGRY HUNGRY HIPPOS *GIANT OBSTACLE COURSE *VARIOUS VENDORS
*FREE POCKY *& MORE CHOCOLATE!
LOOK OUT for Golden Tickets that will be hidden around Sixth College starting Week 5! If you recieve one of these 15 Golden Tickets you will be able to go to the front of the line and get your chocolate before everyone else!
Don't let the festivities end after Sun God and come out to enjoy a chocolate and fun-filled Friday! This event is open to all UCSD students and friends! We hope to see you there! Come relive your childhood and enjoy the Charlie and the Chocolate Factory themed event!
Brought to you by: Sixth College CoBoard Chocolate Festival Committee

Date: May 6th
Time: 12pm-4pm
Location: Sixth College Res Hall Quad
Facebook Event Page: https://www.facebook.com/events/220125881691849/

Video Production Club Presents:
Digital Film Festival XIII

Made a movie or a short film? Enter it in our Film Festival to win prizes.
The deadline for submissions for the 13th Annual Digital Film Festival, 2016 is Friday, May 6
Categories you and your team could win in this year:
•Drama/Narrative...
•Comedy
•PSA/Documentary
•Experimental
•Animation

The winner for Best Picture will receive a trophy in addition to their gift card
Requirements & How to Submit
Videos must be no longer than 10 minutes and do not have to correspond to the festival theme.
You may submit up to TWO films, each in different categories.
Submitter must be a UCSD student with a valid PID number.

For links to Submit: https://ucsdvpc.wordpress.com/digitalfilmfest/submit/

Screening and Awards is on Friday, May 13, 2016 at 6:30pm in Price Center Theater.

Facebook Event link: https://www.facebook.com/events/877620672359970/

We are Hiring a Student Affairs Intern!

Are you looking for a job for the 2016-2017 school year? Do you love graphic design, events planning, and this newsletter? This is a great opportunity for you to get more involved with the Sixth community and gain valuable work experience! Click here to read the job description and apply be sending your resume and cover letter to Jesse Rapport at jrapport@ucsd.edu.

Love being a Sixer? Volunteer for Transfer Triton Day 2016!

Show off all that Sixth College has to offer to newly admitted transfer students! Meet and greet newly admitted Sixers and their families. There are several ways you can help out! You can sit on a student panel where you share your perspective of being a Sixth College student, you can greet new admits and direct them where they need to go, or field questions at the question and answer table. Our goal for the day is to make new admits and their families feel welcome and help them decide if Sixth College is the right fit for them.

Transfer Triton Day 2016
Date: Saturday, May 7, 2016
Time: 9:00AM-12:30PM.

Breakfast, lunch and a t-shirt will be provided!

Interested in volunteering? Please fill out this Google form: http://goo.gl/forms/gKLH2CYiuJ
Questions? E-mail: frlin@ucsd.edu

Order Sixth College Graduation Stoles

Purchase your graduation stole online at the Sixth College E-Store. Merchandise can be picked up in the Sixth College HUB on the 2nd floor of Pepper Canyon Hall.

"Class of 2016" Stoles available for purchase through Friday, May 13th. 
Advising Hours Spring 2016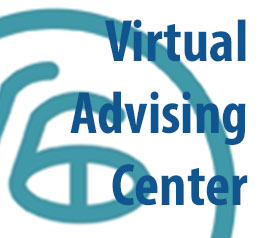 Walk-in Hours: 
Monday, Wednesday, Thursday 9:30-11:30am and Monday-Friday 1:30-3:30pm
Appointments: Wednesday 1:30-3:30pm and Thursday 9:30-11:30am

Location: Sixth College Hub, Pepper Canyon Hall, 2nd Floor
If you wish to schedule an appointment, please give us a call at 858-534-9001 or come in person to the office.

**Please check the VAC (http://vac.ucsd.edu) for up-to-date advising hours and closure notices.
Programs this Week
Come in to check your content, clarify your ideas, get revision tips, and enjoy some snacks!
Date: Monday through Thursday
Time: 6:00-10:00 p.m.
Location: Room 261 in the Digital Playroom on the second floor of Pepper Canyon Hall
Have all your Practicum questions answered in a one-on-one advising session!
Date and time:
Monday, Tuesday and Wednesday: 9:30-11:30 a.m. and 1:30-3:30 p.m.
Thursday and Friday: 1:30-3:30 p.m.
Location:
 Room 253 in the Academic Programs Office on the 2nd floor of Pepper Canyon Hall
Note: Note:
 The Writing Studio will be closed during Finals Week, so be sure to take advantage of this last chance to get feedback on your final papers!
Practicum Opportunities
Be recognized for your outstanding Practicum project! To apply please submit a letter of support, a 1,000 word essay, and sample work to sixthpracticum@ucsd.edu by Friday, May 13, 2016. Winners will receive an invitation to a Provost's reception, a certificate of recognition, a $75 cash award, and special recognition at Commencement! For more information visit http://sixth.ucsd.edu/practicum/excellence-award.html.
Date: Friday, May 13
Time: Before midnight
Read about all the exciting Practicum opportunities being hosted by Sixth College in Summer Sessions I and II 2016 on the Practicum website!
Events around the campus
I-House Global Forum - Lecture by Pacific Leadership Fellow, Eric Gan
Date: Wednesday, May 4
Time: 12 pm
Location: Great Hall 
Outreach Trivia Night: Week 6
FOOD, FACTS, FRIENDS, & FUN! Meet new people and test your knowledge of various trivia categories! Free entry to all UCSD students and prizes for winning team! Make this a weekly event and turn up the competition! ALL STUDENTS WELCOME! COME AS A TEAM OR BY YOURSELF!
· Date: Tuesday, 5/3/16 from 7:00-8:00 PM
· Location: Middle of Muir "MOM" (Below Pines Dining Hall)
· Facebook Event Page
Developing a Plan for your Summer
Looking for a summer job or internship? Not sure where to get started? Join the Outreach Coordinators, Career Peer Educators and Academic Internship Program for a career marathon where you will gain more confidence in your resume, elevator pitch, networking, as well as learn about the wonderful resources that the Career Services Center and Academic Internship Program has to offer. For more information, contact Yang Liu at warrenoutreach@ucsd.edu.
Date: Wednesday, 5/4/16
Time: 10AM-1PM
Location: Cross-Culture Center
Facebook Event Page
Cinco De Mayo
Come learn the true meaning behind Cinco de Mayo all while enjoying some great Mexican food and making paper flowers for Mother's Day!
Time: Thursday, May 5th 12:30-2pm
Location: Marshall Fireside Lounge
Facebook Event Page
Passport to Culture: Ecuador
· What: EARN YOUR PASSPORT & "TRAVEL TO ECUADOR ". Learn about life and culture from current students who have lived and studied in various regions of the world. Enjoy a traditional taste of food from the highlighted region each week! Week 6 "Passport to Culture" will highlight Ecuador! ALL STUDENTS WELCOME! FREE FOOD! If you'd like to share your own experiences from Ecuador as a panelist, please fill out the following form http://goo.gl/forms/2YIsGCKv6q
· Time: Thursday, 5/5/16 from 3:00-4:00 PM
· Location: International House (Near ERC) Cuzco Lounge
· Facebook Event Page
BOSS & BASEBALL
Want to experience a day out at the ballpark? Come out to the Triton Ballpark for BOSS & Baseball, brought to you by Outreach Coordinators, ACSE, & the Athletics Department! This event will be led by your Board of Out of State Students (BOSS)! We will be showing the UCSD Baseball Team's game against Cal State San Marcos, providing yummy tailgate foods, and playing games like cornhole & football toss! There will also be batting cages for you all to come try your hand at and a guest appearance by KING TRITON!
Time: 5/6/16 at 2 pm
Location: Triton Ballpark
Facebook Event Page
Opportunities
Call for Nominations for Outstanding Senior and Graduate Student Awards
This spring, Student Affairs and the Graduate Division will recognize two graduating students who have earned recognition in the UC San Diego community for their outstanding academic and leadership performance, and for enhancing the student experience at UC San Diego. One award will be given to an outstanding graduating undergraduate student and one to an outstanding graduating graduate or professional student.
While strong academic performance is important, the primary purpose of the award is to recognize students for their service to the university and contributions to student life as a student leader. Award recipients should possess the qualities and record of achievement to become future alumni leaders.
The award recipients will each receive $1,000, a special gift from UCSD Alumni and recognition at the Graduate Student Leader Reception on Saturday, June 4, and the All-Campus Commencement on Saturday, June 11.
Nominations may come from UCSD faculty, staff, students, and alumni. More information about the award criteria and the application process can be downloaded from http://vcsa.ucsd.edu/news-events/index.html. The deadline for submission is Friday, May 6, 2016.
Sign up to be a GAP mentor!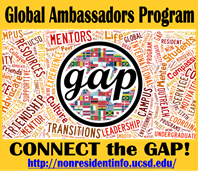 Want to expand your leadership experience? Interested in helping international and out-of-state students? The Global Ambassadors Program (GAP) is a summer-long peer mentoring program designed to assist incoming undergraduate international and out-of-state students in acclimating to a new environment and making a smooth transition into university life. GAP Mentors provide friendly support in order to engage our undergraduate non-resident students, introduce campus resources, and help them create solid relationships within the UC San Diego campus. Sign up here!
CATLab.Make - a new organization has sprung up in Sixth College!
CATLab.Make is the only Maker - dedicated organization in Sixth College and on campus! It is an organization dedicated to serving the Maker community, intersecting art and technology, and providing Maker - related activities and events.
https://www.facebook.com/catlab.make/timeline
Memberships are now open. Please contact Johnny Koo, k1koo@ucsd.edu, for more information
Save Energy Idea Campaign
The Sustainability and Operational Strategic Initiatives departments at UC San Diego are excited to announce the launch of the next IdeaWave campaign! Our goal is to become a carbon neutral campus by 2025. Share your ideas about how the university can better support the campus community in using less energy, from the electricity used for powering electronics to how you get to, from, and around campus. An evaluation team will review popular ideas and comments for possible inclusion in the Climate Action Plan. Submit your ideas by May 23rd; once the idea submission period is over, you have one additional week to vote and comment on ideas. To learn more, please visit ideawave.ucsd.edu.
Job opportunities
Apply to be an Outreach Coordinator Intern for Sixth College!
Interested in expanding your leadership experience? Want to get paid while helping plan, market, and support outreach efforts for international and out of state students? Then apply to be a paid intern for the 2016-2017 Academic Year!
Check out Job #818478 on Port Triton, email your cover letter and resume to grfuller@ucsd.edu, and fill out the application here!.
Upcoming Events
The Real World Career Series: Acing an Interview
We will discuss a typical interview process, how to "Dress to Impress", the "Do's" and "Don'ts" in your interview responses, and how to properly research and prepare for interviews.
Date: 5/11/16
Time: 3:00pm - 5:00pm
Location: Cross-Cultural Center
For more information contact: vigonzales@ucsd.edu
Facebook Page: https://www.facebook.com/events/1121546301241752/
Sixth College Commuter Center

Pepper Canyon Hall, Room 104

Cook in the kitchen, surf the web on the computers, take advantage in renting a locker, or watch TV. Just swipe your UCSD student ID at the door. Have questions? See the Sixth College Front Desk or contact Jesse Rapport, the Coordinator of Student Activities. Email: jrapport@ucsd.edu.
Sixth News You Can Use
Pepper Canyon Hall, 2nd Floor
UC San Diego, 2016