SNYCU #7

Video Production Club Presents:
Digital Film Festival XIII

Made a movie or a short film? Enter it in our Film Festival to win prizes.
The deadline for submissions for the 13th Annual Digital Film Festival, 2016 is Friday, May 6
Categories you and your team could win in this year:
•Drama/Narrative...
•Comedy
•PSA/Documentary
•Experimental
•Animation

The winner for Best Picture will receive a trophy in addition to their gift card
Requirements & How to Submit
Videos must be no longer than 10 minutes and do not have to correspond to the festival theme.
You may submit up to TWO films, each in different categories.
Submitter must be a UCSD student with a valid PID number.

For links to Submit: https://ucsdvpc.wordpress.com/digitalfilmfest/submit/

Screening and Awards is on Friday, May 13, 2016 at 6:30pm in Price Center Theater.

Facebook Event link: https://www.facebook.com/events/877620672359970/

We are Hiring a Student Affairs Intern!

Are you looking for a job for the 2016-2017 school year? Do you love graphic design, events planning, and this newsletter? This is a great opportunity for you to get more involved with the Sixth community and gain valuable work experience! Click here to read the job description and apply be sending your resume and cover letter to Jesse Rapport at jrapport@ucsd.edu.

GRADUATING SENIORS:

We are happy to announce that the "Class of 2016" commemorative stole is now for sale through the Sixth College E-Store for $20. The Sixth College Student Council graciously subsidized the stoles to make them more affordable. One stole per senior please.

The "Class of 2016" stole will be available for pre orders up through Friday, May 13th, however, it will not be available for pick up until the beginning of Week 10. Make sure you get yours today!
Advising Hours Spring 2016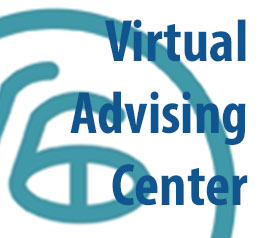 Walk-in Hours: 
Monday, Wednesday, Thursday 9:30-11:30am and Monday-Friday 1:30-3:30pm
Appointments: Wednesday 1:30-3:30pm and Thursday 9:30-11:30am

Location: Sixth College Hub, Pepper Canyon Hall, 2nd Floor
If you wish to schedule an appointment, please give us a call at 858-534-9001 or come in person to the office.

**Please check the VAC (http://vac.ucsd.edu) for up-to-date advising hours and closure notices.
Programs this Week
Come in to check your content, clarify your ideas, get revision tips, and enjoy some snacks!
Date: Monday through Thursday
Time: 6:00-10:00 p.m.
Location: Room 261 in the Digital Playroom on the second floor of Pepper Canyon Hall
Have all your Practicum questions answered in a one-on-one advising session!
Date and time:
Monday, Tuesday and Wednesday: 9:30-11:30 a.m. and 1:30-3:30 p.m.
Thursday and Friday: 1:30-3:30 p.m.
Location:
 Room 253 in the Academic Programs Office on the 2nd floor of Pepper Canyon Hall
Note: Note:
 The Writing Studio will be closed during Finals Week, so be sure to take advantage of this last chance to get feedback on your final papers!
Practicum Opportunities
Be recognized for your outstanding Practicum project! To apply please submit a letter of support, a 1,000 word essay, and sample work to sixthpracticum@ucsd.edu by Friday, May 13, 2016. Winners will receive an invitation to a Provost's reception, a certificate of recognition, a $75 cash award, and special recognition at Commencement! For more information visit http://sixth.ucsd.edu/practicum/excellence-award.html.
Date: Friday, May 13
Time: Before midnight
Read about all the exciting Practicum opportunities being hosted by Sixth College in Summer Sessions I and II 2016 on the Practicum website!
Events around the campus
Outreach Trivia Night: Week 7
FOOD, FACTS, FRIENDS, & FUN! Meet new people and test your knowledge of various trivia categories! Free entry to all UCSD students and prizes for winning team! Make this a weekly event and turn up the competition! ALL STUDENTS WELCOME! COME AS A TEAM OR BY YOURSELF!
Date: Tuesday, 5/10/16
Time: 7:00-8:00 PM
Location: Middle of Muir "MOM" (Below Pines Dining Hall)
Facebook Event Page
Off Campus Housing Workshop
Missed our first off campus housing workshop? We're having another one just for you!
Are you planning on living off campus next year? Do you need to find a place and don't know where to start? Come to our Off Campus Housing Workshop and learn all you need to know about living off campus, including tips on apartment hunting, security deposits, paying rent, housing contracts, dealing with landlords, etc. There will be presentations from Student Legal Services and the All Campus Commuter Board.
Food will be provided!
Date: Wednesday, 5/11/16
Time: 2PM-3PM
Location: Price Center West Warren College Room
Facebook Event Page
The Real World Career Series: Acing an Interview
We will discuss a typical interview process, how to "Dress to Impress", the "Do's" and "Don'ts" in your interview responses, and how to properly research and prepare for interviews.
Date: 5/11/16
Time: 3:00pm - 5:00pm
Location: Cross-Cultural Center
For more information contact: vigonzales@ucsd.edu
Facebook Page: https://www.facebook.com/events/1121546301241752/
International Idol – Cultural Talent Show w/ Mixer
Come join the Outreach Coordinators and I-House on May 11, 6:30-8:00pm at Great Hall for a cultural talent show and an international mixer! Let's all get together for this fun night of awesome performances, cultural exchange and mingling with new people and free food!
Time: Wednesday, May 11th 6-8pm
Location: The Great Hall, I-House
Facebook Event Page
Passport to Culture: Malaysia
EARN YOUR PASSPORT & "TRAVEL TO MALAYSIA ". Learn about life and culture from current students who have lived and studied in various regions of the world. Enjoy a traditional taste of food from the highlighted region each week! Week 7 "Passport to Culture" will highlight Malaysia! ALL STUDENTS WELCOME! FREE FOOD! If you'd like to share your own experiences from Malaysia as a panelist, please fill out the following form http://goo.gl/forms/2YIsGCKv6q
Time: Thursday, 5/12/16 from 3:00-4:00 PM
ocation: International House (Near ERC) Cuzco Lounge
Facebook Event Page
Bodyweight Bootcamp
Time: Fri, May 13, 10:00am – 10:45am
Location: The Zone
Continuous body weight movements to improve strength, stamina, mobility, and agility. This animal instinct workout is a new and fun way to bring out your playful side while improving your body's function. Questions? Contact The Zone at zone@ucsd.edu.
Destress w/ Biofeedback
Time: Fri, May 13th, 3-4pm
Location: The Zone
Come de-stress with the CAPs Wellness Peers! Measure your psychological stressors and learn more about what makes you most stressed, how it affects your well-being and how to keep your stress levels down!
Plus receive a cool highlighter and stress ball!
Hosted by the CAPS Wellness Peer Educators
Opportunities
Fellowship Opportunity for students $12,000 from UCOP
Four UC Smoke and Tobacco-Free Student Fellowships of $12,000 each will be awarded to undergraduate and graduate students pursuing research or projects aimed at reducing the health hazards of smoke and tobacco on campuses.
Deadline is May 25, 2016.
See Website for more info
Sign up to be a GAP mentor!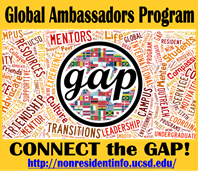 Want to expand your leadership experience? Interested in helping international and out-of-state students? The Global Ambassadors Program (GAP) is a summer-long peer mentoring program designed to assist incoming undergraduate international and out-of-state students in acclimating to a new environment and making a smooth transition into university life. GAP Mentors provide friendly support in order to engage our undergraduate non-resident students, introduce campus resources, and help them create solid relationships within the UC San Diego campus. Sign up here!
CATLab.Make - a new organization has sprung up in Sixth College!
CATLab.Make is the only Maker - dedicated organization in Sixth College and on campus! It is an organization dedicated to serving the Maker community, intersecting art and technology, and providing Maker - related activities and events.
https://www.facebook.com/catlab.make/timeline
Memberships are now open. Please contact Johnny Koo, k1koo@ucsd.edu, for more information
Save Energy Idea Campaign
The Sustainability and Operational Strategic Initiatives departments at UC San Diego are excited to announce the launch of the next IdeaWave campaign! Our goal is to become a carbon neutral campus by 2025. Share your ideas about how the university can better support the campus community in using less energy, from the electricity used for powering electronics to how you get to, from, and around campus. An evaluation team will review popular ideas and comments for possible inclusion in the Climate Action Plan. Submit your ideas by May 23rd; once the idea submission period is over, you have one additional week to vote and comment on ideas. To learn more, please visit ideawave.ucsd.edu.
Upcoming Events
Join the six colleges as we bring you the annual UCSD at the Padres trip!
On Sunday May 22nd, please join the six colleges as we enjoy the Dodgers vs Padres baseball game at Petco Park in beautiful downtown San Diego. The game begins at 1:40PM, so come one, come all for a fantastic afternoon of baseball with your fellow Tritons! See you there!
Eventbrite Link: https://ucsdatthepadres.eventbrite.com/
GAME TICKET $10
Please note that tickets are for the upper infield section of Petco Park. One game ticket per student with UCSD ID. Must be purchased at your college of registration. Please note that refunds will not be available. **While Supplies Last
BUS TICKET: $10
Buses begin loading at 12p on Mandeville Lane. Buses will leave Petco Park at 4:30p or 20 min after last inning. Only available with purchase of UCSD game ticket. **While Supplies Last
Sixth College Commuter Center

Pepper Canyon Hall, Room 104

Cook in the kitchen, surf the web on the computers, take advantage in renting a locker, or watch TV. Just swipe your UCSD student ID at the door. Have questions? See the Sixth College Front Desk or contact Jesse Rapport, the Coordinator of Student Activities. Email: jrapport@ucsd.edu.
Sixth News You Can Use
Pepper Canyon Hall, 2nd Floor
UC San Diego, 2016