SNYCU #8

Summer 2016 CAT Practicum Courses

Read about all the exciting Practicum opportunities being hosted by Sixth College in Summer Sessions I and II 2016 on the Practicum website!

Summer and Fall Practicum Proposal Deadline

This Friday, May 20, is the deadline to submit proposals for Summer Session and Fall 2016 Practicum projects! Submit your proposal at http://sixth.ucsd.edu/practicum/proposal/index.html by the end of this week to make sure you get your Practicum credit!
Date: Friday, May 20
Time: Before midnight

We are Hiring a Student Affairs Intern!

Deadline Extented: This Friday, May 20th

Are you looking for a job for the 2016-2017 school year? Do you love graphic design, events planning, and this newsletter? This is a great opportunity for you to get more involved with the Sixth community and gain valuable work experience! Click here to read the job description and apply be sending your resume and cover letter to Jesse Rapport at jrapport@ucsd.edu.
Port Triton Job ID: 819030 

CIA Bobaling

CIA and Sixth College Student Council are proud to present Bobaling! For the low price of $6.12, you can enjoy 2 hours of unlimited bowling with your fellow commuters!!! Face off in a showdown of bowling expertise, or have a casual game just for fun, the choice is yours. Either way, once bowling has finished, you can walk down the street to Bobalicious to enjoy a complementary drink with your fellow commuters.

Date: Friday, May 20th
Time: 7:00-10:00pm
Location: Mira Mesa Lanes
Facebook Event Page 

Tickets are avaliable at ciabobaling.eventbrite.com, and are non-refundable.

Get your tickets NOW, before they run out. There are only 50 spots.

UCSD Day at the PADRES!

On Sunday May 22nd, please join the six colleges as we enjoy the Dodgers vs Padres baseball game at Petco Park in beautiful downtown San Diego. The game begins at 1:40PM, so come one, come all for a fantastic afternoon of baseball with your fellow Tritons! See you there!

Eventbrite Link: https://ucsdatthepadres.eventbrite.com/

Date: Sunday, May 22nd
Time: 1:40pm
Location: Petco Park
Advising Hours Spring 2016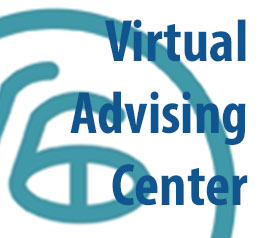 Walk-in Hours: 
Monday, Wednesday, Thursday 9:30-11:30am and Monday-Friday 1:30-3:30pm
Appointments: Wednesday 1:30-3:30pm and Thursday 9:30-11:30am

Location: Sixth College Hub, Pepper Canyon Hall, 2nd Floor
If you wish to schedule an appointment, please give us a call at 858-534-9001 or come in person to the office.

**Please check the VAC (http://vac.ucsd.edu) for up-to-date advising hours and closure notices.
Programs this Week
Come in to check your content, clarify your ideas, get revision tips, and enjoy some snacks!
Date: Monday through Thursday
Time: 6:00-10:00 p.m.
Location: Room 261 in the Digital Playroom on the second floor of Pepper Canyon Hall
Have all your Practicum questions answered in a one-on-one advising session!
Date and time:
Monday, Tuesday and Wednesday: 9:30-11:30 a.m. and 1:30-3:30 p.m.
Thursday and Friday: 1:30-3:30 p.m.
Location:
 Room 253 in the Academic Programs Office on the 2nd floor of Pepper Canyon Hall
Note: Note:
 The Writing Studio will be closed during Finals Week, so be sure to take advantage of this last chance to get feedback on your final papers!
Practicum Opportunities
Be recognized for your outstanding Practicum project! To apply please submit a letter of support, a 1,000 word essay, and sample work to sixthpracticum@ucsd.edu as soon as possible. Winners will receive an invitation to a Provost's reception, a certificate of recognition, a $75 cash award, and special recognition at Commencement! For more information visit http://sixth.ucsd.edu/practicum/excellence-award.html.
Events around the campus
Compassion Week
International House UC San Diego and Outreach Coordinators have teamed up to give you a week of events which underline the importance of Compassion.
Time: 5/15/16 – 5/20/16
Location: UCSD
Facebook Page
Learn new lunch meal ideas!
Come join us as we make Black Bean, Corn, Red Pepper, Avocado Salad with Lime-Cilantro Vinaigrette hosted by the Michelle (FitLife & WorkStrong Dietitian) and get FREE samples! Materials and ingredients are provided. Space is limited, first come, first served.
Date: Monday, May 16
Time: 2pm-3pm
Location: The Zone
Outreach Trivia Night: Week 8
FOOD, FACTS, FRIENDS, & FUN! Meet new people and test your knowledge of various trivia categories! Free entry to all UCSD students and prizes for winning team! Make this a weekly event and turn up the competition! ALL STUDENTS WELCOME! COME AS A TEAM OR BY YOURSELF!
Date: Tuesday, 5/17/16
Time: 7:00-8:00 PM
Location: Middle of Muir "MOM" (Below Pines Dining Hall)
Facebook Event Page
Next week at International House - UCSD:
I-House's Global Forum - ES 25th Anniversary Keynote: Robin D.G. Kelley, Nash Professor of American History at UCLA.
Date: Wednesday, May 18 
Time: 3PM
Location: Great Hall
Facebook Event
Passport to Culture: Norway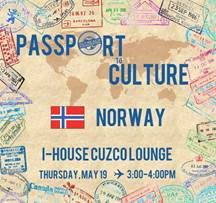 EARN YOUR PASSPORT & "TRAVEL TO NORWAY ". Learn about life and culture from current students who have lived and studied in various regions of the world. Enjoy a traditional taste of food from the highlighted region each week! Week 8 "Passport to Culture" will highlight Norway! ALL STUDENTS WELCOME! FREE FOOD! If you'd like to share your own experiences from Malaysia as a panelist, please fill out the following form http://goo.gl/forms/2YIsGCKv6q
Time: Thursday, 5/19/16 from 3:00-4:00 PM
ocation: International House (Near ERC) Cuzco Lounge
Facebook Event Page
Hatha Flow Yoga
A moderately paced yoga class that connects breath with movement in precise alignment to create greater awareness, strength and stability. Questions? Contact The Zone at zone@ucsd.edu.
Date: Friday, May 20
Time: 10:00am – 10:45am
Location: The Zone
Darkstar Open House
Come on out to see one of UCSD's best resources- Darkstar, the student-run sci-fi/fantasy library! There will be free pizza, tabletop games, and of course the library itself. Our collection consists of over 6000 books, all of which can be checked out with a student ID. Don't miss out!
Date: Friday May 20th
Time: 6pm-12
Location: Darkstar Sci-fi/Fantasy Library (Old student center second floor near Hi Thai)
Facebook link: https://www.facebook.com/events/1599699883681054/
Opportunities
Academic Integrity Review Board – opportunities for students
Looking for an interesting opportunity to get involved in campus leadership? Consider serving on the Academic Integrity Review Board (AIRB) during the 2016-2017 academic year.
The AIRB hears contested cases of Policy on Integrity of Scholarship violations, that is, when a student is alleged to have violated the Policy but s/he denies the allegation, the AIRB makes the determination as to whether the student violated the Policy as alleged.
Current and past members have told us that the AIRB is one of their most fulfilling service commitments because it allows them to really feel as if they are making an important and immediately recognizable contribution to protecting students rights as well as the integrity of the institution.
The commitment is minimal yet fulfilling. After the initial training (1/2 day), members sit on 2-3 Reviews per quarter, which can mean anywhere from 4 to 12 hours of service per quarter (Reviews finish on average within 2 hours, although some take longer).
If you are interested in being considered for the AIRB, please complete the application (found at http://academicintegrity.ucsd.edu/take-action/get-involved/form-airb-application.html) and submit by May 20th 2016.
The Muir Musical Ensemble is looking for a

DIRECTOR for the 2016-17 production!

If you or someone you know may be interested in taking on this tremendously rewarding challenge, PLEASE encourage them to apply.
This is an incredible opportunity and a chance to work with a cast of talented actors, musicians and artists in creating one of UC San Diego's most exciting and inspiring traditional events.
Apply to be the Director of the Muir Musical Ensemble for the 2016-2017 year!
If you are interested please email your resume and a brief letter of interest to Patricia Mahaffey, pmahaffey@ucsd.edu by Monday, May 23rd.

Fellowship Opportunity for students $12,000 from UCOP
Four UC Smoke and Tobacco-Free Student Fellowships of $12,000 each will be awarded to undergraduate and graduate students pursuing research or projects aimed at reducing the health hazards of smoke and tobacco on campuses.
Deadline is May 25, 2016.
See Website for more info
Do you love The Zone? Do you wish we had more programs, tea, a bigger space, or more? Tell us about your experience at The Zone and enter for a chance to win a $20 Visa Gift Card!
Your honesty and valuable feedback will help us continue to improve The Zone for students at UCSD
Questions? Contact The Zone at zone@ucsd.edu.
Complete the survey here: http://zone.ucsd.edu/survey
CATLab.Make - a new organization has sprung up in Sixth College!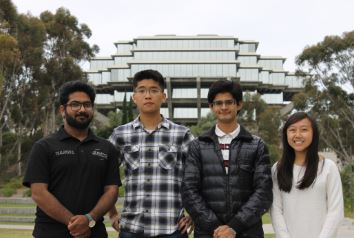 CATLab.Make is the only Maker - dedicated organization in Sixth College and on campus! It is an organization dedicated to serving the Maker community, intersecting art and technology, and providing Maker - related activities and events.
https://www.facebook.com/catlab.make/timeline
Memberships are now open. Please contact Johnny Koo, k1koo@ucsd.edu, for more information
Here are the officers for the new organization, CATLab.Make! From left to right, Thalansh Batra, Johnny Koo, Krishna Suri, Joanna Lam.
Save Energy Idea Campaign
The Sustainability and Operational Strategic Initiatives departments at UC San Diego are excited to announce the launch of the next IdeaWave campaign! Our goal is to become a carbon neutral campus by 2025. Share your ideas about how the university can better support the campus community in using less energy, from the electricity used for powering electronics to how you get to, from, and around campus. An evaluation team will review popular ideas and comments for possible inclusion in the Climate Action Plan. Submit your ideas by May 23rd; once the idea submission period is over, you have one additional week to vote and comment on ideas. To learn more, please visit ideawave.ucsd.edu.
Upcoming Events
Triton Gaming Expo 2016
Triton Gaming is proud to present the first-ever Triton Gaming Expo, a 1-day electronics, entertainment, and esports convention held at UC San Diego.
Our mission is to provide both students and non-students alike with the opportunity to discover new games, interact with new technology, and explore new careers in the gaming and technology industries.
Date: May 22
Location: Price Center Ballrooms
Admission: Free
Pre-registration: bit.ly/TGEXRegistration
Global Drug Decriminalization & Tijuana's HIV/AIDS Epidemic
Date: Wednesday, June 1st 2016
Time: 12p-2p (Doors open at 11:30)
Location: Great Hall
Registration (REQUIRED): www.ucsdghibranson.eventbrite.com
Join UC San Diego's Global Health Institute and the Open Society Foundation as we welcome Sir Richard Branson. Sir Branson is a world-renowned business magnate, investor, and philanthropist. Recently, he has turned his creative energy on the decriminalization of drugs worldwide, teaming up with the United Nations and the Global Commission on Drug Policy to revise the current harmful policies.
We invite you to participate in the screening of the documentary "Breaking the Taboo," and excerpts from Jon Cohen's book, Tomorrow Is A Long Time, followed by a panel exploring how decriminalization of drugs would affect the spread of HIV in Tijuana, with critical dialogue surrounding this issue.
Visit http://globalhealth.ucsd.edu/Pages/EVENTS for more information
Sixth College Commuter Center

Pepper Canyon Hall, Room 104

Cook in the kitchen, surf the web on the computers, take advantage in renting a locker, or watch TV. Just swipe your UCSD student ID at the door. Have questions? See the Sixth College Front Desk or contact Jesse Rapport, the Coordinator of Student Activities. Email: jrapport@ucsd.edu.
Sixth News You Can Use
Pepper Canyon Hall, 2nd Floor
UC San Diego, 2016