Check out this page
here
for updates about COVID-19 and how it impacts the university. Remember to wash your hands, stay at home, and stay healthy!
Sixth News You Can Use
Week 10 Spring Quarter
Spotlights • Academic Advising • Events • Job Opportunities • Public Meetings Scholarships • Basic Needs Resources • Commuter Resources • Campus Resources 
SNYCU Scavenger Hunt
Help Our Friend Get Some Food!
Oh no! Our little raccoon friend needs some help getting some food from a tree. Can you help him? Find all the letters scattered throughout the newsletter and form a word to get the apple from the tree. This time he's asking help from the first 4 people who finds all the letters in the newsletter and solves the mystery word. He will reward them with a 21 oz Hydroflask! UPDATED RULES!! Please fill out the google form below to submit your answer. You must be a current UC San Diego student in Sixth College to qualify. Please use your UCSD email to access the form. If there seems to be a problem with the google form, please submit your answers to sixthsaintern@ucsd.edu and state why you could not submit through the form. Please do not submit your answers to both the google form and email if no problem occurs with the link below. Word Hint: You are not alone. We all must help each other. What are we? Google Form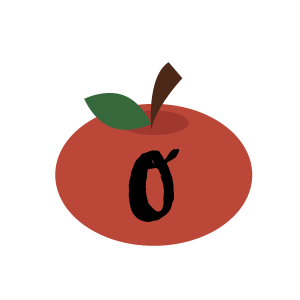 Spotlights
First-Gen Grad Virtual Recognition Site
Attention all First-Gen students graduating this year! A virtual recognition site is live! Visit here to find out how to get the most out of your graduating experience and recieve thanks from our honorable staff.

Hiring Student Graphic Design Intern
Love doing graphic design and supporting students? Want job experience in design and marketing while working remotely? Sixth College is looking for a Student Graphic Design Intern for the 2020-2021 academic year. Job details and expectations can be found on Handshake job#3769136. Apply before June 5th at 4PM!
Contact jrapport@ucsd.edu if you have any questions!
Seniors, We Have A Present For You!
Heard the news of a virtual commencement? It's definitely a new way to graduate but that doesn't mean you can't log in with style! On behalf of Sixth College, we present to you a new Zoom background you can use. You can download it in the link below with the other available Sixth Zoom backgrounds we have. Remember to use your UCSD email to have access.
UCPath is Here!
Log into the UCPath Online Portal and see the new features UCPath provides. Review your personal information (name, home address) to ensure it is correct – update if necessary. Enroll in or review your direct deposit information. For questions and support contact the UCPath Rapid Response Center. Visit the UCPath website for Go Live details.​
Contact bhrobles@ucsd.edu you have any questions​

Return to Learn Program: COVID-19 Screening
Are you staying on campus during the academic year? You may be eligible for a free COVID-19 testing from the UCSD's Return to Learn Program. Click here for more details.

Important San Diego Announcement: Face Mask Required
Starting May 1st, all people in San Diego are required to wear face masks in public and within 6 feet of another person. While this order is in effect, this does not substitute any other forms of health guidelines. Keep washing your hands, follow the stay at home order, and practice social distancing.
Take a Look at Our New Home!
Curious about what the new Sixth College would look like? No need to wait! Take a look at the video below to get a preview of our new home!
View Here
Learn More
A Present From Sixth College!
Missing Sixth College as much as we do? Try these Sixth College Zoom backgrounds that you can use! Show your spirit at home and online! You must use your UCSD email to access them.
Success Coaches are Available!
Attention! Success Coaches are now available to meet with all students, campus-wide. Success Coaches are highly trained in identity-conscious and appreciative advising approaches for holistic student support. You can meet one-on-one with any of our Success Coaches by simply joining our zoom room Monday-Thursday 11:00am-12:00pm & 1:00pm-3:00pm: https://ucsd.zoom.us/my/ucsdsuccesscoaching. We look forward to meeting with you!

Take the UC Undergraduate Experience Survey
Want to see a change within our campus? Got an idea you want to implement for students? Let your voice be heard with the UC Undergraduate Experience Survey! Look in your UCSD email or visit here to access the survey.
Spring Triton Fest 2020
Never fear! Spring Triton Fest is here - online! Have a good time at home with these upcoming events: Good, Clean Fun Our curated list of content to enjoy from home titled Good, Clean Fun. The list is updated every Friday and includes everything from fun videos to watch and our new Spotify playlist to wellness tips and professional development opportunities. Take a look at list in the link below. It updates every week so check back every week to see what you can do.

UCPath is Coming!
Do you work for UC San Diego?​ UCPath is coming! ​ ​UCPath is UC San Diego's new HR and Payroll system. Get ready today by reviewing and updating your personal information and home address in AYSO. Also, enroll in Direct Deposit, a fast, convenient, and secure way of getting paid while supporting social distancing.​ ​For more information, click on the link below.
Contact bhrobles@ucsd.edu if you have any questions!
Learn More
Sixth College Graduation Stole Pre-Order!
The Sixth College Signature Graduation Stole commemorates the year of your accomplishment, as well as the College's Logo. It is definitely something that you will want to add to capture your memories here at UC San Diego. Pre-order your graduation stole today and pick them up later in the school year! There's only a limited quantity and orders will come on a first come first serve basis.
Order Here!
Coping with Covid-19

Coping With Coronavirus Stress
Feeling stress out due to COVID-19? Read this article about tips and steps to think about and consider in taking care of your mental health.

COVID-19 Basic Needs Resources
Check out all the available resources to help you get through the COVID-19 pandemic.
 
 
 

Food

Hope Scholars Grocery Gift Cards: Available upon request to Hope Scholars students

The Hub: Triton Food Pantry: Food available to UCSD undergrads and grads on campus and via the new mobile pantry

Feeding San Diego: Locations of various food distribution sites and their eligibility

San Diego Food Bank: Locations for free food distribution across the county

CalFresh: 

Apply to get up to $194 a month per household member on an EBT

card. Assistance available via The Hub



Just In Time: Basic needs for foster youth and other crucial services

SD Unified School District: Find free meals provided for children while schools are closed | 

Technology and Transportation

Echoes of Hope: 

Resources for current and former foster youth,

low-income, and at-risk youth, between the

ages of 13-30: bus gift cards, grocery, housing


Low Cost Internet Access: Affordable internet through Comcast

iFoster: Technology devices to former foster youth

Enterprise Rent a Car: Reduced prices and age minimum for rentals | 
Academic Advising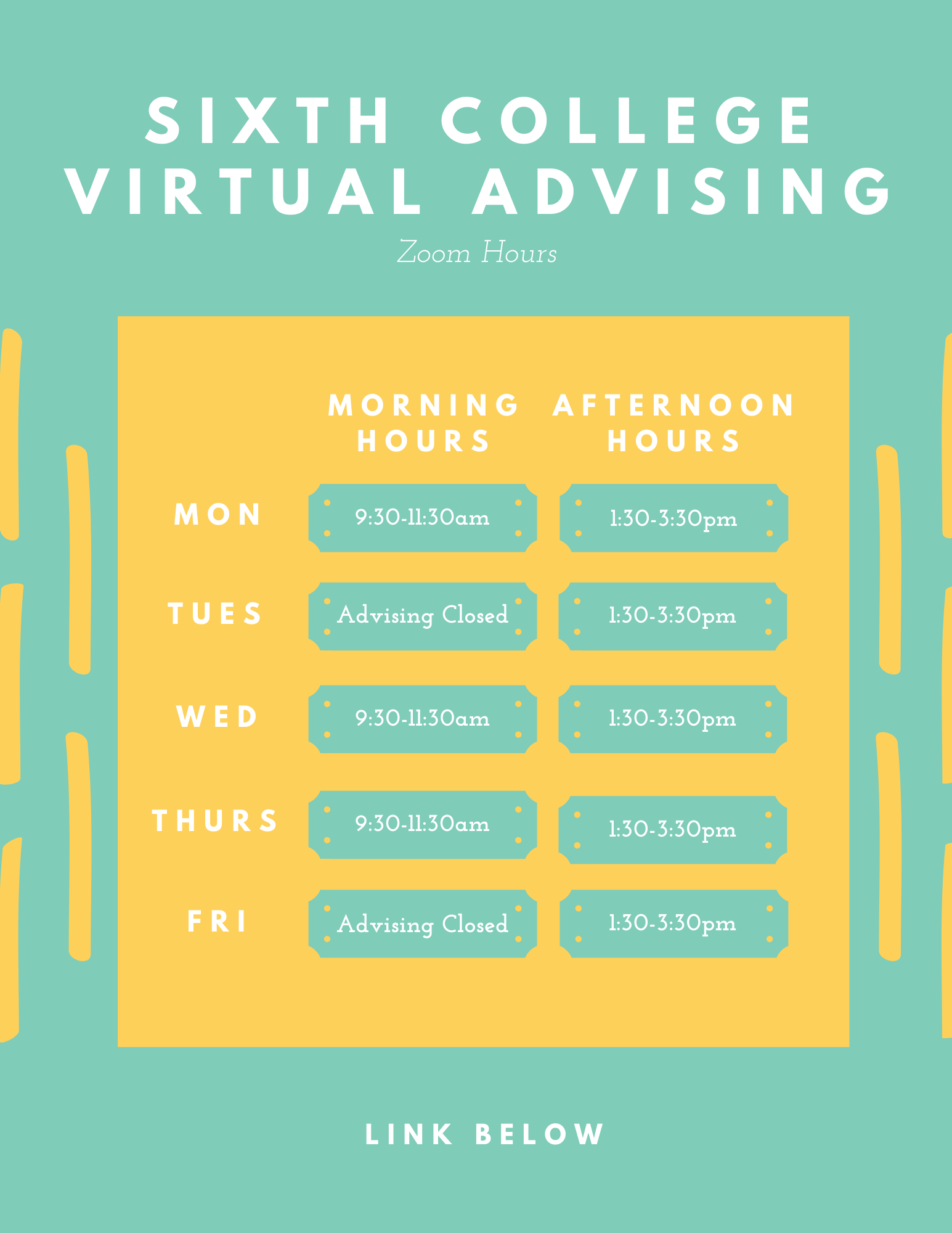 Website
Walk-in advising has been transitioned to virtual meetings using Zoom. We appreciate your cooperation as we work to protect the safety of our community in accordance with university, state, and local guidelines. 
To access walk-in advising, please log into the Virtual Advising Center. An announcement at the top of the homepage will include additional instructions. If you need additional support or instructions, please call our remote front desk at 858-534-9001.

Change Your Grading Option Deadline
Need to change one of your classes to P/NP or a letter grade? You have until Friday June 5th to do so.
Success In Remote Learning
As classes start to move online, you can still succeed wherever you are! Check out this video here to learn about you can get the most of out your online learning experience for the upcoming quarter.

Maintain Healthy Habits
The Zone has virtual programming and resources that can help you form healthy habits. Reach out to CAPS if you need mental health support.
Remote Learning Resource Site
We created a website to help support you during this transition. Click here to visit!
Events
Celebrating #FirstGen Class of 2020

Are you graduating this year and a first generation student? Share your experience at UCSD! Let us showcase your accomplishments during your time here to the entire UCSD community.

 

 

 

 

 
Brief Survey - About 20 minutes – Personal Attitudes and Experiences - $250 Lottery Entry

Researchers in the psychology department are conducting a study on student's experiences right now with the COVID-19 situation. You will be entered into a $250.00 lottery for participating in a study about your personal attitudes, beliefs, and behaviors, and demographics. Typical completion time is 20 minutes, most people finish in 10-30 minutes. Participation is anonymous, and a link will take you to a separate survey where you can enter your information for the lottery so that your email is never connected to your anonymous responses. Additional details can be found by clicking the survey link below.

 

 
 iTable & Special Relief Funds Available due to COVID-19

 

Due to COVID-19, we have expanded the iTable program to address both food and housing insecurity. Students that participate in the iTable program may also be connected to other special relief funds to address financial hardship they may be experiencing in other areas. Please fill out the iTable Self-Referral Form below for support.

 

 
As part of May is Mental Health Awareness Month, the CAPS Wellness Peer Educators are asking fellow Triton leaders to join us in "The Tritons Kindness Challenge." Throughout these last two weeks of May we will be highlighting fellow Tritons in their acts of kindness to strengthen connection, celebrate the power of kindness, and bring awareness to the importance of mental health. To join the Tritons Kindness Movement follow these 3 easy steps! Step 1: Engage in an act of kindness! If you need ideas, check out the kindness prompts posted on @ucsdwpe Instagram or come up with your own act of kindness! Step 2: Post about your act of kindness on your IG/FB page and make sure to tag @ucsdwpe so we can highlight you! To post, you can take a short video of yourself engaging in an act of kindness or post a related picture or story! Step 3: Tag a friend and challenge them to join the Tritons Kindness Movement! Near or far, we are all Tritons Together!










 

 
The Associated Students Office of Health and Wellness recognizes the distress that COVID-19 has had on our UCSD community. To continue to promote health and well-being, we and our partners have curated Wellness Kits to provide students the resources they may need during this unprecedented time. Click the "Learn More" link to learn about how to receive a wellness kit for on-campus and off-campus students.


Distributing from May 27th to June 10th




Learn More


Contact eilara@ucsd.edu or whgong@ucsd.edu if you have any questions!

 

 
Win a Nintendo Switch and other prizes! Join us by submitting a high score for one of a few games and get a chance to win! Check out our Instagram page @ucsdascollegeaffairs for the rules and to submit your score and get a chance to win! Send in your score now! Entries due no later than Wednesday, June 3rd!


Submit your entry before June 3rd on Instagram @ucsdascollege affairs






Contact ascollegeaffairs@ucsd.edu if you have any questions!


 

 
Transitioning Out of Social Justice Spaces

As we transition out of college and into the real world what will our activism look like? Join us for a conversation in a 3 part series with UCSD Alumni and current Org members about what transitioning looks like for ourselves and for those who come after us.


Monday June 1st from 5PM to 7PM
Wednesday June 3rd from 5PM to 7PM
Friday June 5th from 5PM to 7PM



Contact givincen@ucsd.edu if you have any questions!

RSVP HereLearn More
Social Media Digital Platforms &

Political Participation

As technological advancements are made, people's ability to connect, and engage in conversation over a variety of topics including politics has increased. Join us for a discussion around how social media and digital platforms have influenced political engagement. RSVP required.


Tuesday June 2nd from 4PM to 5:30PM via Zoom

RSVP Here
Intercultural Social Hour

Join us for cross-cultural conversations and games - online! At Intercultural Social Hour you can share your international interests and experiences while making friends in a relaxing and fun environment. Join from wherever you are and let's play across timezones!


Wednesday June 3rd from 3PM to 4PM via Zoom



Zoom Link

Learn More



 

 
Yoga Zone

Join us for a virtual yoga class with CAPS to help reduce stress and anxiety, and improve your mood. This practice will lead you to a sense of peace and general well-being. Dr. Dianna Quach is a clinical psychologist and a certified yoga instructor, RYT. All levels are welcome! Video is recorded and will be available on our website for later viewing.


Every Monday from 10AM to 10:45AM via Zoom

Contact zone@ucsd.edu if you have any questions!


Zoom Link

 

 
Live Well, Be Well

Health Promotion Services presents Live Well, Be Well -- a podcast where we speak candidly about all things wellness! We'll be covering everything under the sun when it comes to wellness. From resilience and stress management to sex and relationships to alcohol and cannabis, and everything in between! Our goal is to inspire you, to help you feel connected, and to help you discover new ways to live your best life. New episodes are released every Monday & Thursday! Subscribe on Apple Podcasts and Spotify!


Every Mondays and Thursdays at 8AM on Apple Podcasts and Spotify


Learn More

 

 

 
Triton Transfer Hub Digital

Triton Transfer Community Forum

Chat with transfers and the transfer Hub staff and post to Q&A and bullentin board


Access Anytime. Moderator Hours:
Monday-Thursday, 9AM to 6PM and Fridays 9AM to 1PM

Talk With Us 


Triton Transfer Virtual Meet Up

Chat with transfers and the transfer Hub staff and post to Q&A and bullentin board

Tuesdays from 12PM to 2PM
Thursdays from 4PM to 6PM

Zoom Link 


Live Stream
Join us for the topic of the week. Use the chat and ask any questions

Wednesdays from 4PM to 5PM via Instagram @TritonTransfers




Contact tritontransfers@ucsd.edu if you have any questions!

Learn More
Virtual ISPO Coffee Hours

Join us for ISPO Coffee Hours - Virtually! Bring your favorite coffee mug and cozy up to your screen on Tuesday, April 7th at 10am (PST) We look forward to seeing you there!


Every Tuesday at 10AM via Zoom link


Zoom Link

 

 

 

 

 
Asian American Community Forum

An informal drop-in group designed for Asian American students to discuss topics relevant to their experiences in a supportive environment. Bring your lunch and join us! Register here to get information about our zoom link.

Every odd week on Tuesdays, from 12pm-1pm on Zoom

Contact Dr. Dianna Quach at (858) 534-7710 if you have any questions! 
Black Women's Collective

Join us for conversations about our experiences as Black women and connect with other women on campus.

Every even week on Thursdays, from 5:00pm-6:30pm on Zoom

Contact cathompson@ucsd.edu if you have any questions! Zoom Link

 

 

 
Outreach Trivia Night

Each week one category will highlight California, another state and another country and the other three categories are miscellaneous!

 

Free entry to all UCSD students and prizes for the winning team. We will host trivia via Kahoot and Zoom this quarter and a sign-up form with more information will be updated through our FB page, so don't forget to check out our FB event page!

Want to sponsor Outreach Trivia and spread awareness about your department/org? Sign uphere!

Every Tuesday, from 7pm-8pm online

Learn More

 

 

 
Hungry For Healthy

Cook delicious and healthy meals on a budget with our virtual cooking demos. Log on to get a chance to win a grocery gift card to Ralphs!


Every Wednesday from 10AM to 10:45AM via Zoom

Contact zone@ucsd.edu if you have any questions!


Zoom Link

 

 

 

 
Alone Together: CAPS COVID-19 Emotional Support Forum for International Students

We are alone together. CAPS & ISPO are offering an Emotional Support Forum for International Students! Sharing connection, coping strategies, physical and psychological safety will help us fuel resilience. This is a weekly drop-in forum and every international student is welcomed. Together, we will help you manage in the face of the enormous psychological strain that COVID-19 is generating. This forum will be led by CAPS Psychologist Dr Sophia Chang.


Every Wednesdays from 1PM to 2PM via Zoom

Zoom Link

Learn More



 

 

 
Global Interviews

The I-House Global Forum Fellow is interviewing students from near and far about their current experiences and informing us on conditions around the world in the process. New videos drop every Wednesday at 3PM.


Every Wednesday at 3PM, new videos are posted on our Facebook page

Contact globalforumihouse@ucsd.edu if you have any questions!


Learn More

 

 
Cross Cultural Center (CCC) Office Hours

Miss the CCC community? Looking for accountability while getting work done? Want someone to chat with? Come join us for our virtual office hours!


Wednesdays Week 7 and 10 from 1PM to 2PM via Zoom
(Zoom ID: 944 2326 5688)

 

 

 

 

 
I-HeArt Foreign Film Series

Join I-House Thursdays on Zoom to watch movies from different countries. An open forum follows each film, allowing you to share your impressions.


Every Thursday at 7PM


Contact ihouseprograms@ucsd.edu if you have any questions!

Learn More
Triton Tools and Tidbits Podcast

How can we as a campus community support each other, and our students, to succeed in this unique environment? What tools do students need to succeed in an era of physical distancing? How can students maintain connectivity to their networks in a remote environment, sustaining a sense of community while in a non-traditional campus environment? Every Thursday, Triton Tools and Tidbits seeks to answer these questions while highlighting resources available to students across Student Affairs units and the UC San Diego campus community. Visit the website to listen and subscribe!

 

Every Thursday online





Click on the website link for more details

 

 

 
This is a time for the international student community to gather and voice concerns, feedback and questions regarding COVID-19 at UC San Diego. UC San Diego staff and student leaders will be here to answer questions, hear your concerns and pass along feedback. Please feel free to share widely. If you would like to share your concerns via Google Form, you can do so here.


Every Fridays from 8AM to 8:30AM via Zoom


Zoom Link

Learn More

 

 
iCAFE

Collaboration of Passport to Culture and iCafe. Learn about a new country every week online with other students! Registration required to access Zoom link.

Every Friday, from 12pm-1pm online

Contact ihouseprograms@ucsd.edu if you have any questions!  Learn MoreRegister Here

 

 

 

 
Gelila Mesfin

Take a look at our virtual art gallery hosted by the UCSD Cross-Cultural Center.
Isabel Cabanillas Art Gallery

Check out our virtual art gallery hosted by the Cross-Cultural Center currently displaying the work of Isabel Cabanillas.



Visit the gallery anytime!

Contact llopez@ucsd.edu if you have any questions!

View Here
HATECOPY

Check out the art of Hatecopy (Maria Qamar) that features South Asian pop art that focus on patriarchy, aunty culture, SJ Issues, and much more.

 

 

 

 

 
Piyarat Piyapongwiwat Virtual Art Gallery

Check out the first of the Cross-Cultural Center's virtual art galleries! Now displaying Thai artist Piyat Piyapongwiwat's collection of photographs entitled "Queerness."


Visit the gallery anytime!


Visit Us

Contact llopez@ucsd.edu if you have any questions!

 

 

 
Thrive - Peer Health Coaching 

The Thrive Peer Health Coaching Program provides undergraduate students with personalized support and guidance from a trained peer health coach. In a one-on-one setting, our coaches will help you assess your desired well-being goal, create a behavior change plan using "SMART" goal-setting, and help you identify and develop the knowledge and skills to improve your well-being. Peer Health Coaches will also provide you with the resources and support necessary to attain your goal.



Click the link below to learn more about how to request a peer coach


Learn More

 

 
Health Promotion Services

Want to spend time doing activities that are fun and engaging? CAPS and the Zone are here to provide you events that will keep you active and have a good time!

Check out the link below to view upcoming events!

Learn More

 

 

 

 

 
Job Opportunities
Hiring Undergraduate Mentors!
Do you enjoy work that involves peer collaboration? UCSD's Analytical Writing Program (AWP) is 
now hiring
 undergraduates to work as writing mentors for the 2020 - 2021 school year. Writing Mentors within the Analytical Writing Program's Embedded Writing Mentor Program work with their peers to help them become better, more confident writers—by teaching and leading conversations about students' writing strengths and challenges. For more details and to apply, visit the job posting for the AWP Tutor (Embedded Writing Mentor) 2020 - 2021 on ASES. Zoom interviews are currently being scheduled. Two-quarter and full-year positions are available. 
Apply Now
Apply to be a GAP Mentor!
The Global Ambassador Program (GAP) is a summer-long mentorship program that matches incoming international and out of state students with current UC San Diego. Being a GAP Mentor is a great leadership and volunteer opportunity! 
*GAP Mentor Trainings will happen virtually in Spring Quarter. 
Apply Now
Become A Summer RA
Want to make an impact on student residents living on-campus? Apply to be an RA in the summer! Be a part of the residential life program at UCSD and help plan events for students and guide them through their college career while being compensated.

Apply through Handshake, job #3640644. Please contact bcannizzaro@ucsd.edu if you have any additional questions.

TRiOSummer Jobs
UC San Diego's TRIO Outreach Program has a variety of summer job opportunities to work with Upward Bound, Upward Bound Math Science and Educational Talent Search programs.  We are looking for experienced and motivated tutors, resident assistants and academic enrichment trainers who can help build the college going pathways for local San Diego youth.  We conduct academic programs in residential and commuter settings that serve over 200 diverse students from grades 9 – 12.  We offer summer programs at different locations, including UC San Diego, SD City College and Mount Miguel High School. Here are the following jobs you may apply for whether as a UCSD student or not:



For UCSD Students

:


Resident Assitant
:
Provide college mentorship to high school students in a residential setting (
Apply at UCSD Handshake Job#- 3587312
)

Academic Tutor

: Provide academic support to 

high school students in Math, 

Science, English, and 

Italian Language 

(Apply at UCSD Handshake Job# - 3587353)


For Non-UCSD Students

:


Tutor

: Provide academic support to high school 

students in Math, Science, 

English and Italian Language (Apply at https://jobs.ucsd.edu/ Job#- 104060)

Resident Assistant

: Provide college mentorship to high 

school students in a 

residential setting (Apply at https://jobs.ucsd.edu/ Job#- 104008)


 


Academic Trainer

: Provide academic-based lessons to 

high school students.
Math Job#- 103936
English Lit & Comp Job#- 103966
Science (with Lab) Job#- 103968
Italian Language Job#- 103969)
Summer Residential Program
Training: June 15th - June 19th
Program Date: June 21st - July 24th
Public Meetings
Sixth College Student Council (SCSC)
Thursdays, 5:15pm Online Meeting, please contact us for updates and meeting link if available
Website | Facebook
Contact

Finance Committee
Wednesdays, 1pm
Online Meeting, please contact us for updates and meeting link if available

Contact

 

Teal Team Sixth (SCSC Programming Committee)
Wednesday, 6pm
Online Meeting, please contact us for updates and meeting link if available
Facebook | Contact

Tech Committee
Thursdays, 7pm
Online Meeting, please contact us for updates and meeting link if available

Website | Facebook
Contact

 

Sixth College Community Board (CoBoard)
Mondays, 7pm
Online Meeting, please contact us for updates and meeting link if available

Facebook | Contact
Scholarships
Check Back Later!
Basic Needs Resources
Campus Resources
 

Tele Medicine Visits with SHS Providers

Now available! Free with SHIFT/RAFT. Call (858) 534-3300 to set a date and time. Download the MyChart app to your smart phone or tablet.
If you would like to submit relevant events to be featured in the newsletter, please email sixthnewsyoucanuse@ucsd.edu! Guidelines for submission can be found here.