Personalizing Your Residence Hall Room or Apartment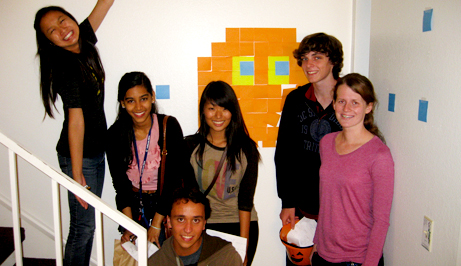 Find out all the specifics from furniture dimensions to decorating rules about the Sixth College residence halls and apartments.
Furniture provided by UCSD

Visit UCSD Housing*Dining*Hospitality Services (HDH) Amenities page for a list of furniture and amenities that HDH provides.

Your Sixth College residence hall room or apartment bedroom will have a bed, desk, and small chest of drawers. Some rooms have small bookshelves that mount on the desks or can be placed on the floor. The Apartments have an oversize drawer that slides under the bed. Furniture measurements are listed below.
Make sure to note the list of items on the HDH Amenities page that you should bring.

Size of furniture

**All measurements are approximate and furnishings in residence halls may vary from those in apartments**

Bed measurements

Bed Length: Your bed is approximately 38" wide and 83" long from the headboard to the foot board. The mattress is a Twin XL (extra long).
Bed Height: An unlofted bed can be placed at three levels. At the first and lowest notch, there is 13" of clearance under the bed. At the second notch, 20" of clearance. At the third notch, 27" of clearance

Desks: Measure 42" wide x 30" high x 28" deep.
Bureau(residence halls):  40" wide x 55" high x  22" deep
Closets (apartments): Measure 36" wide x 96"high x 23" deep, with a single shelf at the top of the closet.
Under-bed drawers: Measure 37" wide x 8.5" high x 19" deep.
Decorating your space
UCSD HDH and Sixth College have very specific rules about what materials can be used to decorate your living space. For a complete set of policies, please visit Residence Life Policies.

Below are some of the most commonly asked questions regarding decorating.

May I put up posters in my room?
You may put up posters and pictures using poster putty or removable tape as long as no significant damage is caused upon removal. You may not drill or nail anything heavy-duty to your wall or install bookshelves, bike racks, shelves, brackets, etc. Altering the walls or ceilings, including paneling, mirrors, bottle tops, cork, scarves/ fabric, or adhesive stars or stickers is strictly prohibited. As for posting images in common areas, you are expected to be sensitive to others, and to exercise sound judgment and restraint. More specifically, items placed on display in group living areas should not be blatantly offensive to others. "Group living areas" include your suite lounge, hallway and bathroom, your apartment, or your 2- or 3-person residence hall room, etc.
I love candles and incense! May I burn them in my residence hall or apartment?
Any kind of open flame (including candles and incense) is strictly prohibited and may result in eviction proceedings. Residents are prohibited from using candles (even unlit as decoration) because of the extreme fire hazard. The newer "gel" type of candle is especially dangerous, as the gel material can violently ignite.
May I paint my room?
The painting of rooms and apartments by students is prohibited. If you feel your room or apartment needs painting, call (858) 534-2600. If it is found that the area does need painting, it will be painted by the University at no charge.
I have a green thumb. May I have a plant?
Yes; however, there are restrictions as to where plants may be placed and how you care for them. Plants may not be hung from any ceiling. Plants may not be placed on any windowsill or balcony railing at any time because of the safety hazard posed to those below. Plants should never be watered over any sink, bathtub, or shower drain because soil may clog the drain and garbage disposal.
For more information, contact Sixth College Residence Life Staff.