Sixth College Commencement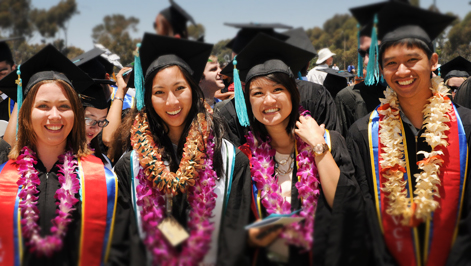 2015 Commencement Ceremony
UC San Diego has a long tradition of holding separate commencement ceremonies for each of the undergraduate colleges. Sixth College's Commencement Ceremony will be held on Sunday, June 14, 2015 at 5:00pm on RIMAC FIeld.
Please check back with this page often, as we add more information as the Commencement date draws near.
---
Student Eligibility
Students who will have completed 135 units by the end of Winter 2015 may participate in commencement. 
Participation in the commencement ceremony is voluntary, and does not impact a student's degree conferral.
Students who would like their name to appear in the commencement program, must register by the deadline Thursday, May 1, 2015. Students must indicate whether or not they would like their name included in the commencement program at http://degree.ucsd.edu. Students who miss the May 1st deadline may still participate in the ceremony, but will not have their name included in the program.
Students who are not graduating Fall 2014 - Summer 2015 may still participate in the ceremony and have their name in the commencement booklet. Please go to the "Graduation" tab in the Virtual Advising Center for more information
See our Graduation Checklist.
Exception Requests
Students must petition for approval to participate in another college's commencement.
Submit your written exception request via e-mail by midnight Friday, May 15, 2015,with supporting documents described below, to commencement@ucsd.edu. You will be notified in writing of the committee's decision. Please visit the Exception Requests page for a list of exceptions considered by the committee.
For Disabled Students and Guests
Commencement is an exciting day for our graduates to share with their families and friends. We hope that the following information will help guests with special needs to enjoy the day with their graduate.
Disabled parking for those with handicap placards will be available in the Hopkins Parking Structure. Please follow the parking attendants' directions and have your placard easily viewable.
The commencement site is approximately 1/4 mile from the parking lot. We regret the university is not able to provide wheelchairs for guests. The first/last chair of each row may be removed to accommodate wheelchairs.
ASL interpreters will be on stage throughout the ceremony.
There is limited shaded seating available on a first-come, first-served basis. This seating is available to those in need and one additional guest.
Please contact our office at (858) 246-0428 for any other special arrangements to accommodate your guests' needs.
Parking
Parking for commencement is free and plentiful, but heavy traffic is expected. Check back closer to the date of the ceremony for updated parking information
Photography
Guests should use a powerful zoom lens to memorialize this special day, as they will not be able to get close to the stage to take a photo.
Photos will be taken of students as they cross the stage. Students will receive a proof photo a few weeks after commencement, and may decide then whether to order prints and enlargements.
Graduates may also elect to have a professional senior portrait snapped in advance at the UCSD Bookstore.
Student Participation
We are excited about this upcoming joyous occasion!
Seniors should check their @ucsd email for announcements about commencement.
For additional campus information, see the UCSD Commencement web site.
For information about accommodations in the San Diego region, see the Visitor Guide to UCSD.
For more information, contact Sixth College.
Graduating seniors are invited to participate in a number of celebrations.

The Sixth College Graduate Reception is a college tradition. Date and time TBA.
Pepper Canyon Hall (map),
2nd Floor
Phone: (858) 534-9001
Fax: (858) 822-5999
Mailing Address
Sixth College
UC San Diego
9500 Gilman Drive
Mail Code 0054
La Jolla, CA 92093-0054
Office Hours
8:00AM-12:00PM
1:00PM-4:30PM
---