Sixth College Commencement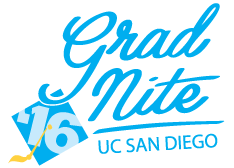 Sixth College 2016 Commencement -
Saturday, June 11 at 5:30 p.m. on RIMAC Field
Important Information for Graduates:
Graduates must report to the Spanos Field (just north of the RIMAC Field) by 4:30PM on Saturday June 11, 2016 Graduates MUST have a UCSD Bookstore-issued ticket to participate in the ceremony. Please fill out the ticket before arriving at the Spanos Field. Please note, only your name will be read, so do not add information on your ticket other than your name.
Only graduates (no parents/families) will be admitted to the Spanos Field. Do not bring anything (e.g., purses, bags, change of clothes, etc.) with you to the ceremony. You will not be able to carry it, and there will not be any secure location for you to leave any personal belongings.
Sixth College's Commencement ceremonies are successful and meaningful because graduates make them that way. Traditionally, the occasion is festive, and traditionally, graduates act decorously. Please do not diminish these traditions, and disrespect yourself and your family/guests, by bringing alcohol to the ceremony or arriving under the influence. Also, please be respectful of your fellow graduates by staying for the entire ceremony, which will end no later than 7:00 PM.
Information for Your Family/Guests:
Families and guests should report to the RIMAC Field by 5:00 PM. Tickets are not required for families and guests. The Commencement procession will begin promptly at 5:30 PM. Families and guests are strongly discouraged from bringing balloons, signs, and any other items that will obstruct the view of other Commencement guests.
Also, you should decide where you will meet your family and guests after the ceremony. Since there will be a large number of people on the field, it's helpful to designate a location to meet after the ceremony ends.
Parking:
Parking. Parking on campus will be tight, so graduates, families, and guests are strongly encouraged to arrive quite early. Please visit the Commencement Parking website for important information about parking for Sixth College's commencement ceremony. https://transportation.ucsd.edu/parking/commencement.html
Grad Central at the UCSD Bookstore
Grad Fair is Tuesday, April 26 - Wednesday, April 27
Grad Night at the Bookstore is Thursday, April 28
Remember: You can order your cap and gown via the Grad Central website if you cannot come to campus to order
All Campus Commencement
College Commencement Information
For Faculty