Sixth College Commencement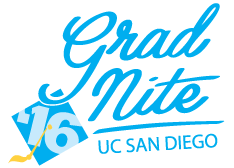 2016 Commencement
Grad Central at the UCSD Bookstore
Grad Fair is Tuesday, April 26 - Wednesday, April 27
Grad Night at the Bookstore is Thursday, April 28
Remember: You can order your cap and gown via the Grad Central website if you cannot come to campus to order
Sixth Commencement Ceremony Speaker Application
Apply to be the 2016 Sixth College Commencement Speaker
National Anthem Performer Auditions
Register to audition to perform the National Anthem at the 2016 Sixth College Commencement cereomy.
All Campus Commencement
UC San Diego is reviving a time-honored tradition to celebrate and unify all graduates together. For the first time in 16 years, a campus wide commencement featuring an internationally-renowned speaker will be held in tandem with the undergraduate and graduate school ceremonies.
We invite all graduates, families and friends to attend both ceremonies to fully experience the pomp and circumstance, and joy and pride, that marks one of the most memorable times in a student's life. This two-part celebration will include the 90-minute All Campus Commencement during which Chancellor Pradeep K. Khosla will officially confer degrees by academic division upon graduates gathered as one student body on RIMAC Field.
In addition, the six undergraduate Colleges, Graduate Division and professional schools will host personalized Graduation Ceremonies for their students, where graduates will be recognized by name as they walk across the stage. We can't wait to celebrate with you!
For more information and the student speaker application visit commencement.ucsd.edu.
For Faculty