Commencement 2014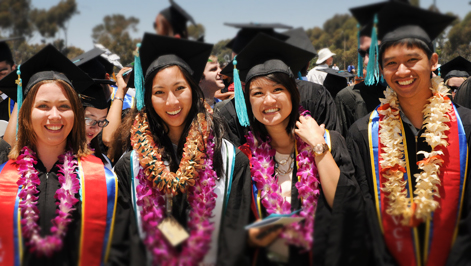 UC San Diego has a long tradition of holding separate commencement ceremonies for each of the undergraduate colleges. Sixth College's Commencement is scheduled for 
Sunday, June 15, 2014
, at
5:00pm
 at 
RIMAC field
 (
map
).
Student Eligibility
Students who will have completed 135 units by the end of Winter 2014 may participate in commencement. 
Participation in the commencement ceremony is voluntary, and does not impact a student's degree conferral.
Students who would like their name to appear in the commencement program, must register by the deadline Thursday, May 1, 2014. Students must indicate whether or not they would like their name included in the commencement program at http://degree.ucsd.edu. Students who miss the May 1st deadline may still participate in the ceremony, but will not have their name included in the program.
Students who are not graduating Fall 2013 - Summer 2014 may still participate in the ceremony and have their name in the commencement booklet. Please go to the "Graduation" tab in the Virtual Advising Center for more information
See our Graduation Checklist.
Caps, Gowns and Graduation Announcements
UCSD's Bookstoreprovides cap and gown sales and referrals for personal announcements.
Sixth College graduation stoles are the perfect addition to your graduation regalia! The stoles are white with teal embroidery. Stoles may be purchased at the Sixth College Hub, Pepper Canyon Hall, second floor (while supplies last, cash only).
Commencement Booklet
All students who wish to have their name in the Commencement Booklet, and are eligible, must go to http://degree.ucsd.edu and verify that their name is in our system for the displayed majors to be printed in the booklet.
Ticketing
No tickets are required for guests. There is no limit on number of guests.
All graduates must have a ticket to gain admittance to their college's commencement ceremony. Tickets are issued by the Bookstore at the time of cap and gown rental.
Students must petition for approval to participate in another college's commencement.
Student Participation
Student Commencement Speaker 2014
The commencement committee is seeking a student speaker for this year's Sixth College Commencement on Sunday, June 15th, 2014. On that day, a special opportunity will exist for one graduating senior to speak about UCSD, the college experience and his or her hopes for the future of the graduating class. Members of the graduating class are invited to apply to be considered for the role of student speaker.
Application deadline 5pm Friday, April 18, 2014.
Send your application to lbrossard@ucsd.edu, and include the following items:
Subject line on the email MUST BE "commencement speaker"
A cover email with your name, local address, and phone number.
The draft for a speech of no more than five minutes (2.5 pages double-spaced).

It should be complete, though revisions of the chosen speech may be suggested by the committee. Your name should not be on the draft itself. Students whose speeches are selected for final consideration will be asked to present their speeches orally to the committee, and eligible students will be informed of available audition times.
The speeches will be judged in two main categories: content and delivery. The selection committee will use the following criteria to rank speeches in the order of preference:
Content
Embracement of the spirit and mission of Sixth College
Creativity and originality
Inspirational tone
Rhetorical effectiveness
Clarity of message
Quality of thought and expression appropriate for achievement of bachelor's degree
Delivery
Stage presence (confidence, poise, eye contact with audience)
Enunciation, articulation and projection
Rhetorical skill
Evidence of practice and preparation
We encourage graduates to submit a speech, and to be as creative as they wish. Your message should be clear and relevant to the occasion and the audience. Please avoid profanity or overtly political messages.
National Anthem Performer 2014
The Sixth College Commencement Committee is seeking a student singer or musician to perform the National Anthem for this year's Sixth College Commencement on Sunday, June 15th, 2014, to be held outdoors on the RIMAC field. All Sixth College Students in good academic standing are invited to audition.
Auditions will be held in Pepper Canyon Hall – Academic Programs (exact audition times TBD)
You must register to audition by Friday, April 4, 2014.
Email lbrossard@ucsd.edu
Subject line on the email MUST BE "anthem performer"
Name and Phone Number
Statement about your experience performing music (no more than a paragraph)
Short Essay (200-400 words) on what performing at the commencement means to you and why the committee should select you to perform at commencement.
Once you have registered you are eligible to audition for the selection committee. Specific times and dates to be announced after registration. Vocalists should be prepared to sing a capella, without amplification. Instrumentalists should provide their own instruments and any necessary amplification.
The chosen musician will be selected for their overall appeal, considering the following factors: short essay, familiarity with the National Anthem and performance ability, including poise, clarity, and pitch.
The Provost's Award recognizes the Sixth College graduating senior whose academic coursework and faculty-mentored research best exemplifies the college's commitment to experiential learning and public service. This award will be presented at the commencement ceremony. Nominate students for the award by emailing Ethel Lu at 
erlu@ucsd.edu
.
Arrival Time
For Disabled Students and Guests
Commencement is an exciting day for our graduates to share with their families and friends. We hope that the following information will help guests with special needs to enjoy the day with their graduate.
Disabled parking for those with handicap placards will be available in the Hopkins Parking Structure.  Please follow the parking attendants' directions and have your placard easily viewable.
The commencement site is approximately 1/4 mile from the parking lot. We regret the university is not able to provide wheelchairs for guests. The first/last chair of each row may be removed to accommodate wheelchairs.
ASL interpreters will be on stage throughout the ceremony.
There is limited shaded seating available on a first-come, first-served basis.  This seating is available to those in need and one additional guest.
Please contact our office at (858) 246-0428 for any other special arrangements to accommodate your guests' needs.
Photography
Guests should use a powerful zoom lens to memorialize this special day, as they will not be able to get close to the stage to take a photo.
Photos will be taken of students as they cross the stage. Students will receive a proof photo a few weeks after commencement, and may decide then whether to order prints and enlargements.
Graduates may also elect to have a professional senior portrait snapped in advance at the UCSD Bookstore.
Commencement Ceremony
Sixth College's ceremony will include a processional of faculty and students, remarks by the Provost and Chancellor, presentations and awards, a senior student address, a commencement address, the presentation of our graduates, and a recessional.
The ceremony will last about two hours.
To show respect for all graduates, please remain seated until all graduates have crossed the stage and recessional has begun.
Watch the weather forecast, in June, afternoons near the ocean can range from very warm to quite cool.  Seating is outdoors, mainly in unshaded areas.  Depending on the weather, it is recommended to bring sunscreen, a hat, and an extra layer of clothing.
Please note: Accredited Guide Dogs and/or Service animals for people with disabilities are permitted (with Service License) but must be on leash at all times and muzzled, if necessary. No other animals are permitted.
We are excited about this upcoming joyous occasion!
Seniors should check their @ucsd email for announcements about commencement.
For additional campus information, see the UCSD Commencement web site.
For information about accommodations in the San Diego region, see the Visitor Guide to UCSD.
For more information, contact Sixth College.
Graduating seniors are invited to participate in a number of celebrations.

The Sixth College Graduate Reception is a college tradition. Date and Location TBA
Pepper Canyon Hall (map),
2nd Floor
Phone: (858) 534-9001
Fax: (858) 822-5999
Mailing Address
Sixth College
UC San Diego
9500 Gilman Drive
Mail Code 0054
La Jolla, CA 92093-0054
Office Hours
8:00AM-12:00PM
1:00PM-4:30PM
---