Practicum

CAT 124: Ethnography and Informal Science Learning

UCDC Program

CAT 124: Comicraft
About the Practicum
The Sixth College Practicum is an upper-division, 4-unit general education requirement that embodies the College's commitment to active, hands-on learning. Students enroll in courses that have an experiential, service-learning, or community-based component to the curriculum. 
Find out more about which courses you can use to fulfill the Practicum!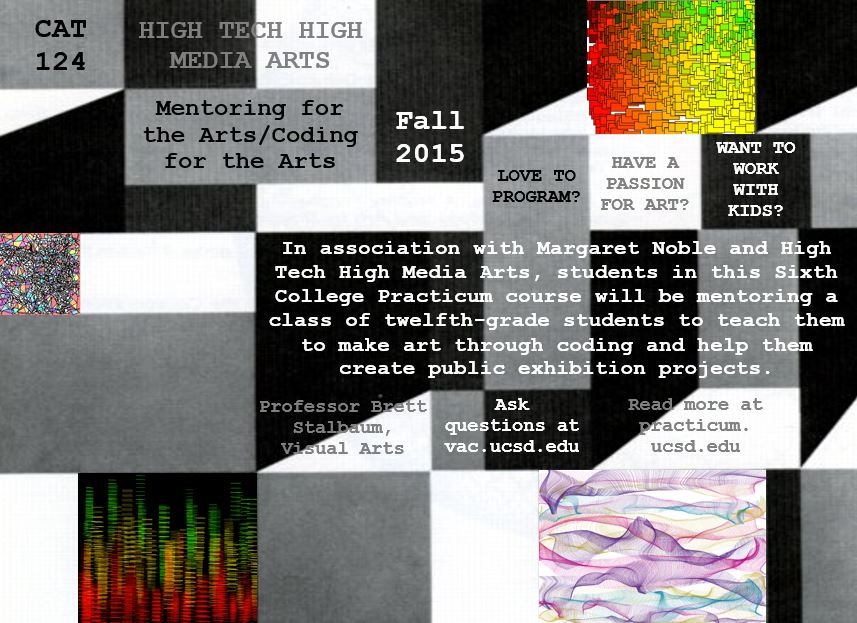 It's not too late to complete your Practicum this quarter! We are still accepting new students for Professor Brett Stalbaum's High Tech High Media Arts Mentoring for the Arts/Coding for the Arts CAT 124 course. You can view past student work from the course at http://margaretnoble.net/educator/unfamiliar-landscapes/. If you are interested in participating in this class please contact the Practicum Advisor at jmmonahan@ucsd.edu.
Learn more about Practicum criteria and unique project opportunities at information sessions held in Pepper Canyon Hall (map).
---
This Week In Practicum
Can't make it to an info session?  Come to Practicum walk-in advising hours or contact us at vac.ucsd.edu!
Practicum
Walk-in Hours
Monday/Wednesday
9:30-11:30 a.m.
1:30-3:30 p.m.


Thursday/Friday
1:30-3:30 p.m.
Or by have your questions answered
Academic Programs
Pepper Canyon Hall
Room 257
(858) 822-2275
sixthcoreta2@ucsd.edu
sixth.ucsd.edu/practicum
---
Practicum Spotlight
Great options for your Practicum!