Check out this page
here
for updates about COVID-19 and how it impacts the university. Remember to wash your hands, stay at home, and stay healthy!
Sixth News You Can Use
Week  5 Fall Quarter
Spotlights • Academic Advising • Events • Job Opportunities • Public Meetings Scholarships • Basic Needs Resources • Commuter Resources • Campus Resources 

Tritons Vote!  
Election Day is November 3rd, make sure your vote has been counted. If you are eligible to vote and have not yet, you can find a local polling station to register and vote on the day of (CA).

Tritons Vote!  
Election day is just around the corner! Learn more about all the events and get involved!
+ More Election Resources 
RA/HA Selection
Have you wanted to become more involved in our community or lead your peers? Do you like to program or want to learn how? Have you wanted to learn more about Equity, Diversity and Inclusion? Do you want to give back to UC San Diego and Sixth College? Have you wanted to help others in a time of need or to help them make the most of their college experience? Take your Sixer and Triton experience to the next level by applying to be one of UC San Diego's premier student leaders: A Sixth College Resident Assistant/Housing Advisor(RA/HA)! Our selection process for the 2021-2022 academic year will begin soon! For the first time, we are requiring that all prospective new RA candidates attend an information session at one of the below times! *You will need to email ResLifeSelection@ucsd.edu if you were unable to make the scheduled Information Sessions from Week 4.*
We are excited to have you consider Sixth College to be your home as an RA! We are very proud of how we provide excellence in service to our residents and hope you will consider yourself as part of our family too!
Apply online here:https://hdh-web.ucsd.edu/ssoStudent/RAHAApply 

Applications open on November 2nd at 12Noon (PST) and close Dec. 14th at 12Noon (PST)!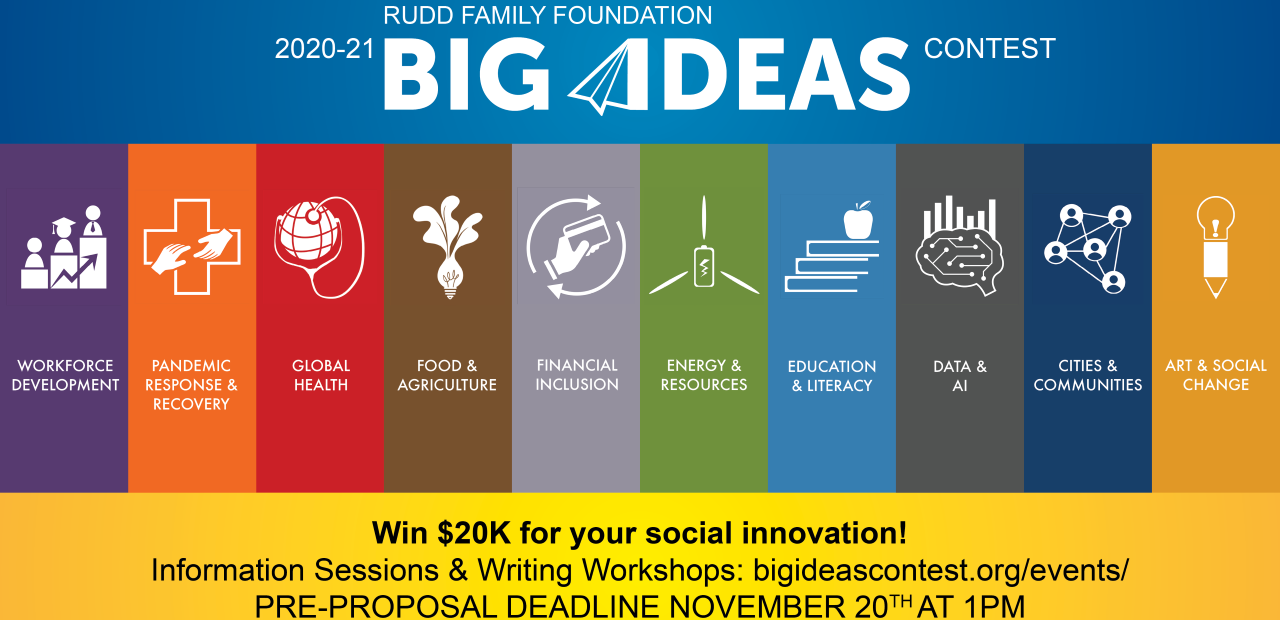 Believe in Your Big Idea!
Big Ideas is the University of California's leading early-stage social innovation competition. Now in its 15th year, Big Ideas provides funding (up to $20K!), support and validation to interdisciplinary teams of graduate and undergraduate students who have transformative solutions to real-world problems. This year's contest will feature new tracks, including Pandemic Response & Recovery and Data & AI. Not sure if your idea/project/team is a good fit for Big Ideas? Attend one ofour upcoming information sessions (RSVP here) or sign up for an online or in-person advising session to discuss your big idea and to learn more about the contest criteria.
Ethics Center seeking candidates for Ethics and Science Representatives
UC San Diego hosts San Diego's Center for Ethics in Science and Technology. The Center's programs foster conversations between scientists and the public about the ethical challenges of new developments in science and technology. To maximize communication and relevance to the scientific community, the Center is seeking upper division student volunteers to serve as representatives. Time commitment can be nominal, but your role will be important to the meeting the Center's goals. If you are interested, please complete the brief Google form here.
A call for student participation! The Center for Ethics in Science and Technology (Ethics Center) is administratively housed at UC San Diego. The primary activity of the Center is monthly public forums at San Diego's science museum (the Fleet Science Center) in Balboa Park. The focus of these events is to engage the public in conversations about the ethical challenges that must be faced to maximize benefit while mitigating or eliminating risks of new developments in science and engineering. The current pandemic and the resulting ethical and scientific challenges is a timely example of how important these conversations are.


Return to Learn Program: COVID-19 Screening
Are you staying on campus during the academic year? Stay up to date with the Return to Learn Fall Plan, CA Covid Notify, Q&A: Covid spread, testing/screening and more! Click here for more details.

Important San Diego Announcement: Face Mask Required
Starting May 1st, all people in San Diego are required to wear face masks in public and within 6 feet of another person. While this order is in effect, this does not substitute any other forms of health guidelines. Keep washing your hands, follow the stay at home order, and practice social distancing.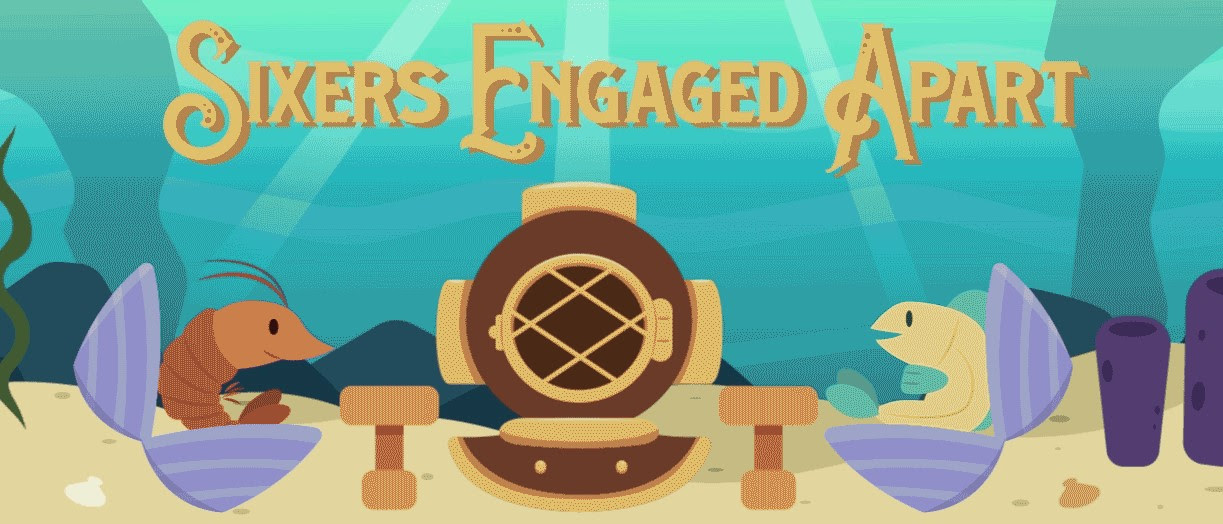 Sixers Engaged Apart
Attention all Sixers! We are happy to introduce our website SEA - Sixers Engaged Apart! Check out our new Sixers Engaged Apart (SEA) website for COVID-19 updates, virtual resources, and more.

COVID-19 Basic Needs Resources
Check out all the available resources to help you get through the COVID-19 pandemic.

To access walk-in advising, please log into the

 

Virtual Advising Center. An announcement at the top of the homepage will include additional instructions. You must sign in 15 mins before end of walk-in period to meet with an advisor. To schedule appointment by calling 858-534-9001. Must make appointment at least 24 hours in advance. Note: Hours are subject to change. See our website for any changes

Stay up to date with all academic resources via Sixth College Advising YouTube Channel  As always if you have any questions regarding content, ask us through Virtual Advising Center.

Muir & Outreach Dia de los Muertos

A tribute to pay tribute to our loved ones that have passed away. Join usasweshow you how to build an altar and watch a fun movie to celebrate the holiday! Bring an object or picture to share memories of a loved one! For those on campus, we'll be distributing marigolds and sugar skulls at MOM

Join us Monday, November 2nd, 6:30pm

 
Post-Election Community Space

Join the Campus Community Centers/Programs & CAPS on Nov. 4th to debrief the election. This will be an open community space to process and discuss: all emotions are welcomed. Come when you are able; stay for as long you'd like.

Join us Wednesday Nov 4th 1:00pm - 5:00pm

 
Veterans Week Watch Party:  Resurface

Celebrate Veteran's Week with the Undergraduate Colleges as we host a screening of Resurface, a short documentary about veterans who support their mental health through surfing. After the 30 minute film, stick around for a short discussion. We will be watching this film via Netflix Watch Party. A Netflix account is needed for participation. Warning: This documentary discusses sensitive topics including PTSD, Traumatic Brain Injury, and suicide. Participant discretion is advised.

Join us Wednesday, November 4th at  7:00pm

 
Microtomes Scientific Writing Workshop 

Interested in writing and publishing your own academic papers? Microtomes will be hosting a workshop led by Dr. Goran Bozinovic going over how to approach writing academic research papers!

Join us Wednesday November 4th at 7:00pm PST.

 
Check Your Body At The Door

Check Your Body At The Door brings to light the 1990s house dance culture that has largely been in the dark.

Join us Thursday, November 5 at 7 pm

 
Resilience and Versatility of Black Women

Join us for an art reception displaying the work of Haitian abstract artist Marianata A. Sylvaince, whose art portrays the confidence and beauty of Black women. She uses her art to showcase both a confident side of her personality as an artist, as well as her soft and emotional side of her artistry.


Join us Thursday, November 5th, 2020 from 5:00 pm - 6:30pm on zoom!

 
Gender Buffet Presents: Post-Election Community Space with CAPS

November 6th, the Women's Center is offering a community conscious space to destress and share your thoughts and feelings post-election in an inclusive environment. We encourage everyone whose able to join our Zoom call which will be co-hosted by CAPS to begin to process the weight of 2020, together.

Join us Friday Nov 6th at 12:00pm

 
The Role of Self-Care and Collective Care College and life demands a lot of us. The list of items you are attending to can go on and on. Join us as we discuss the importance of both self and collective care. We will share strategies and resources.

Join us Tuesday, November 10th, 12:30pm-1:30pm

Zoom Meeting ID: 980 6756 0564

Learn more about the event here!
Register now!
Check Your Body At The Door brings to light the 1990s house dance culture that has largely been in the dark.

Join us Tuesday, November 10, 2020 from 6:00-7:00pm  

 
Join the Warren College Honors Council for an exclusive conversation with current doctoral students and post-docs from about the realities of applying for and completing a Ph.D. program. Ph.D. Panel Featured Speakers include: Avaneesh Narla and Jung-Tsung Li (Physics), Bor-Kai Hsiung (Integrated Biosciences/Biomimicry), Mohammad Sedarat (SIO), Emily Armbruster (Biology), and Oscar Gonzalez (Neuroscience).

Join us Thursday, November 12, 5:00-7:00 pm

 
ERC & Outreach De-Stress with Arts and Crafts

Create a collage of what your home state or country looks like and jam out to your favorite songs to relieve stress! One lucky student will win a $20 Amazon gift card!

Join us Thursday, November 12th, 6:00-7:00pm

 
ArtTalk with Ephrat Asherie

An intimate conversation with Ephrat Asherie and UC San Diego lecturer Grace Jun as they discuss Asherie's life and works.

Join us Thursday, November 12 at 7 pm

 
Interested in learning about the top tech companies in these uncertain times? Attend UCSD's premier engineering career conference Matcha! Matcha is the only student-run engineering career conference at the University of California, San Diego (UCSD).This week-long event provides students with the opportunity to learn, network, and interact with top tech companies through info sessions and workshops. Open exclusively to UCSD students, Matcha is organized by the Triton Engineering Student Council, which supports over 45+ engineering student organizations at the Jacobs School of Engineering. The event will take place virtually on the week of November 16-20, 2020 with companies presenting every single day.

Join us Wednesday Nov 16th - 20th from 9:00am to 4:00pm

 
UnderScored (work in progress)

In UnderScored, Ephrat Asherie and her company of dancers explore the forms of club dancing that arose in New York during the 1970s and 1980s as part of the house music scene. The work explores the almost utopian panracial/pansexual scene at the Paradise Garage and other popular venues in the midst of the HIV crisis, which heavily affected the LGBT community and communities of color.

Join us Thursday, November 19 at 7 pm

 
Seventh & Outreach De-Stress with Arts and Crafts

Create a collage of what your home state or country looks like and jam out to your favorite songs to relieve stress! One lucky student will win a $20 Amazon gift card!

Join us Thursday, November 19th, 6:00-7:00pm

 
Warren & Outreach De-Stress with Arts and Crafts

Create a collage of what your home state or country looks like and jam out to your favorite songs to relieve stress! One lucky student will win a $20 Amazon gift card!

Join us Tuesday, November 17th, 6:00-7:00pm

 
Art collection created by queer Latinx from the L.A. area depicting the lifestyle, resilience, and beauty of queer love.

Open weeks 4-6

 
December Inter-College Transfer Social Hours

Join us for our second Inter-College Transfer Social Hour of the quarter - this time via Netflix Party! This is the perfect way to stay connected with the Triton Transfer Community while also being socially distant.

Join us Wednesday, December 2, 2020 at 5 PM PST – 7 PM PST

 
Board of Out of State Students (BOSS) Meetings

B.O.S.S., The Board of Out of State Students, is a student organization that strives to improve the lives of both incoming and continuing out-of-state students by providing informational and community-fostering programs that promote campus resource awareness and social stability. Organization members will gain a greater sense of community, learn more about the various resources on campus for non-residents, and develop themselves as undergraduate students.


Join us at out Friday Meetings from 12:00-12:30pms through our Zoom ID: 345 782 7959
Join us (virtually) for conversations about our experiences as Black women & femmes and connect with others on campus.


 We will meet even week Thursdays from 3:30-5:00pm; stop by when you can and stay for as long as you want.
Women Writing History Project

Join the Women's Center for Women Writing History: A Coronavirus Journaling Project, inspired by the National Women's History Museum's Women Writing History Project. We invite women, nonbinary, and gender non-conforming people in the UC San Diego community to journal and share their experiences of life during the pandemic.


Follow us on our project Instagram @ucsdwcjournal for daily journaling prompts and to stay connected to the project.
Women's Center Fall Student Survey

We know that the upcoming school year will be unusual, and we at the Women's Center are committed to finding unique and creative ways to support you, be in community, and provide resources. Whether you are an incoming first year or transfer student, continuing student, or graduate student, the Women's Center is here for you.
I-House Language Conversation Tables 

Learn a language with friends! Learn ASL, French, Korean, Mandarin, or Spanish with a student host in a fun vibrant setting! (occurs regularly between October 20 - December 1) *Co-Curricular Record (CCR)-eligible opportunity*


Join us from 5:00pm - 6:00pm (PST)!
| | |
| --- | --- |
| | Whether you're on campus, at home, or abroad, we want to hear how Fall Quarter is going for you. If you're interested in joining the conversation, please email globalforumihouse@ucsd.edu. |
| | |
| --- | --- |
| | Participants share ingredients lists and instructions on how to make their favorite dishes I-House posts the content in regular Monday segments |
Globally Engaged Tritons (GET) CCR Certificate

We have created the GET CCR Certificate as an opportunity for students to still get involved, develop their leadership skills, and add to their Co-Curricular Record (CCR) from wherever in the world they may be!

The GET CCR Certificate programs run throughout the academic year! All are hosted virtually.

 
Success Coaching Virtual Drop-In Hours

The Student Success Coaching Program is available for drop-in appointments Monday – Thursday. Students are encouraged to meet with any Success Coach to discuss topics such as: Navigating transition and adjustment to being a college student, connections to campus resources and support services, motivation and organization in the virtual environment and much more.


Drop-In appointments Monday – Thursday!
Triton Tools and Tidbits Podcast

How can we as a campus community support each other, and our students, to succeed in this unique environment? What tools do students need to succeed in an era of physical distancing? How can students maintain connectivity to their networks in a remote environment, sustaining a sense of community while in a non-traditional campus environment? Every Thursday, Triton Tools and Tidbits seeks to answer these questions while highlighting resources available to students across Student Affairs units and the UC San Diego campus community. Visit the website to listen and subscribe!

 

Every Thursday online





Click on the website link for more details
Health Promotion Services

Want to spend time doing activities that are fun and engaging? CAPS and the Zone are here to provide you events that will keep you active and have a good time!

Check out the link below to view upcoming events!

Learn More

RA/HA Selection 21-22

The application period opens Monday, November 2, 2020 and closes Monday, December 14, 2020. If students would like to learn more about the position, they are welcome to join any of the info sessions listed on the attachment, and as mentioned above. We invite all to apply.
Now Hiring - Writing Mentor Job Opportunity

Do you enjoy work that involves peer collaboration? UCSD's Analytical Writing Program (AWP) is now hiring undergraduates to work as writing mentors for the 2020 - 2021 school year in winter and spring quarters. Writing Mentors within the Analytical Writing Program's Embedded Writing Mentor Program work with their peers to help them become better, more confident writers—by teaching and leading conversations about students' writing strengths and challenges.

Zoom interviews are currently being scheduled. Two-quarter positions for winter-spring are available.

Sixth College Student Council (SCSC)
Thursdays, 5:15pm Online Meeting, please contact us for updates and meeting link if available
Website | Facebook
Contact
 
Sixth College CoBoard
Mondays, 7:00pm Online Meeting, please contact us for updates and meeting link if available
Website | Facebook
Contact

Sixth College Student Council (SCSC)
Thursdays, 5:15pm Online Meeting, please contact us for updates and meeting link if available
Website | Facebook
Contact
 
Sixth College CoBoard
Mondays, 7:00pm Online Meeting, please contact us for updates and meeting link if available
Website | Facebook
Contact

Check back later for more updates!

Housing, Dining, and Hospitality (HDH) along with Transportation Services and Basic Needs at UC San Diego have partnered to offer a free weekly shuttle service to La Jolla Village Square and Convoy from The Village, Pepper Canyon for both Graduate and undergraduate students. You can find various dining options there as well as grocery stores (99 Ranch Market, Balboa International Market, Food 4 Less, Zion Market, Tropical Star Market and Restaurant, and H-Mart).

Running every Saturday and Sunday 10am-6pm every 30 minutes

 
Fall 200 Triton Food Pantry

The Triton Food Pantry is excited to announce that we have started a Delivery Project in collaboration with DoorDash, United Way, and 211 San Diego. Our goal is to make food more accessible for students who are unable to make it to either of our locations on campus due to a variety of circumstances.

any situations listed in the red graphic to the left, please proceed to check out our order form!

Order form will open the 28th, closes on the 6th for the first delivery to be on the 13th.

 
| | |
| --- | --- |
| | Wednesdays La Jolla Park east: 3pm-5pm, Hillcrest 3:30p-4:45pm |
| | |
| --- | --- |
| | Food Distributions happening Mondays and Fridays |
Apply for Calfresh here! 

Webinars:

CalFresh Application Assistance Webinar

October 30th 12pm-2pm

CalFresh Basics with The Zone

October 20th 2pm-3pm

 

Walk in Hours:

Monday 11am-12pm, 12:30pm-1:30pm

Tuesday 11am-12pm

Wednesday 2pm-4pm

Thursday 11am-1pm

 Friday 1pm-2:30pm, 4pm-6pm


Don't miss Study Abroad Expo Week 2020! From October 26-30, Study Abroad will be offering over 70 live and recorded programs on issues ranging from financial aid and scholarships; UCEAP, OAP, and Global Seminars; diversity and identity issues abroad; post-graduation opportunities abroad; internship and research opportunities abroad; study abroad programs in STEM and other majors; and much, much more!

Register and be entered to win Airbnb credits!

 

 

 Join us October 26th-October 30th!

 
iCafé – Your Passport to Culture!

Travel the world with [icafe.ucsd.edu]ICafé! Join us Fridays at noon when we explore a different country each week. No passport, no facemask, no cost! Enjoy cultural ambassadors sharing about their countries, play Travel Trivia, enjoy the Cook Club, and have fun with sports and fitness in our Global Playground. Win prizes!

No passport, no facemask, no cost! #icafe

This week we travel to Kuwait!


Join us Friday, November 6th from 12:00-1:00pm on zoom!
Prizes? Of course!

Fun Perk: I hour CCR credit for students each Friday!
Global Trivia Night 

In collaboration with International House

Want to test your trivia knowledge and a chance to win an Amazon gift card? Join us at Global Trivia Night for some trivia fun and get a chance to meet your peers!

 

 

Join us Thursdays, 7:00pm-8:00pm with our Zoom ID: 994 5149 9464

 
Join us in Community forums! These are identity-based forums to serve diverse student groups. The forums allow students to connect with each other through a Zoom meeting. These are spaces for both undergraduate and graduate students to build community and maintain relationships with one another. The forums give students a space to build social connection during this time of physical distancing. .


Please see the CAPS group webpage to find the Community Forum schedule: https://caps.ucsd.edu/groups

 
CAPS: Tritons Coping & Connecting

The Tritons Coping and Connecting Forum is a space for students to come together to check in about their experiences during the unprecedented circumstances of this Fall Quarter. This forum offers a space to connect, support, and share resources during the time of COVID-19 and discussion topics may include stresses of virtual learning, Zoom fatigue, physical distancing, and social disconnection. Please join us every other Tuesday starting October 13. This forum is open to undergraduate and graduate students.


Join us Tuesdays at 1-2pm (even weeks 2, 4, 6, 8, & 10)

 
CAPS: Coping During COVID-19

These are unprecedented times and you may be feeling overwhelmed, stressed, isolated, depressed, and/or anxious at times. This workshop aims to help students manage those difficulties and develop coping skills to increase resilience and well-being during this pandemic..


Join us Fall quarter (weeks 2–10) | Mondays 1 pm–2 pm

 
CAPS: Wellness Wednesdays

Join us in learning care strategies and stress management amidst the challenges and adjustments this quarter may bring. This Dialectical Behavioral and Self compassion based seminar is offered every Wednesday during the Fall 2020 quarter.


Join us Wednesday Week 2-10 | Time: 1:00-2:00 PM

 
Join us for this introduction to mindfulness workshop. You can expect didactic content on the nature of mindfulness, formal and informal practices, as well as group discussions.


Join us Week 2-10 | Time: 3:00-4:00 PM

 
iFlourish Technology Offerings at CAPS

iFlourish is an online self-improvement program. We offer three self-guided technology programs that provide evidence-based intervention designed to reduce stress, anxiety, and depression. They are desktop, mobile, or tablet-friendly. They are free, anonymous, and available exclusively to UCSD students. Please sign up using your ucsd email address at https://caps.ucsd.edu/iflourish

 
A new set of Playground classes just started for Fall quarter! Choose from a variety of LIVE Zoom classes everyday including yoga, guitar, dance, watercolor, cooking, fitness and more. A full schedule can be found on our Playground site. Make sure to get your Fall one-time password for access; this will allow us to provide you better security and an improved customer experience within our virtual environment. You can get your password here.

 
We are back with outdoor, in-person classes! The new Return to Rec membership will give you the Recreation access you've been missing. Return to Rec Memberships are required for Students, Faculty and Staff before reserving a class.

 
Cross Cultural Center

Follow UC San Diego's Cross Cultural Center on instagram, facebook, e-news, and youtube!
CARE Monthly Calendar

oin CARE at SARC at one of our events this month! Learn more by visiting our instagram @ucsdcare or registering at one of our events using https://linktr.ee/ucsdcare
Student Success in a Virtual Environment

As we kick off this new school year in a virtual environment, we have a new online campus resource to support your success. In collaboration with many campus partners, we are offering a series of helpful informational videos, live webinars, and content via UC San Diego Online designed just for you on topics such as: (1) Technology and systems needed to access materials and information (2) Navigating synchronous and asynchronous courses (3) Time management (4) Strategies for effective intercultural communication with faculty and your peers and more. You have been specifically included for this invite-only section. Sign up by following this three-step process: Be on the lookout for an email invitation from UC San Diego Online and complete your registration. Activate your UCSD Online membership by clicking on a follow-up activation email you will receive (Skipping this step will prevent you from logging in to your account until you activate).

The Course is open to students throughout the academic year and doesn't have a start or end date. Can be found on UC San Diego Online 

 
 

Tele Medicine Visits with SHS Providers

Now available! Free with SHIFT/RAFT. Call (858) 534-3300 to set a date and time. Download the MyChart app to your smart phone or tablet.
 

Triton2Go Mobile Ordering App and Reusable Container Program

Housing, Dining and Hospitality is excited to launch the all-new Triton2Go, a mobile ordering app and reusable container program! APP: Place your order and receive an alert when it is ready for pick up. Plus, secret menu items! Starting Oct. 5, all to-go meals in HDH dining locations will be served in reusable containers.
 

Access UC Path

Are you a New Student Employee?​ Access UCPath and Ecotime​.

 

UCPath is UC San Diego's human resources and payroll system. Access UCPath to review your personal information and enroll in direct deposit. Ecotime is UC San Diego's timekeeping system. Access Ecotime to complete your timecards by the deadline in order to get paid on time.

Learn more about UC Path here!
If you would like to submit relevant events to be featured in the newsletter, please email sixthnewsyoucanuse@ucsd.edu! Guidelines for submission can be found here.