Sixth College Residence Life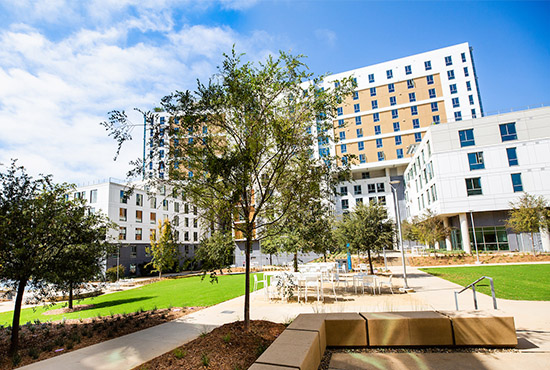 Welcome to Sixth College Residence Life! 
Our ResLife staff in Sixth (including our RAs, or Resident Assistants) is dedicated to providing Sixers with a residential experience that cultivates community, prioritizes safety, nurtures personal growth, and fosters dynamic and engaged people.
Home of the African Black Diaspora Living Learning Community (ABDLLC), also known as Black Housing, and the Multicultural Living Learning Community (MCLLC), Sixth Residence Life strives to further enrich the resident experience for students living and involved in our LLCs through cultural experiences, specialized programming, and leadership development.
Our Mission: We inspire students to achieve their highest personal potential by providing collaborative residential programs & services that encourage community, wellness, inclusion, and learning.

Our Vision: In collaboration with our campus partners, we support, educate, and enrich students by providing a high-quality residential experience.

Throughout your residential experience in Sixth, we are here to help! The functions of our office include, but are not limited to:
Support for Residents Living at Sixth College

RA and/or Intern Programming

Student Conduct

Room Change Requests

Housing Contract Cancellation Requests

Referrals to Campus Resources and Resource Centers

Primary Liaison to UC San Diego's Housing/Dining Administration (HDH)
Sincerely,
Your Sixth College ResLife Staff
To view a video tour of our neighborhood and residential spaces, click here.