Student Resources
Counseling and Psychological Services

CAPS provides individual, group, couples, and family psychotherapy to registered undergraduate and graduate students. Services are free of charge to currently enrolled students who have paid their registration fees.
Student Health Services

Student Health Services provides medical care for registered UCSD students, including primary care, physical therapy, urgent care, and pharmacy services.
Sexual Assault & Violence Prevention Resource Center (SARC)

SARC offers workshops on violence prevention for the entire UCSD campus and provides free and confidential services for students impacted by violence, with a focus on survivors of sexual assault, dating violence, and stalking.
Campus Community Centers

The Cross-Cultural Center, LGBT Resource Center, and UCSD Women's Center are resources with spaces on campus that maintain welcoming environments within the diverse community at UC San Diego. The Campus Community Centers strive for meaningful dialogues and context across all cultures, offering supportive and educational services, with the goal of promoting an inclusive and equitable campus community.
Reporting Bias Incidents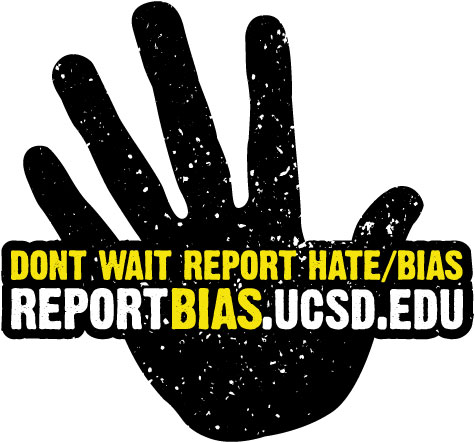 UCSD is committed to the highest standards of civility and decency toward all as reflected in the UCSD Principles of Community. The university rejects acts of hate and prejudice, supports victims, and investigates known facts to determine if laws or university policies have been violated.
Ways to Report
Report suspected bias incidents to the Intergroup Relations Program in the following ways:
By phone: (858) 534-BIAS (2427)
In person: Intergroup Relations Program: Price Center East, Level 3 (map). Check in with the One-Stop Desk for referral to a professional staff person.
For more information, please review the Report Bias Incidents website.