Learn what is happening around campus and check out the updated hours for academic advising!
Sixth News You Can Use
Week 3 Fall Quarter
Spotlights • Academic Advising • Events • Job Opportunities • Public Meetings Scholarships • Basic Needs Resources • Commuter Resources • Campus Resources 
Spotlights

Asian American Representation in Hollywood
Writer and Director Eric Lin Hsu will display a gallery of written, photographic, and film art concerning the history of Asian American Representation in Hollywood films. UC San Diego Alumna, activist, and industry-insider Emma Quan will join Eric to discuss the entertainment industry, the emergence of wider Asian American representation, and where work still needs to be done.
Come out to the Student Services Center from 7pm-9pm on

 

Wednesday November 6th. Free food sponsored by Taco Villa.

UCSD Homecoming 2019 
, 

UC San Diego 

alumni, students, faculty, staff, family, and friends

—save the dates for UC San Diego's nontraditional Homecoming Weekend! On

 

October 18–20, the whole campus community will come together and celebrate all things Triton. 

Admission to all events is 

free

 for current students and 2019 graduates.

!
Read More
Academic Advising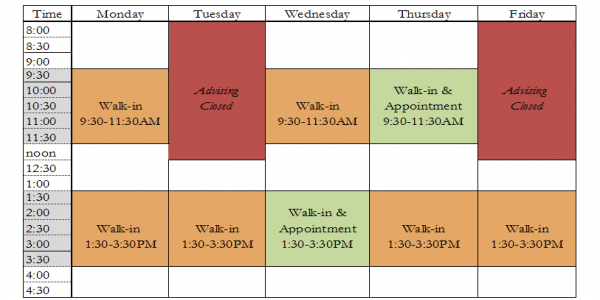 Located at The Hub in Pepper Canyon Hall (2nd floor) (
Website
)
Have a question but can't walk in? Use our Virtual Advising Center! Open 24/7.
You can also contact us by phone at (858) 534-9001

AIP 197: i4NS Internship Oppurtunity
Innovating for National Security (i4NS)  is a quarter-long course on campus that offers the U.S. Department of Defense (DOD) leaders with the opportunity to collaborate with talented student teams to develop
innovative solutions to their most pressing national security problems. Students learn to apply the Lean Startup methodology to solve real national security problems. Through student teams, the DOD is provided an avenue to connect with problem-solvers from academia,the private sector, and other non-traditional DOD partners. Juniors and seniors eligible to apply and this opportunity can be counted as a 4 unit course.
Apply 
here! 
Applications are due

 

MondayOctober 14th at 12:00pm
Events
 

Outreach Trivia Night

Venture over to Muir to meet new people and test your knowledge of various trivia categories! Each week one category will highlight California, another state and another country and the other three categories are miscellaneous!

 

Free entry to all UCSD students and prizes for the winning team. Come with friends or by yourself to join a team of four!

Tuesday October 15th, from 7pm-8pm at Muir Woods Coffee House

Learn More
 

Corporate Accountability and the Future of Democracy and Human Rights  - Global Forum

A talk on the insights of working with companies, activists, investors and policymakers to set standards for corporate responsibility and accountability.

Wednesday October 16th, from 5pm-6:30pm at the Great Hall at International House.

Contact

 

globalforumihouse@ucsd.edu

 

if you have any questions!  Learn More
 

APIMEDA

Community and

Coalition Conference

This Conference is a day-long, engaged experience that is designed to provide members of the UC San Diego APIMEDA community strategies for creating coalitions and community

within UC San Diego using authentic experiences from your mind, heart, and hands. 

Saturday October 26th, from 9am-4pm

Click

 here 

for more information and to apply! Applications are due October 17th at 3pm.

Contact

 

wsasaki@ucsd.edu

 

if you have any questions! 
 

Passport to Culture: Canada

Earn your passport and "travel" to Canada! Learn more about life & culture from current students who have lived and studied in various regions of the world. Enjoy a taste of traditional food from the highlighted region each week!

Thursday October 17th, from 3pm-4pm at the Great Hall at International House.

Learn More
 

Outreach Kayaks the Cove

Come to the beautiful La Jolla Cove, where you will get to kayak amongst your friends and sea lions! This is a unique experience in which you will get to bond over a possibly new activity while exploring what San Diego has to offer. Reserve your calendars Oct 19th at 9:30am and guarantee your tickets at Eventbrite before they sell out!

Saturday October 19th, from 9:30am-1pm at Bike and Kayak Tours Inc (2158 Avenida De La Playa, La Jolla)

Buy your tickets

 here! Learn More
 

Think Pink Series: Men's Water Polo

In honor of Breast Cancer Awareness Month, UCSD's athletics will be hosting their games dedicated to the occasion and will doing item giveaways for those attend. On October 25th, the Men's Water Polo Team will go against the Air Force and will be hosting a sunglesses giveaway.


Friday October 25th, at 6pm at the Canyonview Aquatic Center
 

Calfresh Mini Clinic

Get more information on how you can apply for Calfresh.CalFresh is a food benefits program that awards eligible individuals up to $194 a month to buy gorceries.

Friday October 25th, from 1pm-5pm at the Cross Cultural Center
 

SD Hacks 2019

SD Hacks is an entirely student-run hackathon hosted by the Triton Engineering Student Council (TESC). Being one of the largest hackathons in California, SD Hacks brings together any high school or college student (age 18+) to innovate, collaborate, and design tangible technology in the span of 36 hours. Participants create projects surrounding different topic areas, denoted "tracks", or specific challenge prompts given by companies. Eligible to compete in teams up to four, participants receive mentorship from their peers as well as engineers and other professionals. Head over to 

 to apply!

October 25 (11am) - 27 (6pm) at RIMAC Arena

Contact

 

sdhacks@tesc.ucsd.edu

 

if you have any questions! 
Learn More
 

DeWitt Higgs Memorial Lecture

Join Carmen G. Gonzalez in a discussion and examine the effects of climate change in racial subordination while evaluating the legal and policy responses to climate change.

Thursday, November 14th from 2pm-4pm at the Great Hall.
 

Move Your Body, Tone Your Mood

Learn basic mindful movements to reduce stress and improve mood!

Every Monday, from 10am-10:45am at the Zone next to Jamba Juice.

Learn more about the Zone
 

Learning Conversation Tables (TLC)

Come learn a new language by conversing with a host in a casual setting.

Every Tuesday, from 5pm-6pm at the Great Hall at International House.

Contact

 

ihouseprograms@ucsd.edu

 

if you have any questions!  Learn More
 

APIMEDIA Community
Time


The Asian Pacific Islander Middle Eastern Desi American (APIMEDIA) Program invites all to come together, learn, and hang out in a safe and open environment





Every Wednesday, from 4PM-6PM at Sixth College Dogghouse

Learn More
Job Opportunities
Coming Soon!
Public Meetings
Sixth College Student Council (SCSC)
Thursdays, 5:15pm Main Conference Room
(2nd Floor of Pepper Canyon Hall)
Website | Facebook
Contact

Finance Committee
Wednesdays, 9am
Main Conference Room
(2nd Floor of Pepper Canyon Hall)
Contact

Sixth Video Production Club
Fridays, 4-5pm
The Lodge
Contact

 

Teal Team Sixth (SCSC Programming Committee)
Fridays, 3pm
Main Conference Room
(2nd Floor of Pepper Canyon Hall)
Facebook | Contact

Tech Committee
Tuesdays, 7pm
Location Varies, Contact on Facebook for Location
Website | Facebook
Contact

 

Sixth College Community Board (CoBoard)
Mondays, 7pm
The Dogghouse
Facebook | Contact

Sixth Transfer Organization & Commuter Society (STORCS)
Wednesdays, 3pm
Weeks 2, 4, 6
Sixth Commuter Lounge
Facebook | Contact
Commuter Resources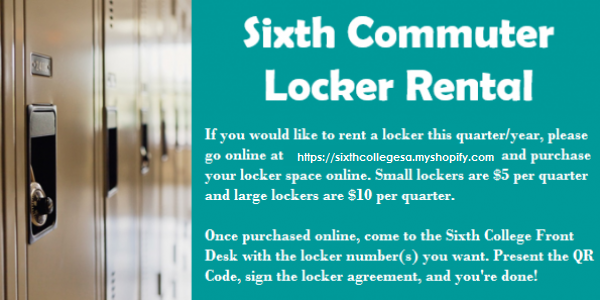 Sixth College Commuter Lounge
Cook in the kitchen, surf the web on the computers, take advantage in renting a locker, or watch TV. Just swipe your UCSD student ID at the door. Have questions? See the Sixth College Front Desk or contact
jrapport@ucsd.edu
.
If you would like to submit relevant events to be featured in the newsletter, please email sixthnewsyoucanuse@ucsd.edu! Guidelines for submission can be found here.