Buy tickets to Disneyland, celebrate National Transfer Student Week,  learn about APIMEDIA, and more!
Sixth News You Can Use
Week 4 Fall Quarter
Spotlights • Academic Advising • Events • Job Opportunities • Public Meetings Scholarships • Basic Needs Resources • Commuter Resources • Campus Resources 
Spotlights

UCSD Celebrates National Transfer Student Week
Are you a transfer student and want to make the most of your college career? UCSD celebrates National Transfer Student Week an events everyday starting Monday October 21st to Friday to October 25th to help you get the best college expereince.
Click 
here
 for more information on these upcoming events 
Sixth loves Transfers!
Sixth Takes Disneyland
Looking to take a break from the stress of classes? Join us for Sixth Goes To Disneyland 2019!!! Enjoy new Disney attractions like Star Wars Land, as well as older traditions like their nightly fireworks show, all at the Happiest Place on Earth!!! Tickets for Sixth Goes to Disneyland 2019 are NOW ON SALE, so check out the link below!!! Tickets are priced at $100 (while supplies last), so don't miss out!!!
Come join us on

 

Saturday November 9th
 from 5:30am-1am (November 10th). Have any questions? Contact simokhta@ucsd.edu

 

for more information or read more 
here!
Purchase tickets 
here!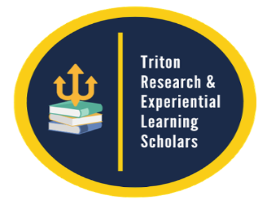 Triton Research and Experiential Learning Scholars (TRELS) Info Session
Come learn about the Triton Research and Experential Learning Scholars (TRELS) and find out how to earn funds for study abroad and start your own project. Free pizza included!
Come out to Pepper Canyon Hall, 2nd Floor Room 280 from 12pm-1pm on

 

Tuesday October 22nd

Muir Musical Auditions: Pippin
Muir Musical, the premiere student-run musical theatre group on campus, will be holding auditions for this year's Spring 2020 show Pippin on October 23, 24, and 25th from 5-9pm in the PC Dance Studio! For more information on audition materials, times, or general information about the org, please visit our website muirmusical.com or email us at muir.musical@gmail.com! Additionally, if you are interested in joining the production team or in some alternative position outside of the cast, please shoot us an email and we will connect with you as quickly as possible to discuss your involvement!
Come out to the PC Dance Studio from 5pm-9pm on

 

October 23, 24, and 25th
Learn More

APIMEDIA Community Time!
The Asian Pacific Islander Middle Eastern Desi American (APIMEDIA) Program invites all to come together, learn, and hang out in a safe and open environment
Come out to the Dogghouse from 4pm-6pm on

 

every Wednesday. This week, get career advising with Tina!

Asian American Representation in Hollywood
Writer and Director Eric Lin Hsu will display a gallery of written, photographic, and film art concerning the history of Asian American Representation in Hollywood films. UC San Diego Alumna, activist, and industry-insider Emma Quan will join Eric to discuss the entertainment industry, the emergence of wider Asian American representation, and where work still needs to be done. Hosted by Sixth College.
Come out to the Student Services Center from 7pm-9pm on

 

Wednesday November 6th. Free food sponsored by Taco Villa.
Academic Advising
Located at The Hub in Pepper Canyon Hall (2nd floor) (
Website
)
Have a question but can't walk in? Use our Virtual Advising Center! Open 24/7.
You can also contact us by phone at (858) 534-9001
Want to Change Your Class to Pass/No Pass?
The last day to change your grading option is October 25th, Friday of Week 4.
Questions? Visit your Sixth College peer advisors or submit a question to the Virtual Advising Center!
Events
 

Passport to Culture: Burma

Earn your passport and "travel" to Burma! Learn more about life & culture from current students who have lived and studied in various regions of the world. Enjoy a taste of traditional food from the highlighted region each week!

If you'd like to share your own experiences in Burma, please sign up here:

Sign Up!

 

Thursday October 24th, from 3pm-4pm at the I-House Kathmandu Lounge

Learn More
 

Think Pink Series: Men's Water Polo

In honor of Breast Cancer Awareness Month, UCSD's athletics will be hosting their games dedicated to the occasion and will doing item giveaways for those attend. On October 25th, the Men's Water Polo Team will go against the Air Force and will be hosting a sunglesses giveaway.

Friday October 25th, at 6pm at the Canyonview Aquatic Center
 

Calfresh Mini Clinic

Get more information on how you can apply for Calfresh.CalFresh is a food benefits program that awards eligible individuals up to $194 a month to buy gorceries.

Friday October 25th, from 1pm-5pm at the Cross Cultural Center
 

SD Hacks 2019

SD Hacks is an entirely student-run hackathon hosted by the Triton Engineering Student Council (TESC). Being one of the largest hackathons in California, SD Hacks brings together any high school or college student (age 18+) to innovate, collaborate, and design tangible technology in the span of 36 hours. Participants create projects surrounding different topic areas, denoted "tracks", or specific challenge prompts given by companies. Eligible to compete in teams up to four, participants receive mentorship from their peers as well as engineers and other professionals. Head over to 

 to apply!

October 25 (11am) - 27 (6pm) at RIMAC Arena

Contact

 

sdhacks@tesc.ucsd.edu

 

if you have any questions! 
Learn More
 

Triton Tide Exclusive

Want a free ride to UC Irvine and watch UCSD's MBB (Exhibition) game? Become a member of Triton Tide! All members will recieve a free ticket to the game, transportation, food, and a t-shirt! Look out for pre-registrations at a Triton Tide pop up on Tuesday.. check your email soon for more information.

Contact

 

jlroswell@ucsd.edu

 

if you have any questions! 
 

Outreach Hike Potato Chip Rock

Join Outreach for an adventure to one of the most beautiful and iconic sites of San Diego and relax after a stressful midterm week! The hike has medium difficulty yet preparation such as water, snacks, energy bars and comfortable hiking gear is highly recommended. Transportation will be provided. Please arrive 10 mins earlier than bus time!

Saturday, October 26th at Lake Poway Recreation Area, Bus departs at 8:45 at Lot P303 (Near OVT)

Buy tickets 

here! Learn More
 

DeWitt Higgs Memorial Lecture

Join Carmen G. Gonzalez in a discussion and examine the effects of climate change in racial subordination while evaluating the legal and policy responses to climate change.

Thursday, November 14th from 2pm-4pm at the Great Hall.
 

Move Your Body, Tone Your Mood

Learn basic mindful movements to reduce stress and improve mood!

Every Monday, from 10am-10:45am at the Zone next to Jamba Juice.

Learn more about the Zone
 

Open Dyalog

 

Open Dyalog is a non-profit student organization that hosts weekly open discussions on different topics every Tuesday. Come join us this week for our open discussion on abortion. Come for some free food and a safe place to speak your mind!

Every Tuesday, from 6:30pm-7:30pm at Cross Cultural Center

Contact

 

opendyalog@ucsd.edu

 

if you have any questions! 
 

Outreach Trivia Night

Venture over to Muir to meet new people and test your knowledge of various trivia categories! Each week one category will highlight California, another state and another country and the other three categories are miscellaneous!

 

Free entry to all UCSD students and prizes for the winning team. Come with friends or by yourself to join a team of four!

Every Tuesday, from 7pm-8pm at Muir Woods Coffee House

Learn More
 

Learning Conversation Tables (TLC)

Come learn a new language by conversing with a host in a casual setting.

Every Tuesday, from 5pm-6pm at the Great Hall at International House.

Contact

 

ihouseprograms@ucsd.edu

 

if you have any questions!  Learn More
Job Opportunities
Coming Soon!
Public Meetings
Sixth College Student Council (SCSC)
Thursdays, 5:15pm Main Conference Room
(2nd Floor of Pepper Canyon Hall)
Website | Facebook
Contact

Finance Committee
Wednesdays, 1pm
Main Conference Room
(2nd Floor of Pepper Canyon Hall)
Contact
 

 

Teal Team Sixth (SCSC Programming Committee)
Wednesday, 6pm
The Dogghouse
Facebook | Contact

Tech Committee
Thursdays, 7pm
Location Varies, Contact on Facebook for Location
Website | Facebook
Contact

 

Sixth College Community Board (CoBoard)
Mondays, 7pm
The Dogghouse
Facebook | Contact

Sixth Transfer Organization & Commuter Society (STORCS)
Wednesdays, 3pm
Weeks 2, 4, 6
Sixth Commuter Lounge
Facebook | Contact
Commuter Resources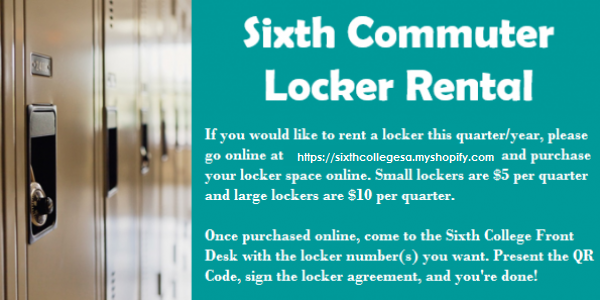 Sixth College Commuter Lounge
Cook in the kitchen, surf the web on the computers, take advantage in renting a locker, or watch TV. Just swipe your UCSD student ID at the door. Have questions? See the Sixth College Front Desk or contact
jrapport@ucsd.edu
.
If you would like to submit relevant events to be featured in the newsletter, please email sixthnewsyoucanuse@ucsd.edu! Guidelines for submission can be found here.