Check out this page
here
for updates about COVID-19 and how it impacts the university. Remember to wash your hands and good luck on finals!
Sixth News You Can Use
Week 4 Spring Quarter
Spotlights • Academic Advising • Events • Job Opportunities • Public Meetings Scholarships • Basic Needs Resources • Commuter Resources • Campus Resources 
SNYCU Scavenger Hunt
Help Our Friend Get Some Food!
Oh no! Our little raccoon friend needs some help getting some food from a tree. Can you help him? Find all the letters scattered throughout the newsletter and form a word to get the apple from the tree. Email your guess to sixthsaintern@ucsd.edu and the first two people to guess the word correctly will recieve a $25 Amazon gift card from our friend as a thank you. Email your guess with "SNYCU Scavenger Hunt Guess" as the subject. You must be a curent UC San Diego student in Sixth College to qualify.
Spotlights
A Present From Sixth College!
Missing Sixth College as much as we do? Try these Sixth College Zoom backgrounds that you can use! Show your spirit at home and online! You must use your UCSD email to access them.
Teal Tuesdays
On Tuesdays we wear teal. Show your college spirit by wearing teal on Tuesdays with your fellow Sixers! Post a picture of yourself sporting teal on IG with #tealtuesdaysixth for a chance to win a $20 ubereats gift card! *Only available for current Sixth undergrads.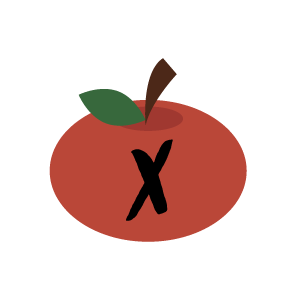 Spring Triton Fest 2020
Never fear! Spring Triton Fest is here - online! Have a good time at home with these upcoming events: Good, Clean Fun Our curated list of content to enjoy from home titled Good, Clean Fun. The list is updated every Friday and includes everything from fun videos to watch and our new Spotify playlist to wellness tips and professional development opportunities. Take a look at list in the link below. It updates every week so check back every week to see what you can do. Learn More

UCPath is Coming!
Do you work for UC San Diego?​ UCPath is coming! ​ ​UCPath is UC San Diego's new HR and Payroll system. Get ready today by reviewing and updating your personal information and home address in AYSO. Also, enroll in Direct Deposit, a fast, convenient, and secure way of getting paid while supporting social distancing.​ ​For more information, click on the link below.
Contact bhrobles@ucsd.edu if you have any questions!
Success In Remote Learning
As classes start to move online, you can still succeed wherever you are! Check out this video here to learn about you can get the most of out your online learning experience for the upcoming quarter.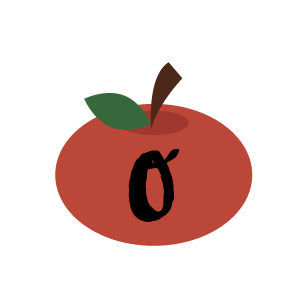 Loan Exit Counseling
Need more information about loans? Join us in one of our upcoming info sessions. RSVP is required and unique to each date provided. April 28th, 10:30AM to 11:30AM (Link) April 29th, 10AM to 11AM (Link) May 14th, 10:30AM to 11:30AM (Link) May 15, 1PM to 2PM (Link) Contact tcaddell@ucsd.edu if you have any questions! Subscribe Here
Sixth College Graduation Stole Pre-Order!
The Sixth College Signature Graduation Stole commemorates the year of your accomplishment, as well as the College's Logo. It is definitely something that you will want to add to capture your memories here at UC San Diego. Pre-order your graduation stole today and pick them up later in the school year! There's only a limited quantity and orders will come on a first come first serve basis.
Order Here!

UCSD Recreation: Playground
Need to do something when you're bored? Check out these events from the Playground hosted by UCSD Recreation. Spring Esports Recreation is now hosting Esports spring leagues! Free for students enrolled in spring quarter and Rec members. Games include FIFA 2020, League of Legends, NBA2K20, and Rocket League. Sign up for the night/time you want to play your weekly matches. Gift Cards will be given to 1st and 2nd place! Questions? Email imsports@ucsd.edu. Register Here Rec Online Can't make a LIVE Zoom class? Not to worry, we have a ton of prerecorded content to watch on your own time. Videos range in topic and format like Trainer Tips, Recipes from our Rec Dietitian, World Dance, Circuit Training and more! Access Here New LIVE Classes Hapkido Basic Skills Mondays, 4-4:30pm This 30 minute class will start with some light cardio or strengthening & stretching then focus on one or more basic techniques used in Hapkido. Focus topics will include blocks, strikes, stance, kicks, falls, rolls & stick patterns. Vinyasa Flow with Liora Thursdays, 4:40-5:35pm A form of Ashtanga yoga that emphasizes breath with movement in a fast paced, dynamic and challenging way. This class will end with a longer session of breath work and relaxation Live Class Schedule
Learn More

Transfer Tuesdays
Join us for Transfer Tuesdays! We'll start by hosting a Zoom call this every Tuesday from 11 AM-12PM. We're creating a space to be in community together, bond over lunch, and just getting to know each other. We'd love to hear what kind of topics you all might be interested in learning about or talking about, as well as just de-stressing. We hope you'll join us! Zoom Link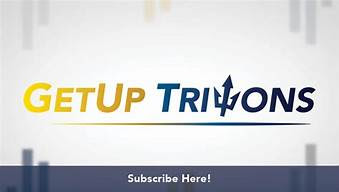 Get Up Tritons!
Need motivation to get up and work out? Sign up for the "Get Up Tritons!" newsletter. Our daily emails are sent at 10am, 12pm (Learn @ Lunch) and 2pm to provide instructional exercise videos you can follow from the comfort of your desk, office, or home. Our fitness instructors will teach you how to reverse the negative effects of sitting--all for free! Contact tcaddell@ucsd.edu if you have any questions! Subscribe Here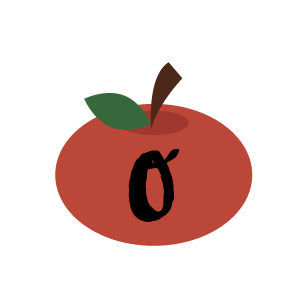 #Sixthfeetapart
Bored during the quarantine? Want to do some creative activities and share them? Well here's your chance! Just tag @sixthcollegestudentcouncil and @sixthcollege + use the hashtag #SixthFeetApart to be featured on our Instagram! Creative outlets include, but are not limited to: paintings, sketches, doodles, videos, photos, poems, music, makeup looks, outfits, TikToks, and more. We're excited for what y'all have to share!

Graduates, Get Ready for Sixth College Commencement!
It's almost time for graduation! Start getting ready for Sixth College Commencement by clicking the link below to learn about registration, rules and guidelines, and other accomodations.

UC San Diego Tritons - We Would Like to Hear Your Voice!
The results from this survey will provide ideas to make the outdoor public spaces on campus more active and dynamic with a wide range of programs and events. Participation in this survey is voluntary.
Take the survey!
Coping with Covid-19

                     Coping With Coronavirus Stress
Feeling stress out due to COVID-19? Read this article about tips and steps to think about and consider in taking care of your mental health.
Academic Advising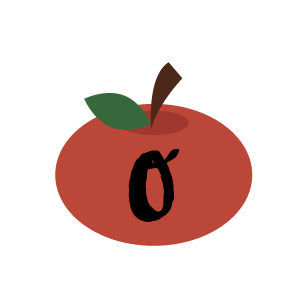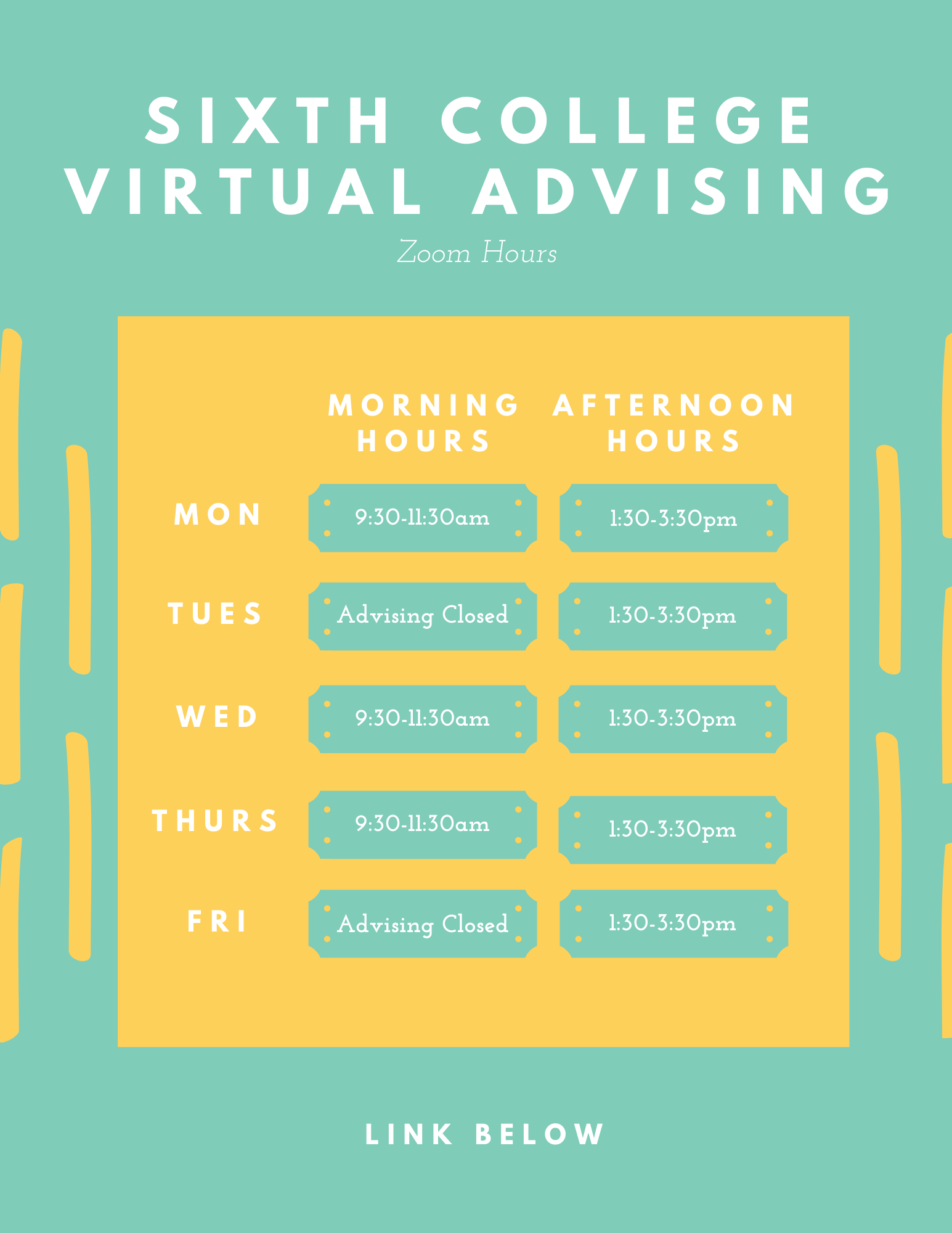 Website
Walk-in advising has been transitioned to virtual meetings using Zoom. We appreciate your cooperation as we work to protect the safety of our community in accordance with university, state, and local guidelines. 
To access walk-in advising, please log into the Virtual Advising Center. An announcement at the top of the homepage will include additional instructions. If you need additional support or instructions, please call our remote front desk at 858-534-9001.

The Results of the Sixth College Academic Advising 
2019-2020 Assessment and Survey are In!
We received a total of 626 responses from currently enrolled Sixers. All responses recorded will help evaluate and adjust Sixth Advising services to academically support YOU best! Four Sixth students have been randomly selected to receive $25 Amazon Gift Cards. Two of our lucky drawing winners are: Gabrielle Avila San Jose, CA Third Year Data Science Phoebe Penick Walnut Creek, CA First Year Human Biology Our remaining two winners have asked to remain anonymous. Congratulations and thank you to all of our Sixers!

Maintain Healthy Habits
The Zone has virtual programming and resources that can help you form healthy habits. Reach out to CAPS if you need mental health support.
Remote Learning Resource Site
We created a website to help support you during this transition. Click here to visit!
Events
Triton Tools and Tidbits Podcast

How can we as a campus community support each other, and our students, to succeed in this unique environment? What tools do students need to succeed in an era of physical distancing? How can students maintain connectivity to their networks in a remote environment, sustaining a sense of community while in a non-traditional campus environment? Every Thursday, Triton Tools and Tidbits seeks to answer these questions while highlighting resources available to students across Student Affairs units and the UC San Diego campus community. Visit the website to listen and subscribe!

 

Every Thursday online





Click on the website link for more details

 

 

 

 
Join us for virtual Tea and Paint Night! Follow along as we paint your own masterpiece together.Supplies will be provided through the request form here.


Thursday April 23rd from 6PM to 7PM via Zoom

Thursday May 7th from 6PM to 7PM via Zoom

Thursday May 21st from 6PM to 7PM via Zoom

Zoom Meeting ID: 474500879


Zoom Link

Contact zone@ucsd.edu if you have any questions!

 

 
QTPOC Futurity: Existence is Resistance and Insistence

Join us for a live virtual art show centering 6 QTPOC student artists and their art, media, performance, words & thoughts. The art show will also have facilitated discussion on their pieces & on our theme: "QTPOC Futurity: Existence is Resistance and Insistence".


Wednesday April 22nd at 5PM to 7PM via Zoom link


Sign Up


Learn More

Contact mbaqai@ucsd.edu if you have any questions or bebarron@ucsd.edu for any accomodations!
Math As A Form of Civil Rights

 

A modern look at an age-old crisis Join us on Zoom to learn about how math is a form of civil rights by James King.


Tuesday April 28th from 4PM to 5:30PM via Zoom


Zoom Link

Contact jmgiles@ucsd.edu if you have any questions or nmagpusao@ucsd.edu!

 

 

 
Astrology & Social Justice

 

Ever wondered how the stars related to activism? Join us for a discussion on astrology's revolutionary past, present, and future! Topics covered include distinguishing between astronomy and astrology, spotlighting underrepresented folks who have made remarkable contributions to the field, tips on how to understand your own chart as well as starting points of reflection, and more!


Wednesday April 29th from 4PM to 5:30PM via webinar


Register Here


Learn More

Contact jtating@ucsd.edu if you have any questions!

 

 
Triton Transfer Hub Digital

Triton Transfer Community Forum

Chat with transfers and the transfer Hub staff and post to Q&A and bullentin board


Access Anytime. Moderator Hours:
Monday-Thursday, 9AM to 6PM and Fridays 9AM to 1PM

Talk With Us 


Triton Transfer Virtual Meet Up

Chat with transfers and the transfer Hub staff and post to Q&A and bullentin board

Tuesdays from 12PM to 2PM
Thursdays from 4PM to 6PM

Zoom Link 


Live Stream
Join us for the topic of the week. Use the chat and ask any questions

Wednesdays from 4PM to 5PM via Instagram @TritonTransfers




Contact tritontransfers@ucsd.edu if you have any questions!
Virtual ISPO Coffee Hours

Join us for ISPO Coffee Hours - Virtually! Bring your favorite coffee mug and cozy up to your screen on Tuesday, April 7th at 10am (PST) We look forward to seeing you there!


Tuesdays at 10AM via Zoom link


Zoom Link
 

 

 

 

 
Piyarat Piyapongwiwat Virtual Art Gallery

Check out the first of the Cross-Cultural Center's virtual art galleries! Now displaying Thai artist Piyat Piyapongwiwat's collection of photographs entitled "Queerness."


Visit the gallery anytime!


Visit Us

Contact llopez@ucsd.edu if you have any questions!

 

 

 
Thrive - Peer Health Coaching 

The Thrive Peer Health Coaching Program provides undergraduate students with personalized support and guidance from a trained peer health coach. In a one-on-one setting, our coaches will help you assess your desired well-being goal, create a behavior change plan using "SMART" goal-setting, and help you identify and develop the knowledge and skills to improve your well-being. Peer Health Coaches will also provide you with the resources and support necessary to attain your goal.



Click the link below to learn more about how to request a peer coach


Learn More

 

 
Health Promotion Services

Want to spend time doing activities that are fun and engaging? CAPS and the Zone are here to provide you events that will keep you active and have a good time!

Check out the link below to view upcoming events!

Learn More

 

 

 

 

 
Gay Men's Relationship Forum

Join us for conversation and connection. This community forum addresses relationships, sexual health, community building and more.

Every Monday, from 2:30pm-4pm at the Women's Center Small group Room

Contact gkoch@ucsd.edu if you have any questions!  Learn More

 

 

 

 
Outreach Trivia Night

Each week one category will highlight California, another state and another country and the other three categories are miscellaneous!

 

Free entry to all UCSD students and prizes for the winning team. We will host trivia via Kahoot and Zoom this quarter and a sign-up form with more information will be updated through our FB page, so don't forget to check out our FB event page!

Want to sponsor Outreach Trivia and spread awareness about your department/org? Sign uphere!

Every Tuesday, from 7pm-8pm online

Learn More

 

 

 
Asian American Community Forum

An informal drop-in group designed for Asian American students to discuss topics relevant to their experiences in a supportive environment. Bring your lunch and join us! Register here to get information about our zoom link.

Every odd week on Tuesdays, from 12pm-1pm on Zoom

Contact Dr. Dianna Quach at (858) 534-7710 if you have any questions! 

 

 

 
Black Women's Collective

Join us for conversations about our experiences as Black women and connect with other women on campus.

Every even week on Thursdays, from 5:00pm-6:30pm on Zoom

Contact cathompson@ucsd.edu if you have any questions! Zoom Link
Outside the Box Discussion

Join us for an open dialogue hosted by CAPS and safe space of multiracial/multiethnic and other non-dominant identities to share personal experiences and be heard.

Every odd week on Thursdays, from 5:00pm-6:30pm at the Cross Cultural Center Tranquility Room

Contact cathompson@ucsd.edu if you have any questions! 

 

 

 

 

 
iCAFE

Collaboration of Passport to Culture and iCafe. Learn about a new country every week online with other students! Registration required to access Zoom link.

Every Friday, from 12pm-1pm online

Contact ihouseprograms@ucsd.edu if you have any questions!  Learn MoreRegister Here

 

 

 
Job Opportunities
Apply to be a GAP Mentor!
The Global Ambassador Program (GAP) is a summer-long mentorship program that matches incoming international and out of state students with current UC San Diego. Being a GAP Mentor is a great leadership and volunteer opportunity! 
*GAP Mentor Trainings will happen virtually in Spring Quarter. 
Apply Now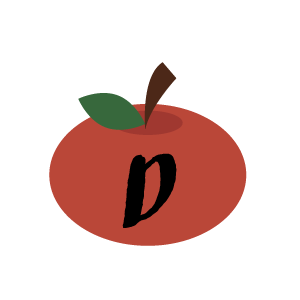 Become A Summer RA
Want to make an impact on student residents living on-campus? Apply to be an RA in the summer! Be a part of the residential life program at UCSD and help plan events for students and guide them through their college career while being compensated.

Apply through Handshake, job #3640644. Please contact bcannizzaro@ucsd.edu if you have any additional questions.

Hiring Peer Coaches
Love to help students achieve their goals? The Student Success Coaching Program (SSCP) provides holistic, proactive, positive, and strengths-based coaching for a cohort of first-generation college students at UC San Diego.Peer Coaches play a pivotal role in supporting first-year, first-generation college students in SSCP. Peer Coaches are equipped to use success coaching frameworks and strategies to assist students from an asset-based perspective with reaching their unique personal, professional, and academic goals. Handshake Job #3684761

Attend our info sessions happening Wednesday, April 15th from 3PM to 4PM and 5PM to 6PM via Zoom. Please contact successcoaching@ucsd.edu to request the zoom password or if you have any additional questions.
Learn More

Apply to be an Outreach Intern
Interested in expanding your leadership experience? Want to get paid while helping build community among international and out of state students at UC San Diego? Then apply to be a paid Outreach Coordinators Intern for International & Out of State Students for the upcoming academic year! Applications due April 24th, 2020. *All interviews will be done via zoom.

TRiOSummer Jobs
UC San Diego's TRIO Outreach Program has a variety of summer job opportunities to work with Upward Bound, Upward Bound Math Science and Educational Talent Search programs.  We are looking for experienced and motivated tutors, resident assistants and academic enrichment trainers who can help build the college going pathways for local San Diego youth.  We conduct academic programs in residential and commuter settings that serve over 200 diverse students from grades 9 – 12.  We offer summer programs at different locations, including UC San Diego, SD City College and Mount Miguel High School. Here are the following jobs you may apply for whether as a UCSD student or not:



For UCSD Students

:


Resident Assitant
:
Provide college mentorship to high school students in a residential setting (
Apply at UCSD Handshake Job#- 3587312
)

Academic Tutor

: Provide academic support to 

high school students in Math, 

Science, English, and 

Italian Language 

(Apply at UCSD Handshake Job# - 3587353)


For Non-UCSD Students

:


Tutor

: Provide academic support to high school 

students in Math, Science, 

English and Italian Language (Apply at https://jobs.ucsd.edu/ Job#- 104060)

Resident Assistant

: Provide college mentorship to high 

school students in a 

residential setting (Apply at https://jobs.ucsd.edu/ Job#- 104008)


 


Academic Trainer

: Provide academic-based lessons to 

high school students.
Math Job#- 103936
English Lit & Comp Job#- 103966
Science (with Lab) Job#- 103968
Italian Language Job#- 103969)
Summer Residential Program
Training: June 15th - June 19th
Program Date: June 21st - July 24th
Public Meetings
Sixth College Student Council (SCSC)
Thursdays, 5:15pm Online Meeting, please contact us for updates and meeting link if available
Website | Facebook
Contact

Finance Committee
Wednesdays, 1pm
Online Meeting, please contact us for updates and meeting link if available

Contact

 

Teal Team Sixth (SCSC Programming Committee)
Wednesday, 6pm
Online Meeting, please contact us for updates and meeting link if available
Facebook | Contact

Tech Committee
Thursdays, 7pm
Online Meeting, please contact us for updates and meeting link if available

Website | Facebook
Contact

 

Sixth College Community Board (CoBoard)
Mondays, 7pm
Online Meeting, please contact us for updates and meeting link if available

Facebook | Contact
Basic Needs Resources
2020 UC San Diego

Asian and Pacific Islander American Heritage Celebration Essay

The Asian and Pacific Islander American Heritage Celebration (APIAHC) Committee is hosting the 5th annual UC San Diego Undergraduate Student Essay Contest Award celebrating Asian and Pacific Islander American activism and community leadership. The Award recognizes students who have demonstrated commitment to the advancement of Asian and Pacific Islander American heritage education and community building. Winners of the essay contest will receive monetary prizes and recognition in UC San Diego media publications. Recipients may also be asked to share a personal photograph and information about themselves and read a portion of their essay to be shared on APIAHC social media. Requirements: Registered UC San Diego undergraduate, graduate, and professional students are encouraged to apply. Monetary Prizes: Undergraduate: 1st: $1000, 2nd: $800, 3rd: $700 Graduate/Professional: $1000 Essay Contest Guidelines: Submit your resume and a two-page essay answering the Essay prompt below. Essay submissions should be in a word document, in a format of your choice (APA, MPA, etc.), and use 1 inch margins and 11 point font. In the header of your essay, please include your name (First, Last), PID (A99999999), if you are an undergraduate or graduate/professional student, and your UCSD email. Essays are to be emailed to wsasaki@ucsd.edu. Please write "APIAHC Contest" in the email subject line. Essay Contest Prompt Our homes are self-determined spaces where we cultivate care for ourselves and others, preserve cultural practices, and promote a sense of belonging. This sense of home affects our feelings of safety, well-being, and connection. They are places where we can be our full selves. Please discuss the ways that you have found your sense of home within the UC San Diego campus community. Where are the places where you have felt at home within the Asian Pacific Islander American communities, and how have you worked to create space for others to feel at home within your community?

Essay due April 30 by 11:59PM and must be sent to wsasaki@ucsd.edu Contact iwsasaki@ucsd.edu if you have any questions!  Learn MorePre-Register Here

 

 

 
Campus Resources
 

Tele Medicine Visits with SHS Providers

Now available! Free with SHIFT/RAFT. Call (858) 534-3300 to set a date and time. Download the MyChart app to your smart phone or tablet.
If you would like to submit relevant events to be featured in the newsletter, please email sixthnewsyoucanuse@ucsd.edu! Guidelines for submission can be found here.