Get ready for graduation, be recognized by Sixth College, see the flowers with friends, take the academic survey, and more!
Sixth News You Can Use
Week 10 Winter Quarter
Spotlights • Academic Advising • Events • Job Opportunities • Public Meetings Scholarships • Basic Needs Resources • Commuter Resources • Campus Resources 
Spotlights
Nowruz! Persian New Year
Join Sixth for a traditional Persian meal! There will be food and fun as you and your friends learn about the culture of Persian New Years!
Come out to the

 

Lodge on

 

Friday March 13th from

 

6pm-8pm


Learn More
Sixth College Graduation Stole Pre-Order!
The Sixth College Signature Graduation Stole commemorates the year of your accomplishment, as well as the College's Logo. It is definitely something that you will want to add to capture your memories here at UC San Diego. Pre-order your graduation stole today and pick them up later in the school year! There's only a limited quantity and orders will come on a first come first serve basis.
Order Here!
Student Leadership Awards
Want your hard work to be recognized? Apply for the Sixth College Student Leadership Awards! We are accepting applications until Friday, April 3rd at 11:59 PM through the link below. Here are the following categories you can apply for:
The Dean's Award for Leadership and Service
The Dean's Award for Leadership and Service is awarded to a graduating senior who has demonstrated excellence, outstanding leadership, and significant service contributions to Sixth College through academic and/or co-curricular activities. The award recipient will have demonstrated leadership and active participation within the Sixth College community.
The Teal Award for Outstanding Graduating Senior
The Teal Award for Outstanding Graduating Senior is awarded to a graduating senior who has contributed to positive community building in Sixth College through creativity and innovation, has helped create or has contributed to Sixth College traditions, and has shown a remarkable level of dedication and service to Sixth College.
The Alumni Association Outstanding Student Award
The Alumni Association Outstanding Student Award is awarded to a graduating senior who has 1) achieved academic excellence (minimum of 3.0 GPA) and 2) has brought distinction to Sixth College and UCSD through leadership, service, civic engagement, and involvement in the campus and San Diego community.
Oceanids Service and Leadership Award
The Oceanids Service and Leadership Award is awarded to a student in Junior class standing (90 credits completed) who has demonstrated leadership and service to the UCSD campus community at the college or campus-wide level. Examples of such service might include, but are not limited to, significant contributions of service to UCSD through student organizations, Athletics, campus-wide Advisory Boards, or student government.
Please read through application thoroughly and know what is required. As part of your application, you are required to submit a letter of reference. Letters of reference should be completed by a professional staff member, faculty member, or community member who can speak to your qualifications for the award to which you are applying. It is the applicant's applicant's responsibility to provide the link to upload the letter of reference to the person writing their letter. Late letters will not be accepted.
Apply by Friday, April 3rd by

 

11:59 PM
Apply Here
Sixth College Advising Survey and Assessment
Want to win awesome prizes? Complete the Sixth College Academic Advising Survey that was sent to your UCSD email by Tuesday, March 10th to qualify!
Plug-In @ PC: Late Night Study Fest
It's almost finals week and we got you covered! Throughout finals week, Price Center will have open study spaces in The Loft, East Ballroom, Sun God Lounge, and more. Feeling hungry? Most Price Center eateries will have special hours that week, staying open until midnight. Stay tune to our Kickoff event where multiple activities are happening on Sunday March 15th from 9PM to Midnight. The following kickoff events are: Lo-Fi Study Jam @ The Loft Silent Disco @ PC Dance Studio Chair Massages @ PC East Ballroom
Come out to

 

Price Center starting on

 

Sunday March 15th from

 

9pm-12am


Learn More
Outreach & Sixth Flower Fields Bus Trip
Join Outreach and Sixth College Student Council as we explore the Carlsbad Flower Fields! The trip will include visiting the gorgeous flower fields for your favorite insta shot as well as tractor rides and mazes to explore the area before heading back to campus! Ticket includes entrance to the flower field and transportation from UCSD to Carlsbad and back. Buy your ticket here!
Come out to the

 

Flower Fields at Carlsbad Ranch

 

on

 

Saturday April 11th

 

from

 

9:30am-1:30pm

Graduates, Get Ready for Sixth College Commencement!
It's almost time for graduation! Start getting ready for Sixth College Commencement by clicking the link below to learn about registration, rules and guidelines, and other accomodations.
Teal Tuesdays
On Tuesdays we wear teal. Show your college spirit by wearing teal on Tuesdays with your fellow Sixers!

Sixth College Practicum Survey
Complete a survey about your experience fulfilling your Practicum requirement and enter to win a $25 Starbucks gift card! Fill it out here. You may also have your Practicum project featured on the Sixth College website!

UC San Diego Tritons - We Would Like to Hear Your Voice!
The results from this survey will provide ideas to make the outdoor public spaces on campus more active and dynamic with a wide range of programs and events. Participation in this survey is voluntary.
Take the survey!

APIMEDA Community Time!
The Asian Pacific Islander Middle Eastern Desi American (APIMEDIA) Program invites all to come together, learn, and hang out in a safe and open environment
Come out to the Dogghouse from 4pm-6pm on

 

every Wednesday. 
Academic Advising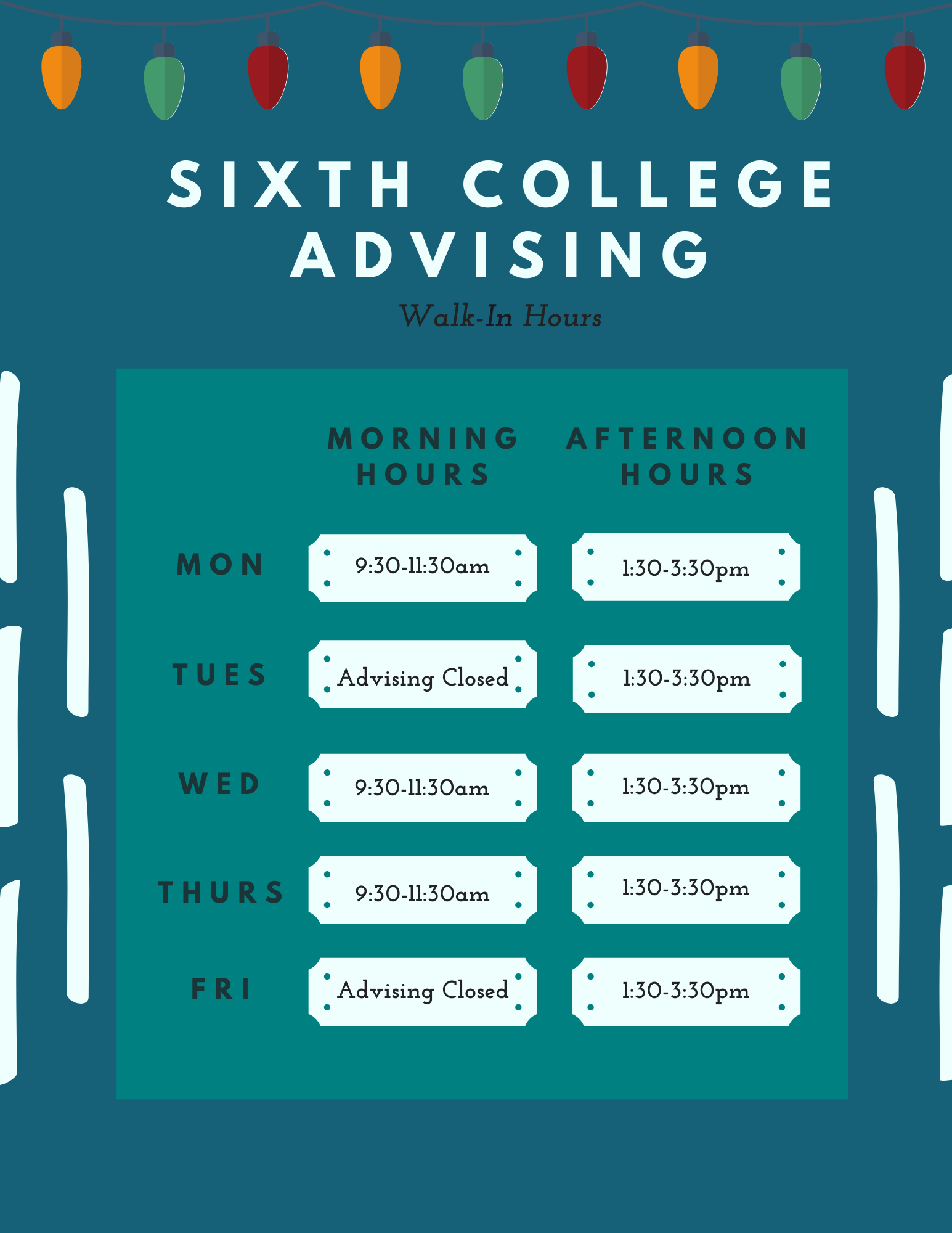 Located at The Hub in Pepper Canyon Hall (2nd floor) (
Website
)
Have a question but can't walk in? Use our Virtual Advising Center! Open 24/7.
You can also contact us by phone at (858) 534-9001
Coffee or Dine With A Prof
The Dine-With-a-Prof and Coffee-With-a-Prof programs allow undergraduate students to get coffee or dine with one of their esteemed faculty members or graduate teaching assistants for free! Undergraduate students may participate in the Dine-With-a-Prof program once per quarter during the academic year and the Coffee-With-a-Prof program twice per quarter during the academic year. Visit this link to learn more and sign-up.

TMC 15 Public Service in America
In this course, you will discover the history and importance of the independent sector, develop your interests into purposeful practice, and meet experienced community leaders. Take this class in the Spring Quarter! Want more information about it? Visit your Academic Advisor.
Events
"Fly" the Musical

Do you know the story of Peter Pan? Ever wonder how it is played from Wendy's perspective? Watch her story as the original lost girl in the new upcoming musical "Fly." UCSD students are able to recive a $10 ticket by showing up one hour before the show. Bring your student ID to be eligible.


Showing from February 18th to March 29th at the La Jolla Playhouse


Learn More

 

 

 
Move, Jump, Fly is a FREE full-length play that explores the emerging dynamic between artificial intelligence, humanity, and nature. Kit, a child-like robot, struggles in existential limbo - caught between the influence of its creator, Bianca, a world-weary genius scientist, and Owl, a mysterious dreamlike bird that speaks in verse. Will Kit propel humanity to new heights, waltz with birds, or sit around watching old sitcoms? For ticketing information and more visit MoveJumpFly.com


Wednesday March 11th at Che Cafe at 7:30PM

Contact jasavage@ucsd.edu if you have any questions!

Learn More
7th Annual BioTechathalon Competition

Want to solve a real-world biotech problem, network, and have a chance to win cash prize? Sign up for the 7th Annual BioTechathalon Competition with a group of 4 to 6 people in the link below.

Applications accepted until Wednesday March 25th at 11:59PM

Competition will start on Saturday April 4thContact

 

ucsdbiotechathalon@gmail.com

 

if you have any questions!Apply HereLearn More

 

 

 
UCSD APSA APIA Heritage Month Documentary Casting Call

This May, UCSD's APIA community will be celebrating APIA culture and history through a series of events centered around the theme, "Building on Legacies of Resilience." We're looking for folks who are interested in participating in the creation of a documentary showcasing stories of resilience within APIA communities. Our goal in creating this documentary is to document and share these narratives to highlight stories that are typically untold. Sign up in the link below.

Sign up by Friday April 3rd at 11:59PM

Apply HereContact

 

ucsdapsa@gmail.com

 

if you have any questions!

 

 

 
Women of the World Panel and Art Gallery

In honor of International Women's Day, the Outreach Coordinators and the Women's Center are hosting a "Women of the World" Panel and Art Gallery to highlight the differences of women in cultures represented on our UCSD campus. We are looking for students and staff from a variety of states/countries to serve as panelists! Panelists will have the opportunity to represent their cultures and discuss women in their home states/countries in relation to education, traditional roles, family dynamics, employment, healthcare, etc. We are also accepting open submissions for ARTWORKS in any form (painting, photo, crafts, etc), that represent different cultures and celebrate women around the world! If selected, your piece will be on display at our showcase in the Women's Center! If you are interested in becoming a panelist or a featured artist, please sign up here.


Wednesday March 11th at the UCSD Women's Center from 12PM to 1:30PM


Learn More

 

 
Excel with Integrity Art Contest

Enter the Excel with Integrity Art Contest and show how you excel with integrity and win up to $250 Triton Cash. Any type of artwork is allowed so get creative!

Submit Here!


Submissions are due Wednesday April 1st at 9AM


Contact aio@ucsd.edu if you have any questions!

 

 

 

 

 
Thrive - Peer Health Coaching 

The Thrive Peer Health Coaching Program provides undergraduate students with personalized support and guidance from a trained peer health coach. In a one-on-one setting, our coaches will help you assess your desired well-being goal, create a behavior change plan using "SMART" goal-setting, and help you identify and develop the knowledge and skills to improve your well-being. Peer Health Coaches will also provide you with the resources and support necessary to attain your goal.



Click the link below to learn more about how to request a peer coach


Learn More

 

 
Move Your Body, Tone Your Mood

Learn basic mindful movements to reduce stress and improve mood!

Every Monday, from 10am-10:45am at the Zone next to Jamba Juice.

Learn more about the Zone

 

 

 

 

 

 
Gay Men's Relationship Forum

Join us for conversation and connection. This community forum addresses relationships, sexual health, community building and more.

Every Monday, from 2:30pm-4pm at the Women's Center Small group Room

Contact

 

gkoch@ucsd.edu

 

if you have any questions! 

 

 

 

 
Outreach Trivia Night

Venture over to Muir to meet new people and test your knowledge of various trivia categories! Each week one category will highlight California, another state and another country and the other three categories are miscellaneous!

 

Free entry to all UCSD students and prizes for the winning team. Come with friends or by yourself to join a team of four!

Want to sponsor Outreach Trivia and spread awareness about your department/org? Sign uphere!

Every Tuesday, from 7pm-8pm at Muir Woods Coffee House

Learn More

 

 

 
Learning Conversation Tables (TLC)

Come learn a new language by conversing with a host in a casual setting.

Every Tuesday, from 5pm-6pm at the Great Hall at International House.

Contact

 

ihouseprograms@ucsd.edu

 

if you have any questions!  Learn More

 

 

 

 
Asian American Community Forum

An informal drop-in group designed for Asian American students to discuss topics relevant to their experiences in a supportive environment. Bring your lunch and join us!

Every odd week on Tuesdays, from 12pm-1pm at the Cross Cultural Center Conference Room.

Contact Dr. Dianna Quach at (858) 534-7710 if you have any questions! 

 

 

 
Black Women's Collective

Join us for conversations about our experiences as Black women and connect with other women on campus. Dinner will be provided.

Every even week on Thursdays, from 5:00pm-6:30pm at the Women's Center

Contact

 

cathompson@ucsd.edu

 

if you have any questions! 

 

 

 

 
Outside the Box Discussion

Join us for an open dialogue hosted by CAPS and safe space of multiracial/multiethnic and other non-dominant identities to share personal experiences and be heard.

Every odd week on Thursdays, from 5:00pm-6:30pm at the Cross Cultural Center Tranquility Room

Contact

 

cathompson@ucsd.edu

 

if you have any questions! 

 

 

 

 

 
Job Opportunities

Partnership Schools Program Info Sessions
Interested in taking part in an educational internship? Join the Partnership Schools Program! The internship opportunity is open to all UC San Diego undergraduate students. Students can volunteer as either Tutors or Interns at local undeserved schools in San Diego county! Develop civic duty skills while you receive a great experience working in a high school setting. For more information attend one of our upcoming info sessions.
MON, MAR 10TH  1:00 pm-2:00 pm
WED, MAR 11TH    12:00 pm-1:00 pm
THU, MAR 12TH  12:30 pm-1:30 pm
All info sessions will be held at the TMC Administration Building, room 132
Learn More
Become an Integrity Mentor!
Responsible, honest, fair, trustworthy and respectful? Become an Integrity Mentor!
Integrity Mentors are the core personnel in the Integrity Mentorship Program (I.M.P.), an educational opportunity offered to select students who are otherwise facing suspension from the University for an integrity violation.
Public Meetings
Sixth College Student Council (SCSC)
Thursdays, 5:15pm Main Conference Room
(2nd Floor of Pepper Canyon Hall)
Website | Facebook
Contact

Finance Committee
Wednesdays, 1pm
Main Conference Room
(2nd Floor of Pepper Canyon Hall)
Contact

 

Teal Team Sixth (SCSC Programming Committee)
Wednesday, 6pm
The Dogghouse
Facebook | Contact

Tech Committee
Thursdays, 7pm
Location Varies, Contact on Facebook for Location
Website | Facebook
Contact

 

Sixth College Community Board (CoBoard)
Mondays, 7pm
The Dogghouse
Facebook | Contact
Basic Needs Resources
Grocery Shuttle

We are excited to promote a free weekly shuttle service to Convoy and Balboa Ave! You can find various grocery stores like 99 Ranch Market, Balboa International Market, Food 4 Less, Zion Market, Tropical Star Market and Restaurant, and H-Mart. You can learn more about the route and various departure times as well as access several coupons and special offers for UCSD students

here.We encourage anyone who is planning on shopping to bring your own grocery bags. See you there! Every Saturday from 12:00pm-7:30pm during Fall, Winter, & Spring Quarter excluding University holidays. Pick up at Mandeville Loop.
Commuter Resources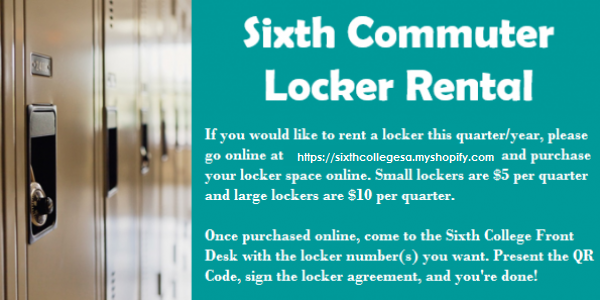 Sixth College Commuter Lounge
Cook in the kitchen, surf the web on the computers, take advantage in renting a locker, or watch TV. Just swipe your UCSD student ID at the door. Have questions? See the Sixth College Front Desk or contact
jrapport@ucsd.edu
.
Campus Resources
 

Coffee and Dine with a Prof

Want to get to know a professor, faculty member, or graduate TA better? Get coffee or dinner with them through our Coffee With a Prof or Dine With a Prof program. Pick up a voucher at the Sixth Student Affairs Office, located at the second floor of Pepper Canyon Hall after reading the instructions

here.
If you would like to submit relevant events to be featured in the newsletter, please email sixthnewsyoucanuse@ucsd.edu! Guidelines for submission can be found here.
Sixth College, UC San Diego
9500 Gilman Dr. La Jolla, CA 92093 | (858) 534-2230