The California Primary Election is coming up! Click
here
to find out how to prepare for this important event. 
Sixth News You Can Use
Week 8 Winter Quarter
Spotlights • Academic Advising • Events • Job Opportunities • Public Meetings Scholarships • Basic Needs Resources • Commuter Resources • Campus Resources 
Spotlights

Graduates, Get Ready for Sixth College Commencement!
It's almost time for graduation! Start getting ready for Sixth College Commencement by clicking the link below to learn about registration, rules and guidelines, and other accomodations.
Summer/Fall 2020 Sixth College Study Abroad Scholarship
Are you planning to study abroad this summer or fall? Want a little extra cash to fund your trip? Apply for the Summer/Fall 2020 Sixth College Study Abroad Scholarship! Please read the information and follow the instructions given here in order to apply. All applications must be submitted through Academic Works by the end of the day on Monday, March 2.
Apply by Monday March 2nd
Teal Tuesdays
On Tuesdays we wear teal. Show your college spirit by wearing teal on Tuesdays with your fellow Sixers!

Sixth College Practicum Survey
Complete a survey about your experience fulfilling your Practicum requirement and enter to win a $25 Starbucks gift card! Fill it out here. You may also have your Practicum project featured on the Sixth College website!

UC San Diego Tritons - We Would Like to Hear Your Voice!
The results from this survey will provide ideas to make the outdoor public spaces on campus more active and dynamic with a wide range of programs and events. Participation in this survey is voluntary.
Take the survey!

APIMEDA Community Time!
The Asian Pacific Islander Middle Eastern Desi American (APIMEDIA) Program invites all to come together, learn, and hang out in a safe and open environment
Come out to the Dogghouse from 4pm-6pm on

 

every Wednesday. This week, get free candy and blue books!
Academic Advising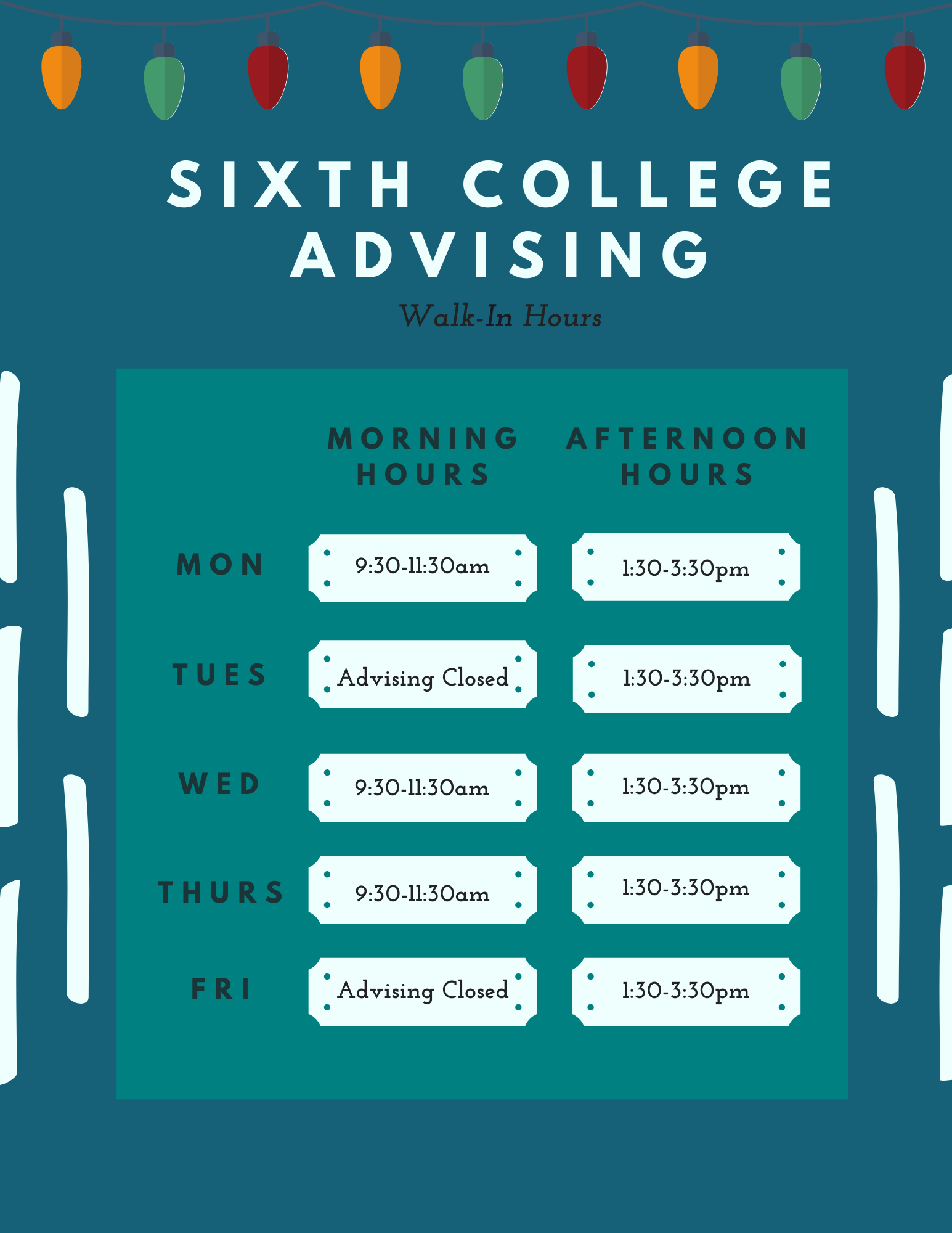 Located at The Hub in Pepper Canyon Hall (2nd floor) (
Website
)
Have a question but can't walk in? Use our Virtual Advising Center! Open 24/7.
You can also contact us by phone at (858) 534-9001

On Campus Tutoring Resources
The Teaching+Learning Commons offers walk-in and online tutoring, study groups, and writing support. Visit them online or in Giesel for more information! Oasis offers workshops and tutorials for Math, Science, and Language Arts, as well as drop-in and by-appointment tutoring. Stop by the third floor of Center Hall or visit them online to learn more. Ask your major and minor department if they offer tutoring hours.

TMC 15 Public Service in America
In this course, you will discover the history and importance of the independent sector, develop your interests into purposeful practice, and meet experienced community leaders. Take this class in the Spring Quarter! Want more information about it? Visit your Academic Advisor.
Events
"Fly" the Musical

Do you know the story of Peter Pan? Ever wonder how it is played from Wendy's perspective? Watch her story as the original lost girl in the new upcoming musical "Fly." UCSD students are able to recive a $10 ticket by showing up one hour before the show. Bring your student ID to be eligible.


Showing from February 18th to March 29th at the La Jolla Playhouse


Learn More

 

 

 
Discovering Your Career Compass

Find your direction by exploring the intersection of your academic goals, career goals, strengths, and personal values. presented by the APIMEDA Community.

Monday February 24th at the Revelle Conference Room C from 5PM to 6:30PM




 

 

 

 

 
Taxes Don't Have to be Taxing

As tax season approaches, make sure you know the ins and outs of taxes. Come out to learn about how to file taxes, tax credits and deductions related to higher education, and taxable income.

Tuesday February 25th at the Zone from 3:30PM to 4:30PM

RSVP Here!

 

 

 

 

 
Open Dyalog

This week, we will have a discussion about 'Reframing the Social Justice Warrior.'. All thoughts and perspectives are welcome.


Tuesday February 25th at the Muir Woods from 6PM to 7PM 


Contact opendyalog@gmail.com if you have any questions!

Learn More

 

 

 
CalFresh Workshops and Mini Clinic

CalFresh is California's food stamp program providing access to essential food sources for eligibile participants. To learn more about them, visit one of the following workshops or mini clinics in the dates below: LGBT Center Feb.13th 2PM-4PM (Workshop) The Zone Feb.21st 12-2pm (Workshop) Women's Center Feb. 24th 1-3pm (Workshop) CCC Feb. 26th 12-4pm (Mini Clinic)
Senior Student Success Series: Workshop #8 - What Is A Credit Score?

Learn about improving your credit, paying off debt and budgeting.


Wednesday February 26th from 12:30PM to 1:30PM at SSC 554


Contact Maria at

m4rodriguez@ucsd.edu

 if you have any questions!

Register Here!

 

 

 
Voting can be confusing, so we have created this DIY event to help you get your ballot ready before election day. We will have supplies to help you get a head start on organizing your ballot to help ensure that you are ready for the polls! There will be FREE nachos, LIVE silk screening for personalized tote bags and more! This event will also serve as an active mail-drop off station!


Wednesday February 26th at the Loft from 5PM to 7PM 

Contact sovac@ucsd.edu if you have any questions!

Learn More



 

 
Snack n Chat

Are you a transfer student trying to make the most of your college career? Join our Snack n Chat event where you can have a casual converstation with Peers and Experts on various topics on the following dates:

 

Feb. 28: Careers in Pharmaceutical Sciences


All discussions will be held at the Biomedical Library Building Events Room from 3PM to 4PM

 

 

 

 

 
Farmer's Market to Local Farm

It's time YOU see San Diego. Join Marshall and Muir Colleges' Community Gardens as we spend part of a Saturday off-campus getting to know the food access and sustainability efforts of southern California. The day begins at Little Italy's Farmers Market, sampling the fruits, produce, and artisans of San Diego county. Next, venture to the south bay to Wild Willow Farms, for tour, tasting, and educational workshop. Learn about local efforts around sustainable gardening, food access, and BONUS get to pet some goats. Transportation is provided. RSVP is required to attend so fill out the form below to secure your spot!


Saturday February 29th at Little Italy and Wild Willow Farms from 11AM to 4:30PM

Contact fkeflezighi@ucsd.edu if you have any questions!

RSVP Here
Move, Jump, Fly is a FREE full-length play that explores the emerging dynamic between artificial intelligence, humanity, and nature. Kit, a child-like robot, struggles in existential limbo - caught between the influence of its creator, Bianca, a world-weary genius scientist, and Owl, a mysterious dreamlike bird that speaks in verse. Will Kit propel humanity to new heights, waltz with birds, or sit around watching old sitcoms? For ticketing information and more visit MoveJumpFly.com


Saturday February 29th at Che Cafe at 3:30PM

Sunday March 1st at Che Cafe at 7:30PM

Wednesday March 11th at Che Cafe at 7:30PM

Contact jasavage@ucsd.edu if you have any questions!

Learn More
Financial Horizons Conference

The Financial Horizons Conference is a free event designed to give students the opportunity to learn from and network with accomplished professionals, UCSD alumni and leading minds in finance, consulting, entrepreneurship, and business. We will have four panels: Consulting, Investment Banking, Asset/Wealth Management, and Venture Capital/Entrepreneurship. RSVP is required.


Saturday March 7th at Rady School of Management from 8AM to 2PM

Contact Elaine Lai at yilai@ucsd.edu if you have any questions!

Learn More

RSVP Here

 

 
Women of the World Panel and Art Gallery

In honor of International Women's Day, the Outreach Coordinators and the Women's Center are hosting a "Women of the World" Panel and Art Gallery to highlight the differences of women in cultures represented on our UCSD campus. We are looking for students and staff from a variety of states/countries to serve as panelists! Panelists will have the opportunity to represent their cultures and discuss women in their home states/countries in relation to education, traditional roles, family dynamics, employment, healthcare, etc. We are also accepting open submissions for ARTWORKS in any form (painting, photo, crafts, etc), that represent different cultures and celebrate women around the world! If selected, your piece will be on display at our showcase in the Women's Center! If you are interested in becoming a panelist or a featured artist, please sign up here.


Wednesday March 11th at the UCSD Women's Center from 12PM to 1:30PM


Learn More

 

 
Excel with Integrity Art Contest

Enter the Excel with Integrity Art Contest and show how you excel with integrity and win up to $250 Triton Cash. Any type of artwork is allowed so get creative!

Submit Here!


Submissions are due Wednesday April 1st at 9AM


Contact aio@ucsd.edu if you have any questions!

 

 

 

 
Thrive - Peer Health Coaching 

The Thrive Peer Health Coaching Program provides undergraduate students with personalized support and guidance from a trained peer health coach. In a one-on-one setting, our coaches will help you assess your desired well-being goal, create a behavior change plan using "SMART" goal-setting, and help you identify and develop the knowledge and skills to improve your well-being. Peer Health Coaches will also provide you with the resources and support necessary to attain your goal.



Click the link below to learn more about how to request a peer coach


Learn More

 

 
Move Your Body, Tone Your Mood

Learn basic mindful movements to reduce stress and improve mood!

Every Monday, from 10am-10:45am at the Zone next to Jamba Juice.

Learn more about the Zone

 

 

 

 

 

 
Gay Men's Relationship Forum

Join us for conversation and connection. This community forum addresses relationships, sexual health, community building and more.

Every Monday, from 2:30pm-4pm at the Women's Center Small group Room

Contact

 

gkoch@ucsd.edu

 

if you have any questions! 

 

 

 

 
Outreach Trivia Night

Venture over to Muir to meet new people and test your knowledge of various trivia categories! Each week one category will highlight California, another state and another country and the other three categories are miscellaneous!

 

Free entry to all UCSD students and prizes for the winning team. Come with friends or by yourself to join a team of four!

Want to sponsor Outreach Trivia and spread awareness about your department/org? Sign uphere!

Every Tuesday, from 7pm-8pm at Muir Woods Coffee House

Learn More

 

 

 
Learning Conversation Tables (TLC)

Come learn a new language by conversing with a host in a casual setting.

Every Tuesday, from 5pm-6pm at the Great Hall at International House.

Contact

 

ihouseprograms@ucsd.edu

 

if you have any questions!  Learn More

 

 

 

 
Asian American Community Forum

An informal drop-in group designed for Asian American students to discuss topics relevant to their experiences in a supportive environment. Bring your lunch and join us!

Every odd week on Tuesdays, from 12pm-1pm at the Cross Cultural Center Conference Room.

Contact Dr. Dianna Quach at (858) 534-7710 if you have any questions! 

 

 

 
Black Women's Collective

Join us for conversations about our experiences as Black women and connect with other women on campus. Dinner will be provided.

Every even week on Thursdays, from 5:00pm-6:30pm at the Women's Center

Contact

 

cathompson@ucsd.edu

 

if you have any questions! 

 

 

 

 
Outside the Box Discussion

Join us for an open dialogue hosted by CAPS and safe space of multiracial/multiethnic and other non-dominant identities to share personal experiences and be heard.

Every odd week on Thursdays, from 5:00pm-6:30pm at the Cross Cultural Center Tranquility Room

Contact

 

cathompson@ucsd.edu

 

if you have any questions! 

 

 

 

 

 
Job Opportunities
The Center of Student Involvement (CSI) is Hiring Dialogue Ambassadors!
Want to be a student leader and get paid? Apply to be a Dialogue Ambassador! Facilitate open on-campus dialogues throughout the quarter in the 2020-2021 academic year led by the Center of Student Involvement (CSI).
Apply

 

here

 

by February 24th at 12PM
Become the Next Student Regent!
Take on this incredible opportunity to become a representative voice within the UC Regents meetings on behalf of the entire UC student body, and to have all tuition and fees waived during the two years of service. Wanna learn more about the position? Come to Town Hall on
January 31st
from 11:30am-1pm in the Governance Chambers. Free lunch provided. Learn more about the town hall meeting
here
.
Public Meetings
Sixth College Student Council (SCSC)
Thursdays, 5:15pm Main Conference Room
(2nd Floor of Pepper Canyon Hall)
Website | Facebook
Contact

Finance Committee
Wednesdays, 1pm
Main Conference Room
(2nd Floor of Pepper Canyon Hall)
Contact

 

Teal Team Sixth (SCSC Programming Committee)
Wednesday, 6pm
The Dogghouse
Facebook | Contact

Tech Committee
Thursdays, 7pm
Location Varies, Contact on Facebook for Location
Website | Facebook
Contact

 

Sixth College Community Board (CoBoard)
Mondays, 7pm
The Dogghouse
Facebook | Contact
Scholarships
UCSD Extension: Student Grant Program

Want to take classes from a wide range of topics for a cheaper price or free? Apply to UCSD Extension's Student Grant Program. Recieve a $500 voucher when taking a UCSD Extension class. Applications are accepted from February 24th to February 28th in the link below.

Deadline to apply is February 28th



Apply Here

 

 
Cesar Chavez Essay Scholarship

The Cesar Chavez Essay Scholarship is open on the UCSD Scholarships website! In honor of Cesar Chavez, we are providing several awards to students who can indicate how they contribute to equity and social justice at UC-San Diego and contribute to positive change in the Latinx community. The scholarship will be offering the following awards: First place $2,500 Second place $1,500 Third place $750 Fourth place $250

Deadline to apply is February 28th

Click the link below and search Cesar Chavez Essay Scholarship under "Opportunities"

Learn More

 
Basic Needs Resources
Grocery Shuttle

We are excited to promote a free weekly shuttle service to Convoy and Balboa Ave! You can find various grocery stores like 99 Ranch Market, Balboa International Market, Food 4 Less, Zion Market, Tropical Star Market and Restaurant, and H-Mart. You can learn more about the route and various departure times as well as access several coupons and special offers for UCSD students

here.We encourage anyone who is planning on shopping to bring your own grocery bags. See you there! Every Saturday from 12:00pm-7:30pm during Fall, Winter, & Spring Quarter excluding University holidays. Pick up at Mandeville Loop.

 

 

 
Commuter Resources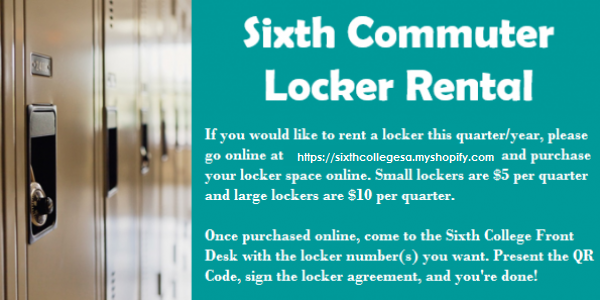 Sixth College Commuter Lounge
Cook in the kitchen, surf the web on the computers, take advantage in renting a locker, or watch TV. Just swipe your UCSD student ID at the door. Have questions? See the Sixth College Front Desk or contact
jrapport@ucsd.edu
.
Campus Resources
 

Coffee and Dine with a Prof

Want to get to know a professor, faculty member, or graduate TA better? Get coffee or dinner with them through our Coffee With a Prof or Dine With a Prof program. Pick up a voucher at the Sixth Student Affairs Office, located at the second floor of Pepper Canyon Hall after reading the instructions

here.
If you would like to submit relevant events to be featured in the newsletter, please email sixthnewsyoucanuse@ucsd.edu! Guidelines for submission can be found here.