Buy tickets to Disneyland, play water sports, get toasty advice, and more!
Sixth News You Can Use
Week 5 Fall Quarter
Spotlights • Academic Advising • Events • Job Opportunities • Public Meetings Scholarships • Basic Needs Resources • Commuter Resources • Campus Resources 
Spotlights
Sixth Takes Disneyland
Looking to take a break from the stress of classes? Join us for Sixth Goes To Disneyland 2019!!! Enjoy new Disney attractions like Star Wars Land, as well as older traditions like their nightly fireworks show, all at the Happiest Place on Earth!!! Tickets for Sixth Goes to Disneyland 2019 are NOW ON SALE, so check out the link below!!! Tickets are priced at $100 (while supplies last), so don't miss out!!!
Come join us on

 

Saturday November 9th
 from 5:30am-1am (November 10th). Have any questions? Contact simokhta@ucsd.edu

 

for more information or read more 
here!
Purchase tickets 
here!
H2-Whoa: A Sustainability and Conservation Program
Come join your Sixth Community and visit the Mission Bay Aquatics Center FOR FREE on Sunday, November 3rd from 1 - 4pm. Have fun with friends while kayaking, paddleboarding, playing spikeball, volleyball, and more! We will also be learning about sustainability and every attendee will get their own bag of sustainable goodies! Sign up at the Sixth Residence Life Office ASAP - there are only 50 spots, first-come first-serve, so you don't want to miss out! *Transportation will be included! Bus departure times from Sixth are TBD, but those who sign up will be notified about timing.
Come out to the Mission bay Aquatic Center from 1pm-4pm on

 

November 3rd
Learn More

Toasty Advice
Can't make it to walk-ins? Need a quick snack? Come join your Sixth College Academic Advisors and RAs for FREE food and advice! We'll be serving some TOASTY grilled cheese and garlic bread, and your advisors will be available to answer questions! Please note: Toasty Advice is intended for quick enrollment questions. For long-term academic planning, please schedule an appointment by calling 858-534-9001 after meeting with your major department.
Come out to the Lodge from 3pm-5pm on

 

Tuesday November 5th
 and the Dogghouse from 3pm-5pm on

 

Wednesday November 13th

APIMEDIA Community Time!
The Asian Pacific Islander Middle Eastern Desi American (APIMEDIA) Program invites all to come together, learn, and hang out in a safe and open environment
Come out to the Dogghouse from 4pm-6pm on

 

every Wednesday. This week, get free candy and blue books!
APIMEDIA: Discovering Your Career Compass
Learn strategies that help you consider your strengths, your personal values, and your cultural values to find direction to lead you on your academic and career paths.
Come out to the Dogghouse from 5pm-6pm on

 

Wednesday November 6th

Asian American Representation in Hollywood
Writer and Director Eric Lin Hsu will display a gallery of written, photographic, and film art concerning the history of Asian American Representation in Hollywood films. UC San Diego Alumna, activist, and industry-insider Emma Quan will join Eric to discuss the entertainment industry, the emergence of wider Asian American representation, and where work still needs to be done. Hosted by Sixth College.
Come out to the Student Services Center from 7pm-9pm on

 

Wednesday November 6th. Free food sponsored by Taco Villa.
 Sixth College's "Women in the Arts: Las Hermanas Iglesias"
Join us for a Performative Artist Talk by Janelle and Lisa Iglesias that explores issues of hybridity, social participation, and transnational identities. Free and open to the public. Refreshments provided.
Come out to Visual Art Facility (VAF) Performance Space, next to Sixth College from 5pm-7pm on

 

Wednesday November 13th
Click 
here
 to RSVP your seat
Academic Advising
Located at The Hub in Pepper Canyon Hall (2nd floor) (
Website
)
Have a question but can't walk in? Use our Virtual Advising Center! Open 24/7.
You can also contact us by phone at (858) 534-9001
Consider meeting with your major advisor to develop a quarter-by-quarter plan (Excel), then follow up with Sixth College Advising through our walk-in advising hours or by scheduling an appointment.
Events
Open Dyalog

 

Open Dyalog is a non-profit student organization that hosts weekly open discussions on different topics every Tuesday. Come join us this week for our open discussion on gun rights on October 29th. Come for some free Round Table pizza and a safe place to speak your mind!

Tuesday, October 29th from 6:30pm-7:30pm at Cross Cultural Center

Contact

 

opendyalog@ucsd.edu

 

if you have any questions! 

 

 

 
Passport to Culture: Mexico

Earn your passport and "travel" to Mexico! Learn more about life & culture from current students who have lived and studied in various regions of the world. Enjoy a taste of traditional food from the highlighted region each week!

If you'd like to share your own experiences in Mexico, please sign up here:

Sign Up!

 

Thursday October 31st, from 3pm-4pm at the I-House Kathmandu Lounge

Learn More

 

 
DVC Presents – HALLOWEEN : Sonic Doom

DVC is bringing you a Halloween-themed music and dance event featuring our unearthly talented student DJs who will play spooky music! Costumes are encouraged!

Thursday October 31st, from 7:30pm-10:30pm at the East Ballroom

Contact

 

c6ku@ucsd.edu

 

if you have any questions!  Learn More

 

 

 
Quarterly Conversations in Global Health - Migrant Caravan

Join us for a discussion on the region's largest so-called caravan on record and its impact on global health.

Wednesday November 6th, from 3pm-5:30pm at the Great Hall at International House

Learn More

 

 

 

 

 
DeWitt Higgs Memorial Lecture

Join Carmen G. Gonzalez in a discussion and examine the effects of climate change in racial subordination while evaluating the legal and policy responses to climate change.

Thursday, November 14th from 2pm-4pm at the Great Hall.

 

 

 

 

 

 

 
Move Your Body, Tone Your Mood

Learn basic mindful movements to reduce stress and improve mood!

Every Monday, from 10am-10:45am at the Zone next to Jamba Juice.

Learn more about the Zone

 

 

 

 

 
Outreach Trivia Night

Venture over to Muir to meet new people and test your knowledge of various trivia categories! Each week one category will highlight California, another state and another country and the other three categories are miscellaneous!

 

Free entry to all UCSD students and prizes for the winning team. Come with friends or by yourself to join a team of four!

Want to sponsor Outreach Trivia and spread awareness about your department/org? Sign uphere!

Every Tuesday, from 7pm-8pm at Muir Woods Coffee House

Learn More

 

 
Learning Conversation Tables (TLC)

Come learn a new language by conversing with a host in a casual setting.

Every Tuesday, from 5pm-6pm at the Great Hall at International House.

Contact

 

ihouseprograms@ucsd.edu

 

if you have any questions!  Learn More

 

 

 
 

Coffee and Dine with a Prof

Want to get to know a professor, faculty member, or graduate TA better? Get coffee or dinner with them through our Coffee With a Prof or Dine With a Prof program. Pick up a voucher at the Sixth Student Affairs Office, located at the second floor of Pepper Canyon Hall after reading the instructions

here.
Job Opportunities
Coming Soon!
Public Meetings
Sixth College Student Council (SCSC)
Thursdays, 5:15pm Main Conference Room
(2nd Floor of Pepper Canyon Hall)
Website | Facebook
Contact

Finance Committee
Wednesdays, 1pm
Main Conference Room
(2nd Floor of Pepper Canyon Hall)
Contact

 

Teal Team Sixth (SCSC Programming Committee)
Wednesday, 6pm
The Dogghouse
Facebook | Contact

Tech Committee
Thursdays, 7pm
Location Varies, Contact on Facebook for Location
Website | Facebook
Contact

 

Sixth College Community Board (CoBoard)
Mondays, 7pm
The Dogghouse
Facebook | Contact
 
Commuter Resources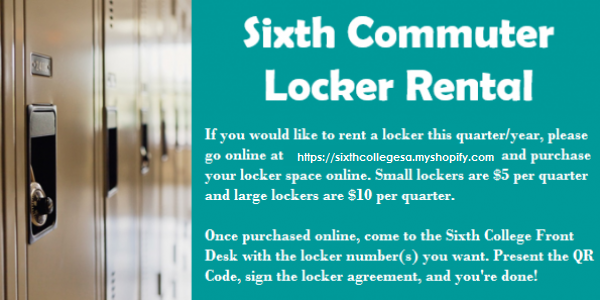 Sixth College Commuter Lounge
Cook in the kitchen, surf the web on the computers, take advantage in renting a locker, or watch TV. Just swipe your UCSD student ID at the door. Have questions? See the Sixth College Front Desk or contact
jrapport@ucsd.edu
.
If you would like to submit relevant events to be featured in the newsletter, please email sixthnewsyoucanuse@ucsd.edu! Guidelines for submission can be found here.