Bill Robertson Geibel
Associate Director of Experiential Learning and Practicum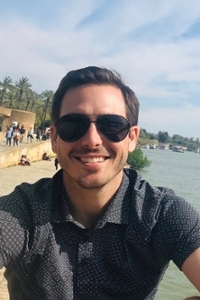 About Me

PhD Education, University of California, Los Angeles
MA Politics, Brandeis University
BA Political Science, University of California, Santa Barbara

Trained in both education and political science, I am a scholar-practitioner of experiential learning, global education, and civic engagement. My research is focused on understanding universities as political actors and the ways in which they prepare students to be engaged and diplomatic citizens, both within and beyond national borders. This interest is also at the heart of my teaching and administrative work, as I have developed numerous educational initiatives that seek to bridge theory and action, including programs and courses in community engagement, service-learning, global studies, career development, and intercultural communication. Whether it be through classroom teaching, designing experiential learning programs, or publishing research, my ultimate goal is to help students expand their awareness of the world, locate their agency within it, and take an active role in creating the future they want to see.